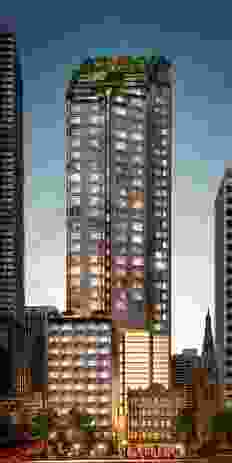 A Candalepas Associates design for a 36-storey tower that would cantilever over the heritage-listed Porter House building at 116 Bathurst Street, Sydney has been placed on public exhibition.
Featuring a podium composed of a series of arches and apses, reflective of the Victorian Free Classical facade of Porter House, the tower would house 131 apartments from level 11 to 35, hotel rooms on the lower levels and a commercial tenancy on the ground floor. A garden area including a gym and pool would sit at the top of the podium.
"The chosen materials and forms of the building have been selected to complement the surrounding heritage buildings and setting," a design statement reads.
"The form of the windows responds directly to the geometric language of Porter House whilst utilising modern materials appropriate to today's building methods."
Porter House, designed by JF Hilly and built in 1876, would be refurbished for use as part of the hotel and commercial spaces.
The building's heritage statement of significance describes it as a rare surviving example of a Victorian factory and warehouse in central Sydney, and aesthetically significant as "an interesting example of an 1870s Free Classical inner-city commercial building."
The proposed tower would be located on the southern portion of the site, so as to appear predominantly separate from Porter House. This separation would serve to extend the public domain, with a shared-use "laneway" connecting the hotel across the ground floor of each building.
The design currently on exhibition is a slight rejig of the original proposal submitted to the City of Sydney in 2014, which was granted deferred commencement approval in March 2015.
Among the changes proposed are an increase in basement parking spaces, a relocation of some of the wintergardens, adjustments to the internal configurations of the apartments and a change to the articulation of the cantilevered element. The new application does not seek changes to the podium or tower heights.
Candalepas Associates previously designed a 14-storey tower at 137-139B Bathurst Street, completed by 2006.
The proposal is on exhibition until 23 October, with completion set for 2020.