<b>REVIEW</b> JOE ROLLO <b>PHOTOGRAPHY</b> KRAIG CARLSTROM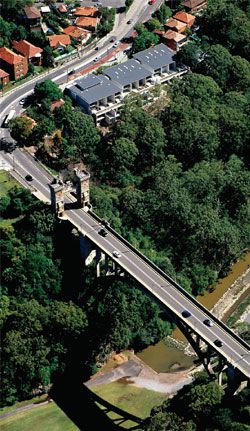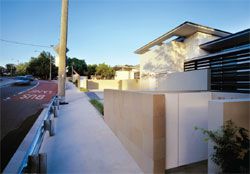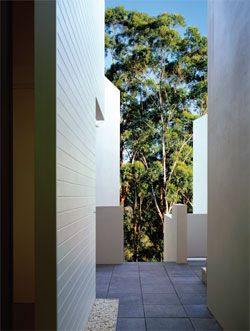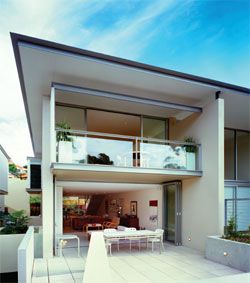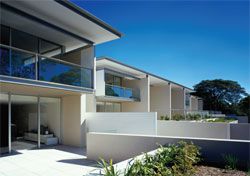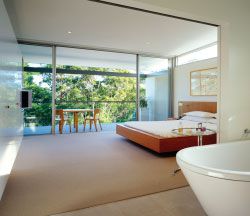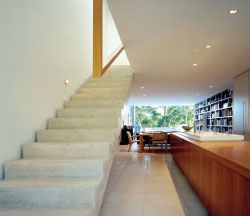 ONE LEGACY OF Australia's move to the inner city will be the abysmal lack of building quality, design integrity and architectural values in many of the apartment developments now rising or completed across our major capitals. In their rush to cash, developers, and by association their architects, are bestowing upon our cities collections of badly designed and poorly constructed buildings.
Developers play an important role in the shaping of our cities and with few exceptions their output is mediocre. The reasoning for developers is purely economic: architectural quality costs money. And why bother with quality when you can maximize profits by squeezing as many units as you can onto a small footprint, stack them up as high as zoning laws allow, market the hell out of them to unsuspecting move-to-the-city types and move on to your next piece of schlock. The results, often, are buildings so poor that they run the gamut of emotions from A to B, to ape the words of legendary New York theatre critic Dorothy Parker talking about the actress Katharine Hepburn.
There are exceptions, of course, and occasionally you find the happy union of a developer and architect intent on delivering quality to a small but growing market of discerning buyers looking for and prepared to pay for good design and high standards of built quality. Such is the collaboration of Alex Popov Associates with second-time developer CPC Energy for a new eighteen-unit development in Miller Street, Cammeray, just four kilometres north of the Sydney CBD, across the Harbour Bridge.
Sited along a sweeping bend of this fast, busy arterial road, hard against a bus lane, and almost spitting distance from the crenellated sandstone towers of the historic Cammeray Bridge, this project demonstrates the potential of medium-density developments in the hands of a clever architect, a developer determined to make his reputation based on quality, and one of Sydney's best regarded master builders.
Fighting local council attempts to control the design and aesthetic of the units and the extreme difficulties posed by the steep site – it had been used at the turn of last century to quarry the sandstone for the bridge nearby and left as unstable rubble – Popov has successfully gone where lesser architects might have faltered.
The units are strung along Miller Street as three blocks of six. They step down and across the site in a series of stairs and terraces, in an extended downward journey to expansive landscaped native gardens, looking north toward a spectacular bushland reserve on the edge of the Flat Rock Creek gorge. The gaps between each block lead the eye towards the forest, allowing the public to catch glimpses of bush from this busy urban thoroughfare.
From the street the buildings take the form of twelve modern over-and-under shotgun terraces set in a row – the Paddington terrace model dragged into the twenty-first century. Set below these, lower down the site, are six double-width, two-storey units. The palette is of greys and white. The materials are rendered and painted concrete block, glass, steel and painted shiplap boards. Lightweight roofs, finely edged in steel, float over glass highlights. The grid for most of the units is that of a standard terrace: 4.8 metres wide overall, with 4.5-metre internal spaces.
Some have direct access from the car parking beneath; some have terraces and courtyards. Pop-out boxes faced with white-painted shiplap boards signal bedrooms in some units. Others face sandstone ledges left over from the site's former life as a quarry, seven metres below the street level. The result is a multi-layered suburban landscape clustered about the side of this steep and difficult site.
But it is the planning and organization of internal spaces and the level of detail that place this project above other, less successful medium-density residential developments. Spaces in the two-storey units are impressively straightforward and clear. Downstairs, fourteen-metre single volume spaces, like tubular extrusions, incorporate kitchen, living and dining zones in a flowing, uninterrupted sequence from the oversized front doors hung on pivot hinges. Doors are full height, kitchen joinery is high quality, floors are of large, white cement concrete tiles laid regularly end to end, or of quality hardwood planks. Foldaway full-height glass doors extend the living areas to outdoor terraces edged by low, deep concrete planter boxes that obviate the need for regulation-height balustrades. Wide balconies from the floors above and slender, three-metre roof eaves provide shade and shelter.
Steel baffles arranged randomly, as in a music score, run across the glass facades of the units facing the street, providing both a degree of privacy and sound proofing from the noise of traffic nearby. Internal stairs are either concrete or timber, and one unit has an impressive single-flight concrete stair, set 100 mm free of the wall. Ensuite bathrooms are an extension of the main bedroom, enhancing the sense of free open space. The internal aesthetic is of planned minimalism. There are no design tricks or acrobatics.
The restrictions posed by the steep site, combined with the fast-flowing traffic on the street, meant that car access and parking required a special design approach. The solution was to install two car lifts to carry residents' vehicles to a full-level car park set beneath the two-storey terrace-style units above. Residents simply pull off the highway onto a small parking platform and into the car lifts, via remote-controlled doors. Car parking for visitors, four car spaces only, has been incorporated into the street-level parking platform. As there is no on-street parking along this busy stretch of highway, you can only wonder about what happens when there's need for more visitor parking.
This project demonstrates that with the happy union of architect and willing client, even the obstacles imposed by too-prudish councils and the restrictions of a difficult site can be overcome to produce architecturally impressive medium-density housing.
JOE ROLLO HAS WRITTEN ABOUT ARCHITECTURE FOR THE AGE AND THE SUNDAY AGE SINCE 1994. HE IS THE AUTHOR OF TWO BOOKS, CONTEMPORARY MELBOURNE ARCHITECTURE, AND CONCRETE POETRY – CONCRETE ARCHITECTURE IN AUSTRALIA, PUBLISHED IN 2004
Project credits
Architect Alex Popov Associates— design director Alex Popov; project architects Brian Bass, Shayne Evans.Structural and hydraulic engineer ACOR Consultants. Acoustic engineer Acoustica. Landscape architect Nicholas Bray Landscapes. Builder Bellavarde Constructions.