Canterbury Road Corridor 'unsuitable' for housing, government report finds
A damning report detailing the mishandling of development in the Canterbury Road Corridor, which spans 8.6 kilometres from Hurlstone Park to Punchbowl in south-western Sydney, will be made available for public comment this month.
Released by the newly amalgamated Canterbury Bankstown council, the 510-page report is highly critical of the planning decisions made by the previous Canterbury council, and describes the corridor as "a noisy, polluted and harsh environment, generally unsuitable in its current state for housing."
The result of a review conducted by a steering committee led by the New South Wales Department of Planning and Environment, the report also puts forward 15 significant recommendations and sets out a "new vision" for the corridor, developed in consultation with Hill Thalis Architecture and Urban Projects.
City of Canterbury Bankstown administrator Richard Colley ordered the review in July 2016 following the amalgamation of the former Bankstown and Canterbury councils.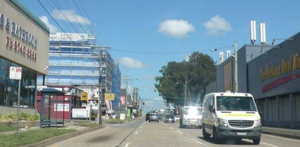 The previous Canterbury council's handling of planning matters, including the approval of apartment buildings in excess of built form controls has previously attracted the attention of the Independent Commission Against Corruption, which conducted raids on Canterbury council chambers and councillors' homes in June 2016.
"I believe the former Canterbury Council approved development well in excess of the height and scale recommended by its own strategies and policies, resulting in inconsistent and disorderly development along the corridor," Colley said.
"This approach encouraged long continuous stretches of mixed-use development, regardless of whether residents would have good access to public transport, parks and town centres or not."
One of the reasons stated for the initiation of the review was concern from the community and stakeholders about the quantity and design quality of housing developments and whether there were adequate local amenities and open spaces to support residents.
The 2010 Canterbury Road Masterplan, led by Annand Alcock Urban Design, set out to promote "a deliberate and proactive approach to growth," and indicated that there should be an increased focus on public transport and environmentally sustainable development.
According to the government's review, however, the vision set out in the masterplan "is today further from reality than ever before."
Large sections of the corridor have been transformed since 2010, with many six- and eight-storey housing developments going up between New Canterbury Road in Hurlstone Park and the Burwood Road intersection in Belmore, as well as larger, densely concentrated buildings being built around the Cooks River.
The review found that these developments had increased traffic flow and that the quality of the road environment for residents and pedestrians remained low.
While the report condemns the current state of the Canterbury Road Corridor, it also states that Canterbury Road can continue to support housing numbers "equivalent to or greater" to those previously proposed, provided that there is consideration for "the right design, supported by streetscape improvements and a broader range of open space and public domain works."
The 15 recommendations made by the steering committee include measures to address environmental issues, including noise and pollution; to focus on traffic management, transportation and parking; and to refocus development potential to areas that have better access to existing bus and train networks, parks, shops, and community facilities.
Central to the the proposed revitalization would be the development of seven junctions west of the Cooks River, where residential development would be concentrated.
In a report produce for the steering committee titled "Reimaging Canterbury Corridor" Hill Thalis Architecture and Urban Projects proposed a "design-led" approach to urban renewal that would provide a complete neighbourhood structure with a range of accessible parks, community facilities and diverse range of housing types.
According to the committee's recommendations, key pieces of infrastructure such as parks, streets, laneways, footpaths and cycleways would need to be paid for through developer contributions.
Further development would also be reduced in areas of the corridor that don't have good attributes for increased densities.
Administrator Richard Colley said there was further work to be done to complete a planning framework and that community consolation would need to occur before proceeding. He has has ordered the review and recommendations to be placed on public exhibition in August.
 "This is about restoring public confidence that council has a long-term vision for the corridor and can implement it fairly and consistently," he said.
"It's vitally important the Canterbury Road Corridor is transformed into a sustainable and resilient place for people to live, work, travel and visit, and the principles outlined in the recommendations will help guide council and state agencies in the future."