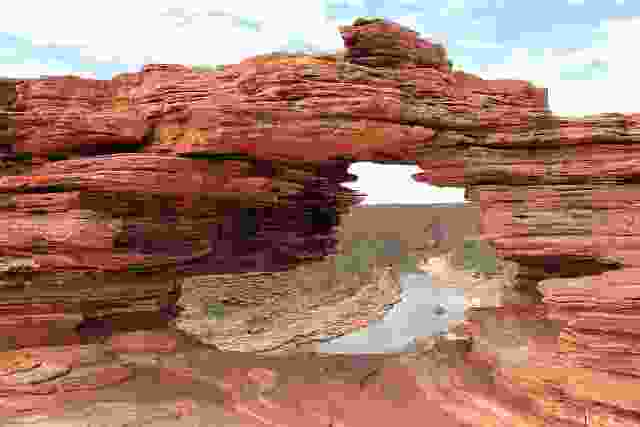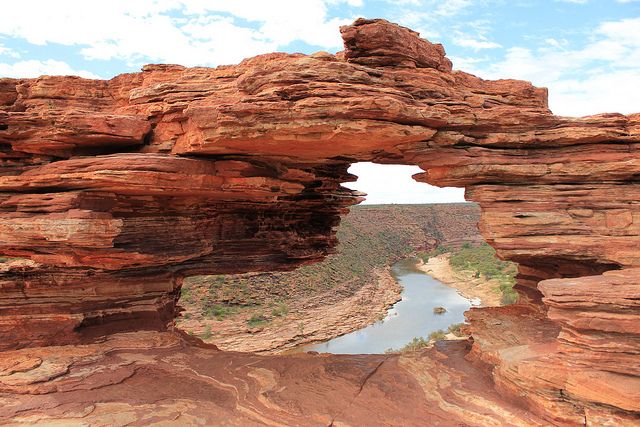 Two cantilevered skywalks to be built over a gorge in Western Australia's Kalbarri National Park will offer dramatic views of the Murchison River more than 100 metres below.
Designed by Eastman Poletti Sherwood Architects, the skywalks will jut dramatically out from the gorge's rim, with the longest protruding 25 metres from the edge, the other 15 metres.
"It's one of the highest spots over the gorge; [it has] a very steep cliff face and we're putting these skywalks right at the top," project manager Rory Chappell of the Department of Parks and Wildlife told local radio station 6PR.
"You get spectacular views right down the gorge and you can see the looping of the river back on itself; it's my favourite place."
Eastman Poletti Sherwood Architects' Craig Poletti said the design of the skywalk is informed by the landscape, with the red, ochre tones of the gorge reflected in the low-maintenance materials. Among the materials used will be weathered steel and brass mesh for the balustrading.
"Once that all patinas off, it will be very raw and very natural," Poletti told ArchitectureAU.
The two skywalks will form a horseshoe shape, with a connecting boardwalk stretching between them. Behind the boardwalk, an air-conditioned area and kiosk will be housed a series of pavilions with an organic, unobtrusive presence.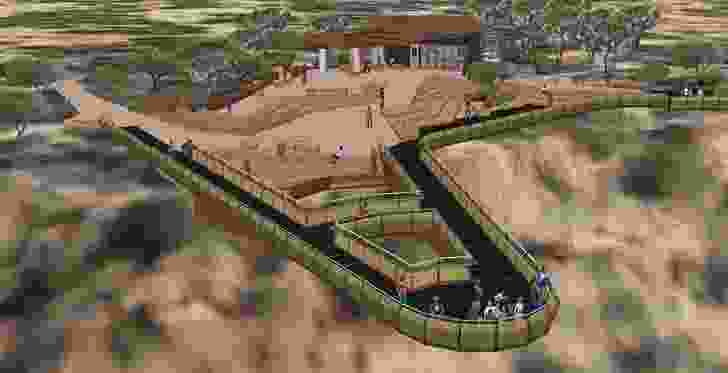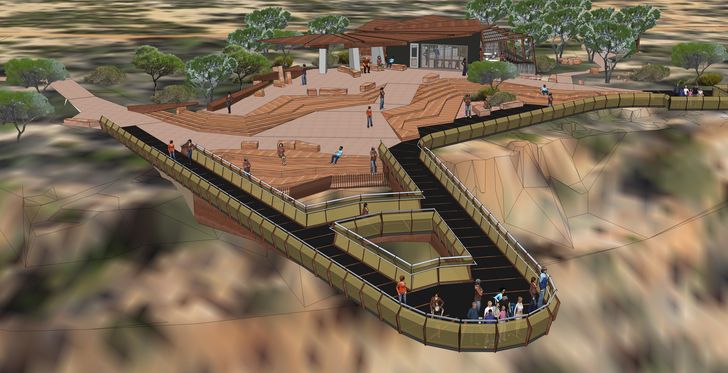 The project was first announced by the then-Liberal National government in 2015, with $20.8 million allocated to the skywalks and improved road infrastructure.
Project manager Rory Chappell said the project would be a major tourist drawcard and would be "great for Kalbarri."
Kalbarri National Park is located almost 500 kilometres north of Perth in the Mid West region. The traditional owners of the area are the Nanda people, for whom the Murchison River holds particular cultural significance. An art component to the skywalk project will be led by the Nanda people.
The skywalks will be located around 40 km from the town of Kalbarri, in "red gorge country," near the popular attraction, Nature's Window, a rock formation that offers framed views of the river.
Tenders for the construction of the project close on 6 June 2018, and completion is slated for late 2019. The construction of the skywalks themselves and the kiosk area and associated amenities are subject to separate tender.