There's something very special about looking out to sea. An open horizon, wild clouds, the feel of the wind, a view of ships passing by, thoughts of a voyage to or a voyage from. This must have been what drove Captain James Kelly to site his timber cottage on Bruny Island in Tasmania at the edge of a cliff overlooking the ocean in the 1830s. He'd been a whaler and had a tough mariner's life – part of a profession that was as global and ruthless as the tentacles of empire, possibly more so. Looking east across the long deep bay that leads into Hobart, across to Betsey Island and to Cape Raoul, where distant swells break in flashes of white against the cliffs, the panorama still feels as sublime as those distant settlers must have regarded it. And yet to either side of the house, north and south, are two little sandy bays, picturesque and gentle. This blessed ancient landscape on North Bruny – Bruny Island's northern landmass – is owned by John and Susan Wardle. The site has, for the last fifteen years, been remediated, great swathes of native bush replanted and protected, and its farming slopes repaired. In 2011, Wardle designed the now justly famous Shearer's Quarters for the site. Set away from the original house, its long linear form was and still is a strong counterpoint – a most elegant shed – and a suggestive echo of the inevitable rural encampment of buildings and structures that define an Australian farm. It was always meant to be a temporary home, a secondary building, while the Wardles added to and restored Captain Kelly's Cottage, which, as history now tells us, was also intended to be given as a wedding present to Kelly's daughter and son-in-law.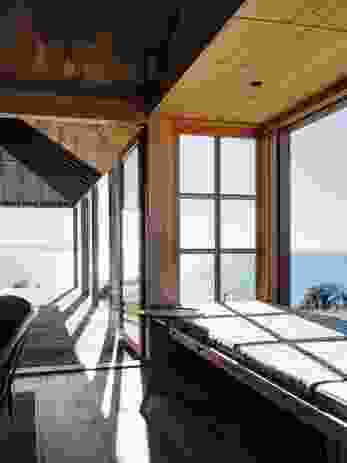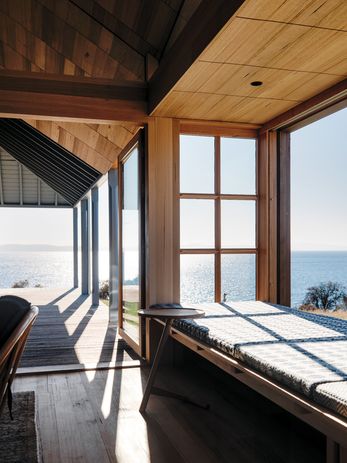 When the Wardles acquired the property, the cottage was a mess and almost unrecognizable. Its history was buried. The kitchen building, originally separate from the main gable-roofed cottage, had been crudely joined to it. Additions from the 1970s, glazed-in verandahs, aluminium windows and layer upon layer of sheet material as hopeful insulation meant that this new project would be about stripping things away. It would be a forensic task, quite different from the holistic, object-like purity of Wardle's first building nearby. Libraries, local histories, land titles, diaries and ships' logbooks were consulted to piece together fragments of the house's life. But more significant was the pulling of stuff off the house. The rude palimpsest revealed riches. It was clear that the cottage had probably been built by Kelly's ship's carpenters and that there had been many different hands at many different times involved in its construction. There was evidence of mortice and tenon joints in the timber frame, pit-sawn local timbers and hand-adzed posts, hand-beaten iron nails, unusual walls of nogged brickwork, some degree of prefabrication, bricks which had been made on site with convict thumb prints to prove it, windows and locks that came from England, no plaster anywhere but just one tiny section of lathed timber. For Wardle, whose abiding interest in detail and making is consuming, this process of discovery was addictive. It also gave him ideas as to how to add to the house, to make it his own without losing its very peculiar blend of local and global technologie s – and memories.
Wardle's functional strategy was simple: restore the original cottage as a series of bedrooms – two up, two down – retain the kitchen building and reinstate it as both a kitchen and dining room, and place a new living room between these two spaces. In doing so, Wardle created an interstitial zone that to the north opened onto a sun-protected courtyard and a view of the northern little bay and to the south, framed views to the curve and deep blue of the other. His aesthetic strategy was more complex: painstaking restoration combined with, as he puts it, "a series of speculations, on what's there and what's been lost." It was to be serious and playful at the same time, to be responsible to history but also to register both the Wardles' and Kelly's lives of travel and collecting, to be local and global in making, and materially so. Wardle set himself a challenge in the new build: there would be only one timber – Tasmanian oak – and it would be used for walls, linings, floor, ceilings and also joinery, all of it bespoke. And the module, spacing and rhythm of the existing roof's rafters would provide a limiting order, a rule, a discipline. And he would take cues from the elements and form of the original cottage.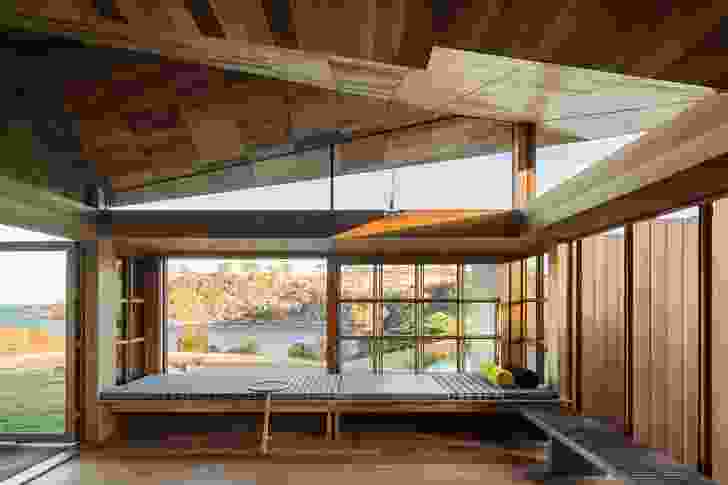 The concrete entry wall, for example, has its textured profile care of salvaged boards and studs from the original house that have been recycled as formwork. A welcoming seat was formed into it, beneath a possible "Kelly's Bell." Behind this wall is the entry to the house. It's not the original front door, but as so often in a homestead, entry is informal, from the side, around the back, deferred. This entry court is also protected from the wind – there's a chimney housing an outdoor fireplace made from thin, pale, near-white Krause bricks baked in Stawell, Victoria and this chimney is one of four that act like markers in the landscape – minor monuments or ghosts of those passed. Each is the same dimension as the others. One is original – it serves the main bedroom. Another, in the kitchen, has been extended vertically to draw better. A third, for the living room, is housed in solid steel plate. The fourth, the external one, has an inglenook at its base. It's a favourite place to cook outdoors or just sit and enjoy the view of the century- old walnut tree beyond.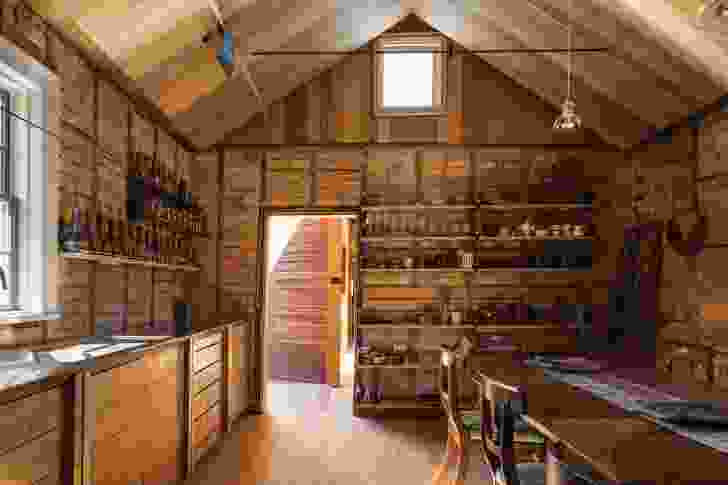 In the old parts of the house, Wardle is just as playful but never fey. The restored kitchen volume is big and tough; there's a reconstructed cast-iron stove, exposed bricks and exquisite raw steel shelves designed by Wardle. His collection of 1970s wine carafes from Bendigo Pottery seems just right for it. In the bedroom section, test strips to reveal original paint colours have been left bare but the new paint, a blackish Georgian green, used sparely, adds just enough freshness. The curtain fabrics are from India and are contemporary, as is the art, which Wardle has collected over many years. History has been revealed but never rendered too precious. Wardle even got a Hobart sign-writer to stencil "Mind Your Head" above the low door heads.
Outside, on the cottage's north face, the restored verandah has a ghost double – structure and linings are reversed – like a framed screen that defines another place to enjoy the view, protected from the wind. And it is this verandah's roof, its pitch and its framing, that defines the interior volume of the new living room, that determines the pitch of the mudroom, that also determines the roof flicking up to the sky on the south. Elements like these evolved in conversations between Wardle and Andy Wong, who patiently crafted iteration after iteration of the house's beautiful conceptual models and drawings. Wardle's reflected ceiling plan is like a tapestry of intent. And the Tasmanian oak is deployed in multitudinous but disciplined ways, as Wardle says, "as if out of a single pack of milled timbers." Each wall to this living room tells a different story of making. On one, it might be Wardle's licence with timber lathes, ledge-and-brace doors, and a fireplace hearth tiled with Inax tiles from Tokoname in Japan. On another, there's a full-length window seat with flat cushions upholstered in fabrics from Portugal. Multipaned windows can slide away completely or external screens can fold across to hunker the house down in a storm. On another, there is shelving for the Wardles' collection of woodfired ceramics and even a washbasin on a wall of Inax tiles – an ironic nod to a washbasin that once stood outside the outside privy. Now it does the same to a new bathroom behind. And then on the north wall, there's a big window to the court but also a bespoke chair attached to the wall – a place to wait for the bathroom to become free or simply make believe you're there in another time. As if that wasn't enough, to complement the Scandinavian easy chairs, there's a coffee table and a writing desk, both designed by Wardle. Both are works of art in themselves and have been named by Wardle in honour of Kelly as a tribute to a world-wanderer who made his home in Tasmania. It would be easy to make comparison here to a piece by an Alvar Aalto, Carlo Scarpa, Carlo Mollino or Gio Ponti, where detail becomes the master and hermetic signature. But here on Bruny Island, Wardle has created an intensely personal statement that is him, his life, his travels with Susan and his family but which is also humble in its deference to what has gone before him. Visiting this house and its landscape is a rare privilege, one to be savoured – a memory to take home. At night, it glows like a beacon, a message, even a hopeful sign that the art of making flickers on.
Credits
Architect

John Wardle Architects
Melbourne, Vic, Australia
Project Team

John Wardle, Andrew Wong (design and project architects), Danielle Peck
Consultants

Architectural historian John Matthews
Builder Cordwell Lane Builders
Building surveyor Holdfast Building Surveyors
Heritage consultant Bryce Raworth
Structural engineer Gandy and Roberts Consulting Engineers

Site Details

Location Bruny Island, Tas, Australia
Site type Rural

Project Details

Status Built
Category Residential
Type Alts and adds, Heritage, New houses

Source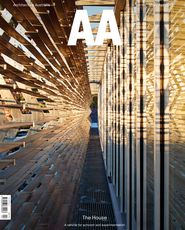 Issue
Architecture Australia, March 2018