"Who said sequels suck?" – This is Flack Studio's bold declaration about Caravan II, the second in a series of cafes and bakeries recently opened by husband- and-wife team Adam Kane and Jessica Chung in Seoul, South Korea, all designed by Flack Studio. The task of creating a sequel is often weighty, a tricky balancing act of capturing and continuing the essence and charm that made its predecessor such a success while bringing something surprising and fresh to the table.
This was understandably at the forefront of Flack Studio founding director David Flack's mind when approaching the design of Caravan II, especially as the brand and identity of the franchise is intimately linked to the personal history and stories of the owners. The name Caravan was inspired by the memories both Chung, a Korean-born Australian, and Kane, born and raised in Sydney, have of family road trips in a caravan up and down the east coast of Australia and the freedom and movement of this time. This concept led to Caravan I, a cafe in Hapjeong, Seoul, a space subtly inspired by Australian culture through the use of antipodean materials and contemporary art and objects, many of which were imported by Flack himself on the final site visit. For Flack Studio, it was vital that the same spirit was reflected and carried through in Caravan II – to continue Caravan's narrative as an extension of a journey rather than a duplicate.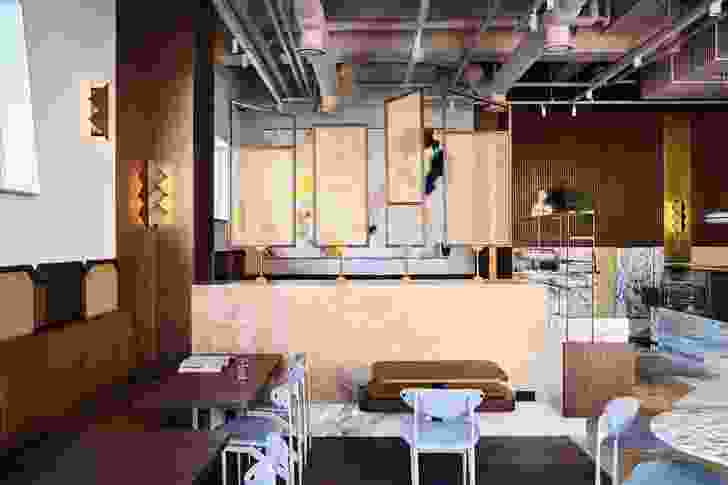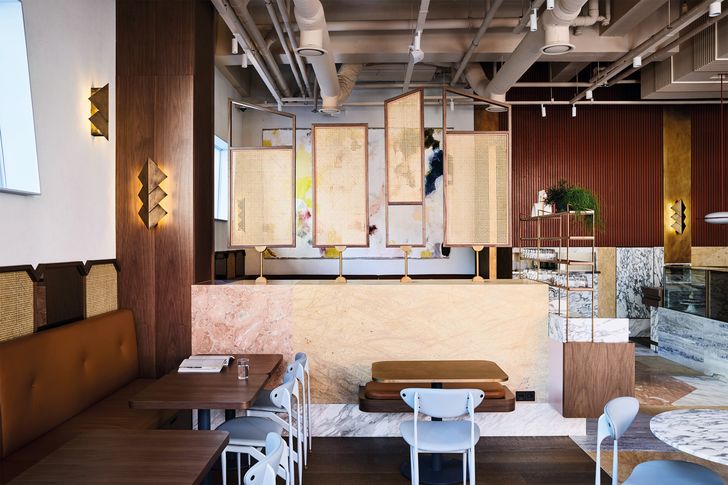 Upon visiting Caravan II, the progression of this story is easy to pinpoint in moments through- out the cafe and the nostalgia it arouses. There are undertones of 1950s Italian cafe design, brass accents, buttery caramel leather banquettes, the reuse of the Featherston Scape dining chairs – an Australian mid-century classic and firm Flack Studio favourite, this time in a powdery blue – and the most obvious common element, the inclusion of wine-coloured venetian blinds spanning the store's front windows. These blinds have become a unifying feature of all three venues and are a key motif for the graphical branding taking centrestage on Caravan's website. Flack describes these elements as the "threads" of connectivity. "Every project should be different, but they should be friends, or brother and sister," he says.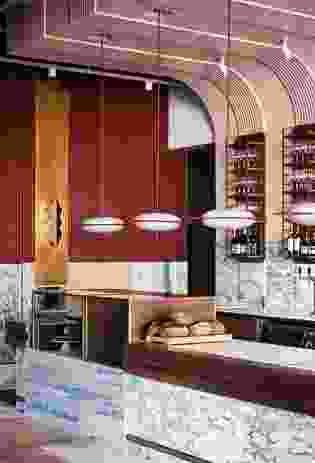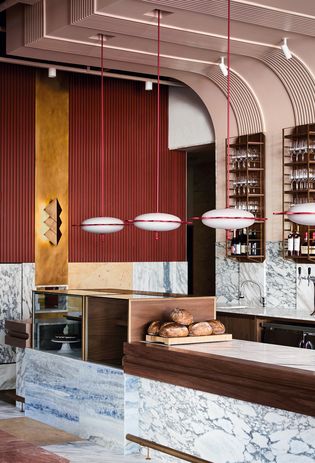 These sibling cafes showcase a fascination with craft, handmade detailing and particularly in the case of this younger sister, texture. Caravan II is a deliberate exploration of "how materials meet and dance together," as Flack puts it. Slabs of colourful patterned marble in tones of pink, red, blue and grey are cut in irregular shapes and stretched across the floor, folding into the servery counter and up the wall. This kaleidoscope of colours and patterns is inspired by textile cutting patterns, a nod to the area's history as the garment district. A soft, textured palette lends a delicate feel that is then cleverly juxtaposed by moody tones of walnut and brass and graphic pink and red panelling in vertical stripes. Pendant lights above the servery evoke an intergalactic Star Trek feel but are also "a bit Memphis." In signature Flack style, the materials and forms are a mishmash of references to design from the '30s, '50s and '80s, expertly combined with a contemporary edge while creating subconscious connections.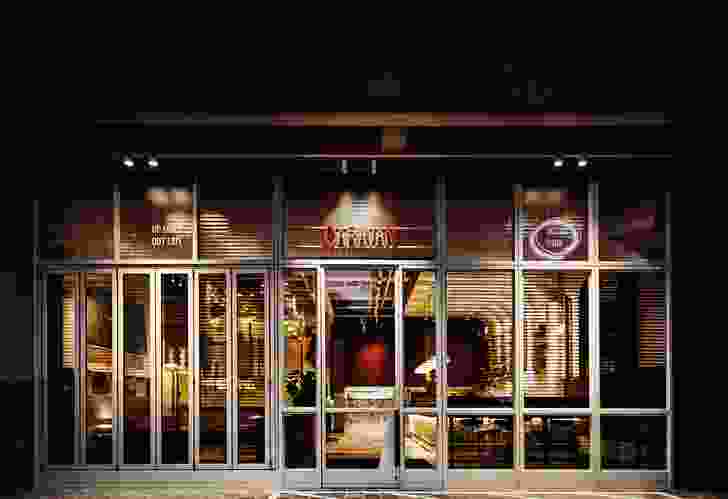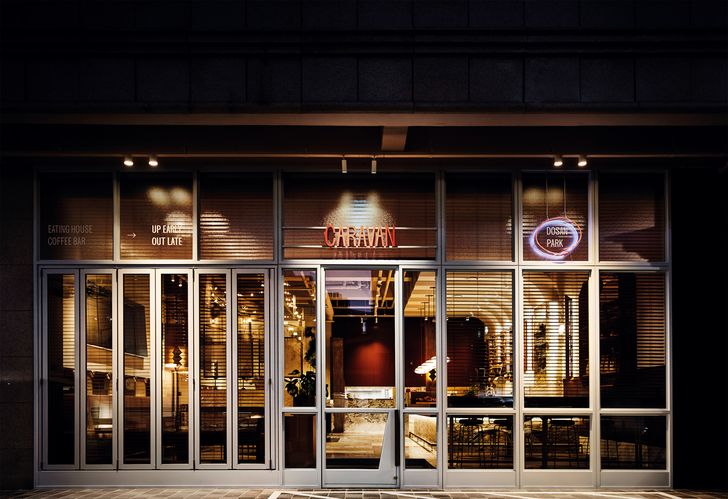 Caravan II certainly packs a punch with clever details to discover at every turn, from the hand-blown pendant lights to the walnut screens inlaid with rattan and mirror. Creating this variety of shapes, textures and forms could only be achieved by custom making every element in Seoul from materials sourced locally by the builders. In addition to the regular pressures of designing a hospitality space, Flack Studio had to deliver these numerous bespoke components in a foreign country, culture and language. The challenges of this international design process meant that Flack and his studio could only develop the broad strokes of the design and concept in Melbourne, with the remaining detailing and material selection carried out in person on the ground through a fast-paced collaborative process with the clients and builders.
In many ways this fluid design approach meant replication was almost impossible for each Caravan and forced a distinct difference in the sequel. Caravan II is unmistakably individual, yet undeniably characteristic of Flack's eclectic tongue-in-cheek style.
Products and materials
Walls and ceilings

Rough applied render with a wax coating finish, painted in Dulux 'Natural White.' Ceilings have matt finish.
Windows

Custom-made steel-frame windows and doors painted in Dulux 'Sea Breeze.' Custom-made aluminium venetian blinds.
Flooring

Locally sourced hardwood flooring with walnut stain. Various marbles sourced from Korea, including Arabescato as the main white stone.
Lighting

All custom-designed lighting by Flack Studio and manufactured by HED Urban.
Furniture

Featherston Scape dining chair from Grazia and Co, powdercoated in custom colour and upholstered in leather chosen by Flack Studio. Dita Stools in black powdercoat finish from Grazia and Co.
Bathroom

Pipe Tap from Boffi. Custom-designed aged brass mirrors with solid marble flooring and walls.
Other

Untitled artwork by Jahnne Pasco-White supplied by Daine Singer gallery. Shelter ceramic sculpture by Jane Mackenzie.
Credits
Design practice

Flack Studio
Melbourne, Vic, Australia
Consultants

Branding The Company You Keep
Builder, engineer and project manager HED Urban

Site Details

Location Seoul, South Korea
Site type Urban

Project Details

Status Built
Category Interiors
Type Restaurants

Client

Client name Caravan
Website http://caravanseoul.co.kr/en

Source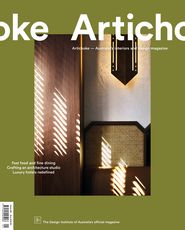 Issue
Artichoke, March 2019
Related topics