Each year, first-semester students in the Department of Architecture at Monash University undertake a design–make studio project where groups of around seventeen students collectively design, fabricate and install full-scale creative play spaces out of corrugated cardboard at ArtPlay, a children's art centre in Melbourne. In June 2012, students of architecture and interior architecture students collaborated to produce seven spaces that were installed for five weeks at ArtPlay's creative hub, housed in a former Victorian Railways lecture hall adjacent to the Yarra River.
In various locations within the building, the design of each space engages with a specific creative program tailored to five- to eight-year-old children; either Viewing, Exploring, Reading or Making. Two viewing spaces were located under the mezzanine level and were specifically designed to house and display the 1:20 scale model 'miniatures' produced by each individual student during the design phase of the project. These spaces were positioned as part of a curated entry sequence to the main working space of the building where three further structures were located, one for reading and two for creating. These spaces were designed as frameworks for art workshops and book readings. Upstairs on the mezzanine level was an active zone where children were encouraged to freely explore these dynamic spaces.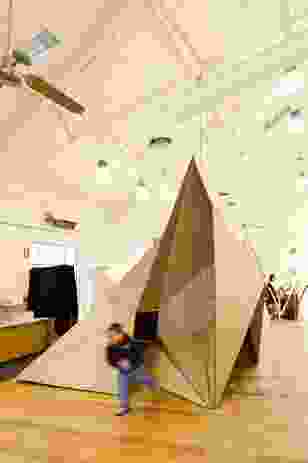 During the design phase of the project, the programmatic terms are also paired with a tectonic term that is used to guide the composition and construction of the cardboard space; either Fold, Stack, Interlock or Frame. These terms can be thought of as both construction techniques and spatial devices. To develop their tectonic design sensibilities, students are encouraged to develop methods for fixing and joining that don't rely on glue. This also helps ensure that the spaces can be pre-fabricated, thereby minimizing construction time on site and making the installation demountable and re-useable.
2400 x 1200 mm sheets of corrugated cardboard were used in two different thicknesses. A fixed number of sheets had been nominated at the start of the design phase, challenging students to create a habitable structure that would be materially efficient as well as structurally sound.
During the installation at ArtPlay, students are responsible for the upkeep and maintenance of the spaces that generally get a rigorous "working over" from visiting children. This continual engagement with the built project over time raises awareness of the 'life' of architecture beyond the moment of its completion, into its occupation and use in both intended and unexpected ways. Also, at the end of the installation at ArtPlay each year, students have helped relocate several of the structures to nearby primary schools, extending their lifespan beyond the Artplay exhibition.
The external engagement of the project with ArtPay anchors a complex design task within a practice-type scenario of having an external client with specific needs, a tight budget and time frames. Through the project, it is intended that from the very outset of their architectural studies, students are exposed to the complex but critical relationship between conceptual design ideas on paper and the actualities of full-scale built execution. This foundation is then reinforced and developed in subsequent year levels through an ongoing stream of design–make projects where groups of students are given the opportunity to design and construct larger and more complex buildings for external community groups.
In 2009, second-year students designed and made a community shelter at the temporary village in Kinglake, Victoria, after the devastating Black Saturday fires. In 2011, an experiential pavilion was built in Docklands, aiming to offer a moment of intimacy within this much-maligned overscaled urban precinct. Later this year, third-year architecture students will be extending the series of design–make projects by executing a project for the community of Stawell in country Victoria.
Within the contemporary Australian university context, design and build studio projects are inherently difficult to undertake. There are fundamental challenges in procuring, planning and executing these projects; stringent Work Health and Safety requirements, scarcity of funding and, increasing scarcity of space. However, outweighing all of this is the pedagogical value of these kinds of projects in that they provide a venue for students to gain direct insight into the rigors involved in taking an idea from conception through to realization. Students also learn the value of working together, revealing that architecture is not the result of individual mastery but is a collaborative process, whereby the collective result of many often outweighs that of the individual.
Perhaps most importantly, through the external engagement of these kinds of studio projects, students gain firsthand experience of how architecture fundamentally affects people's lives, and the contribution it can make in response to the complex range of social issues that shape the modern world.
Ross Brewin coordinates the first-year architecture design studio at Monash University
Credits
Architect

Department of Architecture Monash University

Consultants

Council City of Melbourne

Site Details

Location Melbourne, Vic, Australia

Project Details

Status Built
Category Education, Interiors
Type Adaptive re-use, Installations

Related topics