Harsh exposure to sunshine (and sometimes wet weather) across Australia has meant that covered activity areas proliferate in schools nationwide.What makes this project remarkable is that it has seized, unlike most other school facilities, the opportunity to be an elegant, diversely useful and inspirational attribute for the school and its broader community.
The Caritas College Junior School benefited first by having the foresight to commission a masterplan (again, something that too few schools invest in) and then by developing an underused area in constructing a covered space using funds from the federal government's BER program.
The funding value was maximized through the imaginative use of steel profile Aramax 800A100 roofing to span large distances without secondary support, which allowed for a taller, more prominent structure suitable for competition-level sports, community events and school assemblies.
Attention to the lighting configuration and the accent yellow components against the black-and-white steel screen (alluding to the music theme in adjacent buildings) attest to an architectural confidence and playfulness eminently suitable for a durable yet elegant building, which has deservedly won the hearts of the Port Augusta community.
– Jury citation
Education buildings, many of them facilitated by the Building the Education Revolution (BER) program, dominated the twenty-one entries in the public architecture category.
– SA Public Architecture Jury, Place, June 2011, p. 6.
For a full list of awarded projects see 2011 National Architecture Awards – the winners and for more awards discussion see Rachel Hurst and Rory Hyde's responses to the awards and the jury overview by Karl Fender.
Source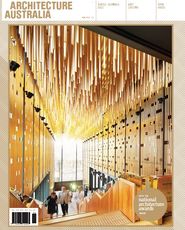 Issue
Architecture Australia, November 2011
Related topics