Adelaide's CBD has become denser in recent years and inner-city living is encouraged by new multistorey residential developments. But the City of Churches' urban landscape is still defined by low-density housing and an urban sprawl that doesn't seem to be diminishing anytime soon. On the one hand it's a bureaucratic nightmare, with the environment and current infrastructure groaning under the strain; on the other, it's the stuff of idyllic suburban childhoods.
It's easy to appreciate areas like Camden Park, located south-west of the CBD and closer to the beach than you think. The wide, open streets are quiet, the backyards are generously sized and a safe, friendly vibe prevails. For Sans-Arc Studio founder Matiya Marovich's recent clients Amy and Becq, however, their 1920s worker's cottage had suddenly become too small following the birth of their first child. The young couple didn't want to move and so decided to extend their existing home.
Matiya's resulting concept for his emerging studio's first residential project is simple in both plan and form and while there were no heritage restrictions to contend with, the project wasn't without its challenges. "Space was an issue," he says. "It's a very narrow site at only nine metres in width and so getting the proportions right was really important." The brief called for new kitchen, dining and living areas and Matiya housed them all in the single rectangular volume.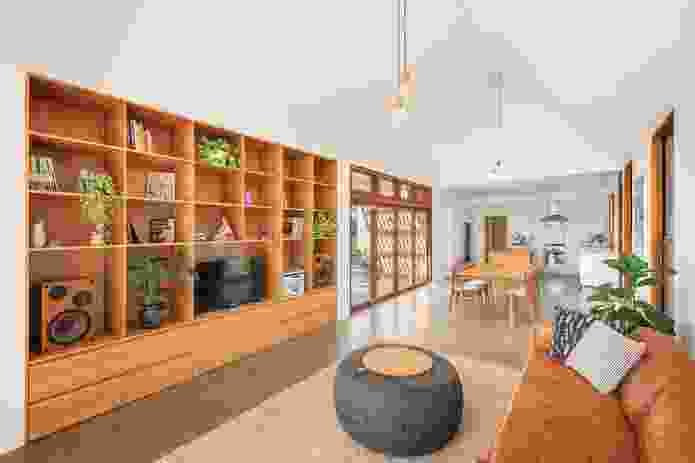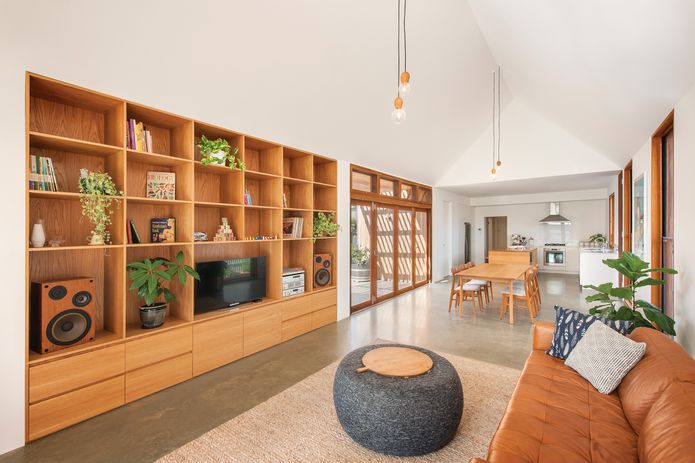 While the existing bathroom was renovated as part of the project, an old lean-to addition was demolished to make way for the extension. A small recess between old and new ensures a seamless connection and allows for a lower ceiling height in the new kitchen and discreetly adjoining new laundry and second toilet. The extension's gable roof is used to maximum effect in the dining and living areas, however, where the ceiling height reaches a generous five metres. As Matiya explains, "It was about relieving the small footprint to make the four-metre-wide interior feel like a much larger space, which is what that extra ceiling height does."
Working with a tight budget meant Matiya had to be judicious in his spending and the biggest investment was the extension's four steel portal frames. These structural supports eradicated the need for visible horizontal members, creating unobstructed sightlines through to the outdoor dining area and backyard. The overall aesthetic has an elegantly pared-back Scandinavian flavour; it is crisp, clean and light-filled, accentuated by the project's key material investments, Western red cedar window and door frames and a burnished concrete floor.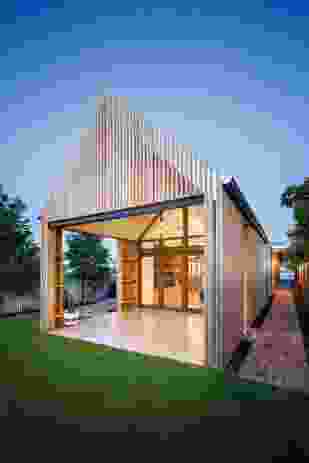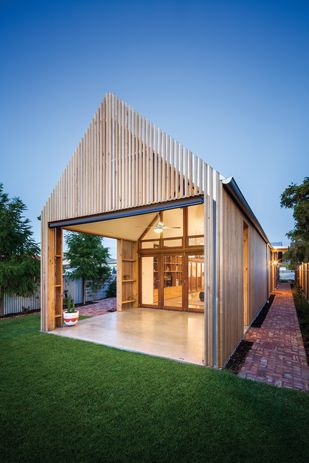 To further minimize costs, Amy and Becq designed the inbuilt joinery unit in the lounge area and the kitchen themselves. "The whole process was really casual and collaborative," says Matiya. "They came in after everything else had been done and I think they did a nice job; they're both creatives and have really good taste." While the kitchen's design is modest in appearance, the oak joinery unit presents as a thoroughly contemporary flourish that's as visually appealing as it is functional.
Matiya also decided to forgo an airconditioning system in favour of natural ventilation. It was a risky move, considering Adelaide's mercilessly hot and dry summers, but one that proves that simple passive design principles can be used effectively to achieve a high degree of comfort. A reverse brick veneer construction creates a thermal wrap, while cool air enters via the dining area's southern side and is expelled at a higher level on the north. This northern elevation accommodates a courtyard, which at four metres in length complements the internal program's proportions: the kitchen, dining and living areas each measure four metres by four metres (as does the rear outdoor dining area).
The interior's Scandinavian-inspired styling extends to the exterior through Matiya's use of silvertop ash cladding. Oak battens used as sunshading above the courtyard are repeated in the outdoor dining area as a screen, providing the corner site with extra privacy on its southern street elevation. However, the new galvanized iron roof is quintessentially Australian in its architectural vernacular, evoking a strong sense of place despite the project's Nordic inspiration.
Matiya has also created impact with the gable, a form he went on to use in his design for small Adelaide CBD bar Pink Moon Saloon. He's not interested in cultivating the structural expression as a signature style, though – it just so happened to provide an appropriate solution for both briefs. Rather, he's focused on creating happy, liveable spaces. "A beautiful space is one thing," he reflects. "But a space that's inhabitable is most important; with this residential extension I wanted to give my clients a home in which they can wake up and feel really happy to be in it." The overall scheme is an elegant study in cost-effective design, made all the more successful for its uncompromised robust material palette.
Products and materials
Roofing

Revolution Roofing galvanized corrugated sheet.
External walls

Radial Timber Sales silvertop ash shiplap cladding.
Internal walls

Plasterboard.
Windows and doors

Seaview Joinery Western red cedar windows and doors.
Flooring

Burnished concrete slab honed with 300 grit.
Heating an cooling

Natural ventilation.
Credits
Designer

Sans-Arc Studio
Adelaide, SA, Australia
Project Team

Matiya Marovich
Consultants

Builder 1:1 Construction
Engineer NGS Engineers

Site details

Location Adelaide, SA, Australia
Site type Suburban
Site area 500 m2
Building area 400 m2
Category Residential buildings
Type Alts and adds, Houses, Residential

Project Details

Status Built
Completion date 2015
Design, documentation 8 months
Construction 5 months

Source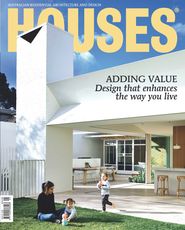 Issue
Houses, October 2016
Related topics