The Naomi Milgrom Foundation has unveiled the design of the 2018 MPavilion by Spanish architect Carme Pinós.
The pavilion will create an open, civic space that will invite interaction between people, the city and the nature of the Queen Victoria Gardens, in which it will be situated.
The design consists of two origami-like folding planes that form the roof and walls of the pavilion. The structure will be made from metal profiles with timber latticework and polycarbonate sheeting forming a transparent, but weather-protected surface enclosing the space.
The design also includes three topographical mounds that will form tiered seating within the pavilion.
"MPavilion 2018 will be a protected space for social activities within the city but also a place to experience with all the senses," said Carme Pinós. "The pavilion establishes a relationship with nature and the surrounding park, where we will feel the sun's path through the game of shadows created by the pavilion's skin, and where on rainy days we see the water run through its transparent roofing.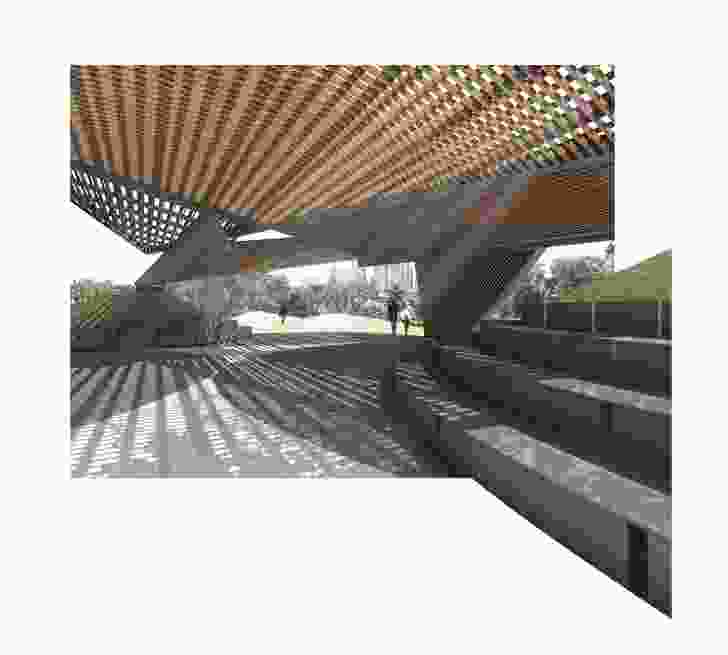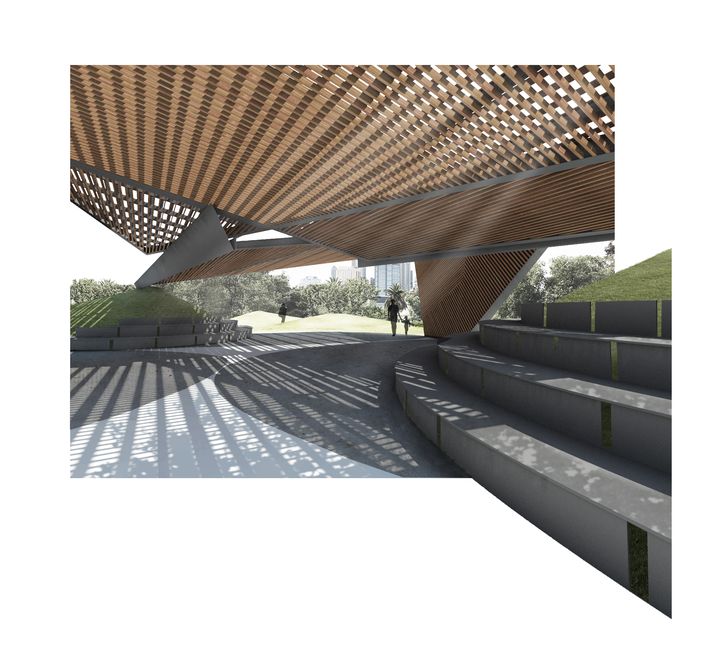 "From the tiered seating we enjoy the social activities offered by the foundation, never losing sight of the fact that we are in the middle of a magnificent park. We will be inside the pavilion, but always feeling as if we are also on a balcony facing nature, and connecting with the surrounding community."
The Naomi Milgrom Foundation is also inviting expressions of interest from the public to become part of the events program for the 2018 season, which will run from 8 October 2018 to 3 February 2019.
Inspired by Carme Pinós's design philosophy, the program themes include building communities, fostering inclusive cities, women in leadership, visual languages, fashion and architecture, regional contexts, and landscape and nature.
Submissions are open to anyone, but the organizers will preference those that interact with the themes, as well as those working in the design and built environment professions, such as architecture, landscape architecture, interior design, fashion, textiles, urban design, urban planning, urban and cultural heritage, design theory and criticism, graphic design, furniture design and industrial design.
"Carme Pinós's philosophy of community closely aligns with MPavilion's own mission to facilitate meaningful dialogue about the role of design and architecture, and what it means to foster socially inclusive cities in the context of design and the built environment," said Naomi Milgrom.
MPavilion is also open to proposals from dance, music, theatre and performing arts practitioners and community groups.
Carme Pinós established her practice Estudio Carme Pinós in 1991. She is celebrated for her humanist approach to architecture and for advancing gender equity in the profession.
Related topics