A couple of days after I visited Casba with Adam Haddow, project director from SJB Architects, it won the award for best mixed-use building in the world at the World Architecture Festival (WAF).1 A day after that, Architecture Australia emailed me to ask how much longer I needed for this review. Regardless of one's opinions of the carnival that is the WAF, Casba's win is surely an achievement. I decided to have a look at the competition in the category. As it transpired Casba was the odd one out in its cohort. Tiny by comparison (all, save one other, are podium/tower complexes), simple in its program mix and materially distinctive for its lack of shininess, Casba was a relief to the eye in its scale and poise and the patina of its palette. Interestingly, it was also the only entry with people in the photographs.
Casba is a street wall building of a scale and model familiar from nineteenth-century European cities – retail on the ground floor, residential above and four to six storeys high. A through-site link broadens into a courtyard lined by a colonnade and small retail spaces, a contemporary cloister (to use Haddow's term) – another old and well-known European form. The building has a familiar materiality as well. Bagged and painted brick references the local terrace vernacular; the choice of white recalls Mediterranean townscapes, an evocation much cited in the real estate literature on the development (starting with the name) and certainly enhanced by the use of palm trees in the courtyard. The bricks are rough in texture and this roughness carries through the project with an expressed off-form concrete structure, a recycled brick base, granite gravel and the occasional use of timber. The paving is a rough and forgiving stone used throughout the building, from external to internal to private outdoor spaces. Planting on surrounding roofs has started to tumble down walls, further softening edges. Though new, the building already feels lived in, like a comfortable shoe.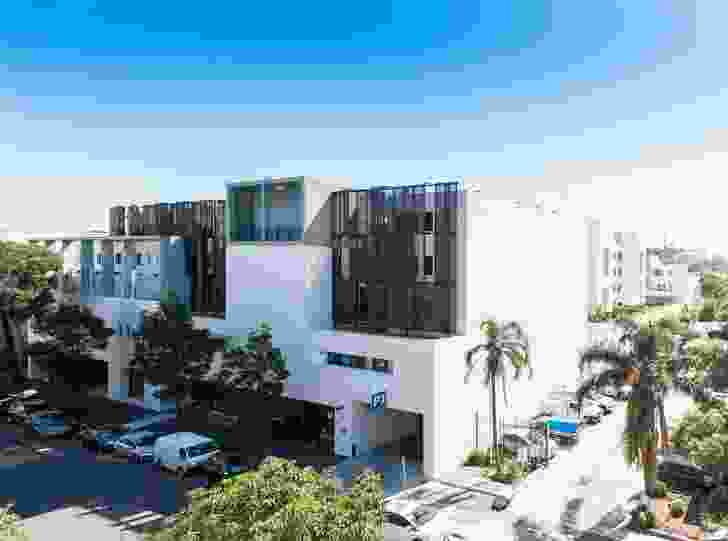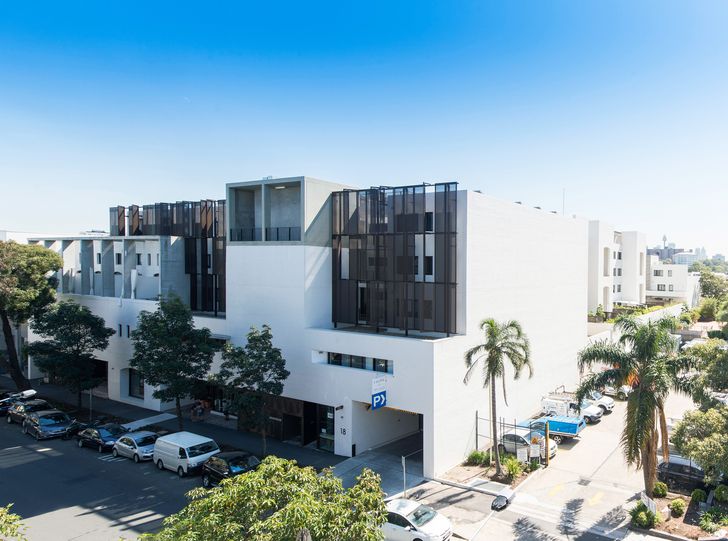 To the north, where it faces low-rise terrace housing, Casba presents a happy-go-lucky four-storey demeanour: the horizontal lines of its otherwise restrained facade swoop out to greet the passer-by and are animated with white canvas curtains. To Danks Street to the south the building is taller and tougher, matching the larger scale of apartments and remnant warehousing of this side of the block. A wall with punched openings and recesses cuts up and back to expose a grey perforated metal screen lining the walkways to apartments. Elements such as the arched opening to the courtyard and the dramatic concrete-framed stair landing on the top give this facade an almost ad hoc quality – it feels like it just grew. In both cases the building facades are conceived as background, settings to everyday life, a quality the design team sought.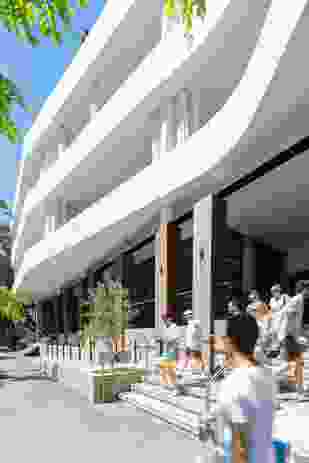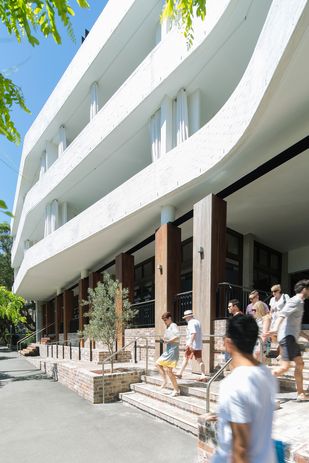 Through a mix of hard work ("We did over fifty options," Haddow remarks), luck and market conditions the architects have managed to achieve the near impossible in Sydney apartment design: flats that are slim and wide with multiple cores virtually eliminating corridors. Almost all are dual aspect and those that aren't are double height or north facing. Balconies are at least three metres deep and corridors, where they do exist, are open and naturally ventilated. The planning of the apartments is spatially generous where it matters and compact otherwise. Perhaps most significantly, the courtyard is a genuine public space, open twenty-four hours and legible as such. This is a generous move and a great challenge to pull off on privately owned land. In the search for models of a future, denser Sydney, ones that achieve a balance of private comfort with civic neighbourliness, this would most certainly make the cut.
And models we urgently need. According to the Australian Bureau of Statistics, Sydney will be a city of five million next year. We will need to build more than 650,000 new dwellings over the next twenty years to keep up with demand.2 All this and affordability is at an all-time low, or should I say high – a two-bedroom flat in Casba sold for nearly $1.2 million in May 2015. Sadly, this is housing for the few, not the many.
We head upstairs to sit in the light-filled living room of a Casba flat. Conversation with Haddow moves swiftly from building detail to larger issues and back. SJB Architects and Billard Leece Partnership are experts in the field of multi-unit residential architecture and Haddow is driven by a desire to master this form, a passion led at least in part by a very real concern about the impacts of sprawl. I ask what changes he has seen over recent years and for his thoughts about the future.
Though a strong supporter of the NSW State Environmental Planning Policy No 65 (SEPP 65) "Apartment Design Guide," Haddow has concerns as well: Are we designing out the best as well as the worst? How do we change the process to avoid the counterintuitive result? We discuss examples and issues – the small three-bedroom apartment in Buenos Aires that is perfect for a single parent. That for people who are out at work most days, morning and late afternoon sun may be more useful than the midday variety.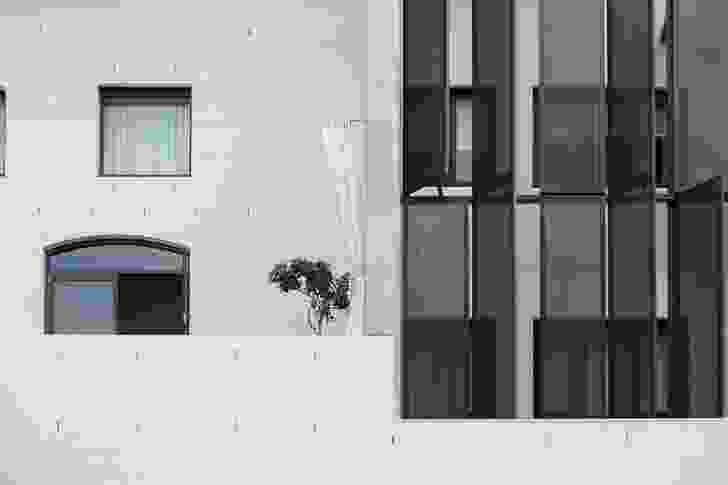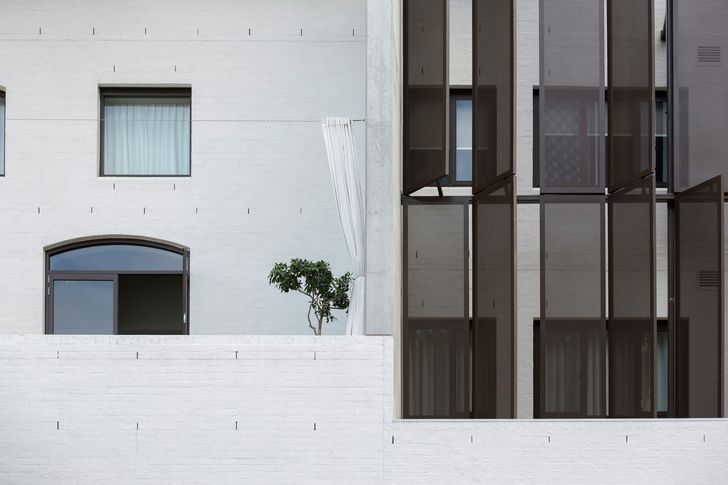 He observes that in recent months three-bedroom flats have started selling faster than one-bedrooms. Families are moving in. The approach to communal open space is changing, with a greater focus on the need to provide for children through the integration of childcare centres and playgrounds. Perhaps most interesting is a research project SJB Architects is undertaking in collaboration with a developer, looking into models for greater communal living.
What is our vision for our cities as they move from the dispersed, car-centric patterns of old to a more vertical consolidated form? How do we want to live in them? How will we ensure they are affordable for our children? The selection of Casba from the shortlisted Mixed-Use field at WAF positions street life, measured scale, homeliness and old-school materials above grand views and floor-to-ceiling glazing. Life above lifestyle. I suspect most architects would make the same choice for their own dwelling. Yet Casba is an exception, not just at the WAF but also at home on the ground. Much of the density increase that is taking place in our cities is radical in its scale shift, from two storeys to twenty, as is the case just a few blocks south of Casba at Sydney's Green Square and on sites across Greater Sydney. Casba references a different model, a mid-scale city of the kind that emerged when our feet were still our primary means of getting around. Its appeal is in many ways nostalgic.
Whatever form Sydney and our other cities take over the next generation, density is our destiny. We must encourage, pilot and showcase a multitude of forms and patterns, experiment with delivery models, construction types and ownership structures and position an enriched and varied public domain at the heart of every endeavour. I look forward to seeing the grain and sensitivity of Casba pop up in a collectively owned, multi-generational mixed-tenure development at the WAF sometime soon.
1. Completed Buildings – Mixed-Use award, World Architecture Festival (WAF) 2015, worldarchitecturefestival.com/2015-category-winners
2. A Plan for Growing Sydney, NSW Department of Planning and Environment, December 2014, planning.nsw.gov.au/en-AU/Plans-for-Your-Area/Sydney/A-Plan-for-Growing-Sydney
Credits
Architect

Billard Leece Partnership
Australia
Project Team

Adam Haddow, David Leece (project directors), Alan Hunt, Richard Briggs, Shaun Cassidy, Nick Hatzi, Meng Hng Ho, Joseph Loh, Raj Senanayake
Architect

SJB Sydney
Surry Hills, Sydney, NSW, Australia
Consultants

Building certifier AED Group
Fire engineer Olsson Fire and Risk
Hydraulic engineer ITM Design
Interior design BKH
Landscape design Black Beetle, William Dangar and Associates
Mechanical engineer Xandel
Structural engineer Woolacotts Consulting Engineers
Town planning Tomasy
Traffic consultant Varga Traffing Planning

Site Details

Location Sydney, NSW, Australia

Project Details

Status Built
Completion date 2014
Category Residential
Type Apartments, Multi-residential, Refurbishment

Source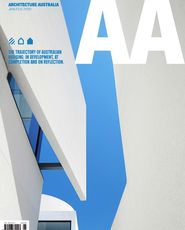 Issue
Architecture Australia, January 2016