Star Entertainment Group (formerly Echo Entertainment) has proposed $1 billion worth of investment in its Star Casino that will include the construction of a 200-metre high hotel tower. The 360-room hotel is seen as Star Entertainment Group's answer to the James Packer-backed Crown Resorts tower planned for Barangaroo South, which will be located on the other side of Darling Harbour.
Star Entertainment Group had already announced $500 million worth of upgrades to the casino to take place over five years. The company has now committed a further $500 million worth of investment that will also fund a "ribbon development" featuring a range of restaurants and cafes.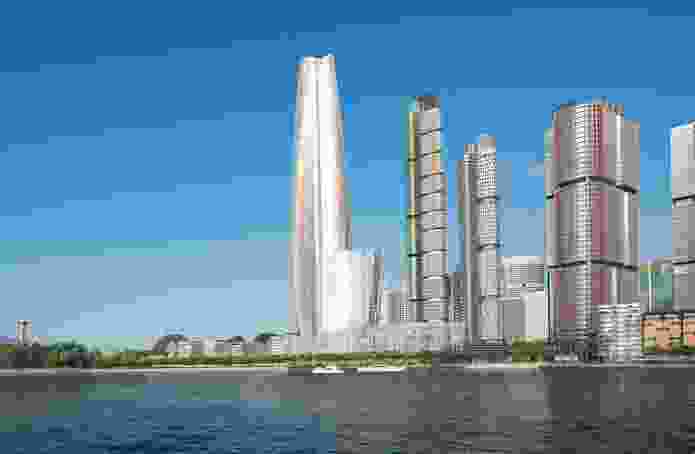 UK practice Wilkinson Eyre designed the $2 billion Crown Resorts hotel/casino tower at Barangaroo South, winning a 2013 international design competition. There have been serious concerns about the appropriateness of the Crown Resorts tower, with architectural critic Philip Drew describing it as "a giant finger given to Sydney" that "sums up everything that is wrong about Barangaroo."
Late last year, Star Entertainment Group outbid Crown Resorts to strike a multi-billion dollar deal with the Queensland state government as part of the Destination Brisbane Consortium to develop Brisbane's Queen's Wharf into a casino resort. The proposed development of the historic government precinct has attracted condemnation from the Australian Institute of Architects and other built environment groups.
Star Entertainment Group has indicated that it is in talks with the same investors who made up the Destination Brisbane Consortium for the Sydney project, including Hong Kong-based companies Chow Tai Fook Enterprises and Far East Consortium.
"We are in discussions with The Ritz-Carlton in relation to branding of the new hotel tower," a Star Entertainment Group spokesperson said.
"We are looking forward to having a Ritz-Carlton as part of the Queen's Wharf project in Brisbane and are also excited about the prospect of a Ritz-Carlton Hotel in Sydney to add to the experiences on offer at The Star."
"We are also in discussions on a potential joint venture on the project with our Queen's Wharf partners Chow Tai Fook and Far East who bring impressive and proven development expertise and experience."
Star Entertainment Group said that a design competition is likely to be run for the new hotel tower.
At the moment the Star Casino is the second-largest casino in Australia, and has an exclusive licence to operate in NSW that expires in 2019.
The NSW Department of Planning and Environment confirmed that it had received a request for environmental assessment requirements from Star Entertainment Group in line to prepare an application for a hotel in Pyrmont. A spokesperson from the department said that any application would be thoroughly assessed like any other hotel proposal through processes including a community consultation program and the public exhibition of concept plans.
The expected completion date for the tower is 2020.
Related topics