Castle Cove is one of those pockets of Sydney that only residents go to. Conceived as a sort of garden suburb around a lush country club, it's more discreet than the adjacent peninsulas of Middle Cove and Castlecrag (famous for its Walter Burley Griffin and Marion Mahony Grinffin houses). So, by the time you have wound around the golf links, down a side street and along a long driveway to reach this off-form concrete house, by Terroir in collaboration with Pascale Gomes-McNabb Design, it feels very much like the city and suburbs of Sydney have been left behind.
The curved slope into which the house nestles is an extraordinary (yet typical) harbour peninsula bush landscape – twisting angophora, rocky outcrops, screeching birds and, below, a glimmer of sparkling water. Among the huge gums sits a strangely beautiful, concrete, oyster-like form. It hovers above ground level and has deep recesses. The wide concrete eave shades a full wall of dark glazing (and conceals a recessed fire-shutter to comply with fire-zone requirements). The house is a play of sunny platforms, clear crinkled angles and deep shadows in crevices. Its cool, dark spaces are supremely suited to bright, warm days and echo the rock overhangs all around the basin of the site.
The clients had come to Terroir some years ago, motivated by the architect's attitude to landscape. Disciplined building and art enthusiasts who are passionate about design, their circumstances meant that they could be actively involved on the site.
The siting of the house feels beguilingly logical and informal. In shape, the building is an embracing crescent that follows the terracing of the landscape, looking north-east from a wide terrace to a new pool and deck and thence to the harbour. A smaller "flipped crescent" wing behind the main rooms includes subsidiary bedrooms that look uphill into a tiered garden. The house is also of a deceptive scale. As one approaches the property along a long narrow contour, the end elevation (a bedroom with a blank, sloping, cast-concrete wall) protrudes over a smaller angled form (a concealed storeroom). The openness of the car spaces and the converging angled concrete wall of the upper deck lure visitors towards an entry hall.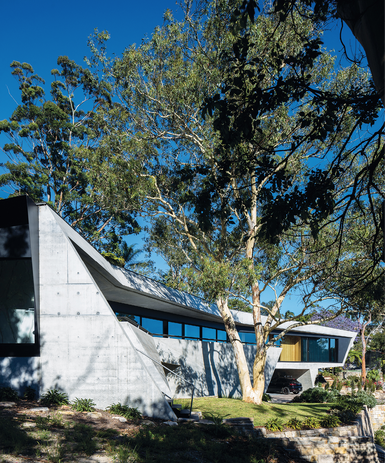 Inside, the drama of the double-height space, with triangular skylights and sculptural steps sheathed in vertical metal blades, comes as a complete surprise after the angled but restrained exterior palette of concrete forms. The stairs lead up to the living spaces at a piano nobile level. A bedroom sits at each end of the house, and is reached by wandering through either the living area or a darker, sound-absorbing music/TV room. The main bedroom has a beautifully faceted, mirrored bathroom and a small study nook looking into a lush pocket garden. The variety of spaces is delicious, with every room having a different emphasis and quality. The rear bedrooms, with concealed timber doors, are set apart from the north-facing principal rooms by a timber-lined corridor toplit by triangular skylights.
The Melbourne interior designer Pascale Gomes-McNabb was also brought in to the project by the clients. The architects, while not fully involved in contract administration, remained involved throughout the six-year build, and enjoyed working on the smaller details that arose from the collaboration with Pascale – bespoke bronze cupboard door handles, quirky cabinetry, delicate covers for light shafts.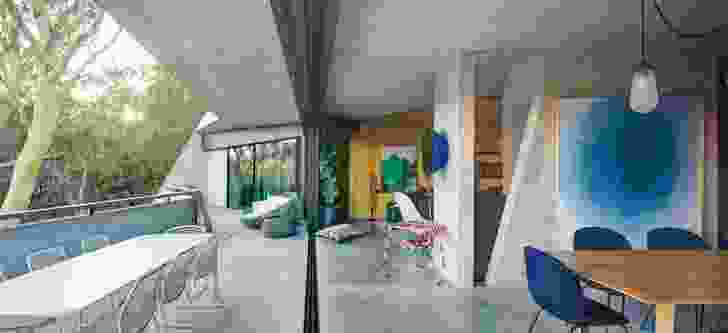 The lower entry area has a remarkable trifecta of spaces: a guest suite; a light, airy gym looking onto a garden, and a moody cellar where a hand-blown glass pendant light can be glimpsed through stacked wine bottles. The guest suite is a veritable cave, dug into the eastern end of the site, with only a sliver of a window offering a glimpse of the garden. Otherwise, the suite is illuminated entirely by light chimneys that rise through the rooms above. Other support spaces dug into the hill include a storeroom, a fire-water tank and enormous rainwater tanks.
Sculptural and complex, the house directs the visitor's gaze to a plethora of views. Climbing through the terraces of the upper site, one can see the triangular skylight forms rising above the zinc roof. The zinc rolls down the sides of the various forms, emphasizing the idiosyncrasies of each room. This makes it a building that is incredibly respectful to its neighbours above. On this beautiful site, Castle Cove House is a crafted labour of love. It will remain an exquisite paean to its location, its client, its architects and all those involved in its creation. It will no doubt have an enduring place in any history of Sydney bush architecture.
Castle Cove House is built on the land of the Cammeraygal people of the Eora nation.
Products and materials
Roofing

Elzinc cladding in 'Slate' and 'Black' from Arc.
External walls

G and D Concrete off-form concrete; Elzinc cladding in 'Slate' and 'Black' from Arc.
Internal walls

G and D Concrete off-form concrete; Elzinc cladding in 'Slate' and 'Black' from Arc; custom blackbutt veneer panels in Feast Watson 'Black Japan' and 2-pac panels in satin finish by Rintoul.
Windows

Atlite double-glazed skylights; Vitrosca double- glazed sliding doors in black anodized aluminium.
Doors

Custom solid blackbutt doors in Feast Watson 'Black Japan' by Rintoul.
Flooring

G and D Concrete with burnished concrete floor by Stoneart.
Lighting

Reggiani Sunny track-mounted projector and Yori Surface lights from Euroluce; Yamagiwa Mayuhana Mie pendant; Flos Easy Kap 80 Round downlight, Tab T table lamp and Find Me spotlight; Apparatus Cylinder Swing Arm sconces and custom Lariat 6 in 'Blackened Brass'; Modular Lighting Instruments light fittings.
Kitchen

Cavalier Ventilation rangehood; Wolf stainless steel oven and cooktop; Vola tapware in stainless steel; Frost Catering Equipment custom fridge and freezer; Hobart dishwasher and oven.
Bathroom

Vola tapware in stainless steel; Earp Bros hand-painted glazed and glass mosaic wall tiles; Calacatta marble and Portsea Grey marble from CDK Stone.
Heating and cooling

Rehau hydronic underfloor heating.
External elements

Eco Outdoor cobblestones; Greene Fire fire curtains.
Other

Interior metalwork and structural steel by Salken Engineering.
Credits
Architect

Terroir
Australia
Project Team

Gerard Reinmuth, Chris Rogers, Scott Balmforth, Robert Beson, Sarah Benton, Joshua Lynch, Amanda Clarke, Alex Moore, Kirrill Grigarin
Consultants

Builder Olding Constructions, Callic Constructions
Electrical engineer Steve Nee
Hydraulics Michael Frost & Associates Pty Ltd
Interior design Terroir, Pascale Gomes-McNabb
Structural engineer SDA Structures

Aboriginal Nation

Castle Cove House is built on the land of the Gadigal people of the Eora nation
Site Details

Location Sydney, NSW, Australia
Site type Suburban
Site area 4813 m2
Building area 510 m2

Project Details

Status Built
Design, documentation 16 months
Construction 72 months
Type New houses

Source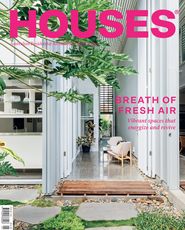 Issue
Houses, February 2020
Related topics