A surprise and a delight, Castlecrag House makes an effortless and timeless contribution to architectural speculations on domesticity. The interconnections between a rich contextual response to site and a close attentiveness to physical and spatial manifestations of personal family history give the project a sort of seamlessness, so that it is hard to know where one stops and the other begins.
Constructed around three aspects of physical site – a sandstone outcrop, an angophora forest and a view of Sydney's harbour – the spaces connect through a complex circulation or pinwheel, which introduces and overlays other notions of "homeliness." Here we uncover the sentimental, the nostalgic: memories and times past. This interweaving of narrative and formal journeys provides an experience that resists simplistic spatial readings of hierarchy or sequence, of architectural style or era.
Exquisitely detailed, the house contains vignettes that seem to synthesize distant memories and contemporary life: the mirrored and faceted dressing table window, recessed into a wall overlooking angophoras; remnant brick wall segments and romantic bridges on the exterior; children's bathrooms resting on sandstone; a softly furnished inset lounge with draping curtain walls. This project has poignancy and depth, created through threads of materiality and narrative that reveal an exemplary working of house as home.
– Jury citation
Architects adore the textural richness of a project under construction, sensing in it a visceral honesty that is too often muted by needlessly prissy "finishing," which insulates us from our basic sensory awareness. Neeson Murcutt makes spaces of invitation, where we are prompted to live fully and wonderfully. Despite the rigorous intellectual agenda latent in all of their work, the spaces never impose but are offered for completion in unscripted ways by the lives of their occupants.
– Laura Harding, "People: Rachel Neeson and Nick Murcutt of Neeson Murcutt Architects," Houses, issue 81, 22.
Read more in Rachel Neeson and Nick Murcutt of Neeson Murcutt Architects.
For a full list of awarded projects see 2011 National Architecture Awards – the winners and for more awards discussion see Rachel Hurst and Rory Hyde's responses to the awards and the jury overview by Karl Fender.
Credits
Architect

Neeson Murcutt Architects
Sydney, NSW, Australia
Project Team

Nicholas Murcutt, Rachel Neeson, Isabelle Toland, Sean Choo, Jeff Morgan
Consultants

Builder Maincorp Construction Group
Structural consultant Randall Jones

Site details

Location Sydney, NSW, Australia
Site type Suburban
Category Residential
Type New house, Residential

Project Details

Status Built

Source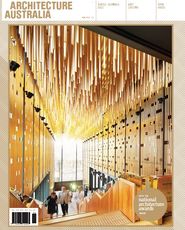 Issue
Architecture Australia, November 2011
Related topics