Students from Monash University Art Design and Architecture (MADA) have created 11 works of wearable architecture for the 2015 Wearing the City project.
Now in its second year, the project challenged students to reinterpret Melbourne's iconic interiors, from the historic to the contemporary, at a scale for the human body.
This year, a group of architecture and fine art students worked with architect Cate Hall and fashion designer Miriam Borcherdt to design the pieces. Geometric forms were a common feature among this year's projects, with many of the architectural hallmarks in the interior spaces echoed in the costume designs.
"The project engages with architectural form at the scale of the body and provides interdisciplinary challenges," said Miriam Borcherdt, lecturer at MADA. "The students have been experimenting with a range of both rigid and pliable materials that consider scale, proportion, and the body's movement."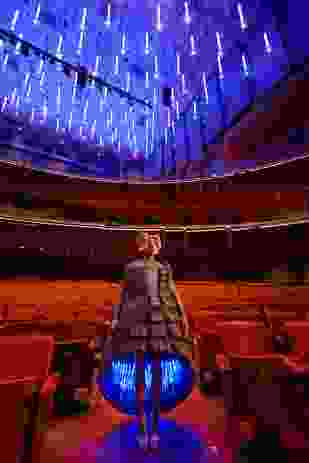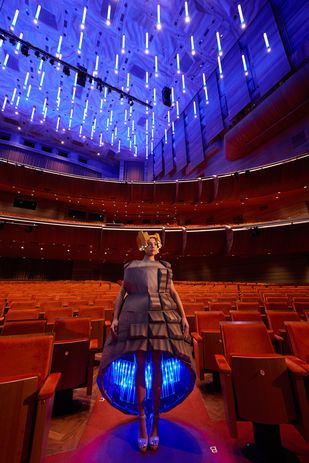 The 2015 designs are:
St Paul's Cathedral (William Butterfield) – Monique Woods, Hoai My Linh Duong, Nicole White
NGV Great Hall (Roy Grounds/ Ceiling: Leonard French) – Ken Wu, Isabella Alvarado
Heide II (McGlashan Everist) – Melissa Brown, Tess McLaren, Eastina Zhang
Capitol Theatre (Marion Mahony Griffin and Walter Burley Griffin) – Luke Lim, Caitlin Wallace
Hamer Hall (Roy Grounds/ Interior: John Truscott, upgrade by ARM Architecture) – KiaAchilleos, Celina San Jose
Baker D. Chirico Carlton (March Studio) – Qianying Weng, Jesse Oehm, Lily Fong
Shrine of Remembrance – Galleries of Remembrance (ARM Architecture) – Melissa Parker, James Zhao Jin Yan, Julia Quirk
Myer Melbourne interior Chasm (NH Architecture) – Ruben Digby-Diercks, Matthew Luong
Main foyer 171 Collins St. (Bates Smart) – Cecilia Young, Alisha Vasudevan
NAB docklands (Woods Bagot) – Isabella Peppard Clark
The Quays (McBride Charles Ryan) – Emily McBain and Yoana Doleva
Students compete head-to-head in a catwalk contest at MPavilion, Saturday 14 November, 5–7pm to be judged by a panel of multi-disciplinary jurors. A winner will be announced on the night.
Wearing the City is inspired by a legendary 1931 costume ball of the Society of Beaux-Arts Architects, in which over 20 of New York's pre-eminent architects of the time dressed up as a building they had designed, including William Van Allen as the Empire State Building. It's a tradition that lives on in many of New York's architecture schools.
Related topics