This residence was designed on a challenging suburban site where access to northern sunlight and privacy were limited by the surrounding buildings. Having lived there in a dark and poorly planned house for many years, the owner knew what he wanted - a bold new house, abundant in glass and natural light. Flexibility was also important – the house was to function efficiently whether accommodating many people or just the residing couple.
From the outset we were determined to use glass in a way that answered the challenges of the brief and site while still resulting in a sustainable outcome. Although general use of the word "sustainability" is becoming more offhand these days, to us in regard to architecture its meaning is clear. A sustainable house maximizes its efficiency, minimizes its pollution, is adaptable and durable and will be valued rather than replaced or modified over the years. Addressing these factors through passive solutions is a focus of our design process and in this case a "glass box" without any barrier to heat transmission was obviously to be avoided. Convincing the owner of the benefits of using glass in a more restrained manner, contrasting it with the solid elements of the building, was an ongoing priority throughout the project.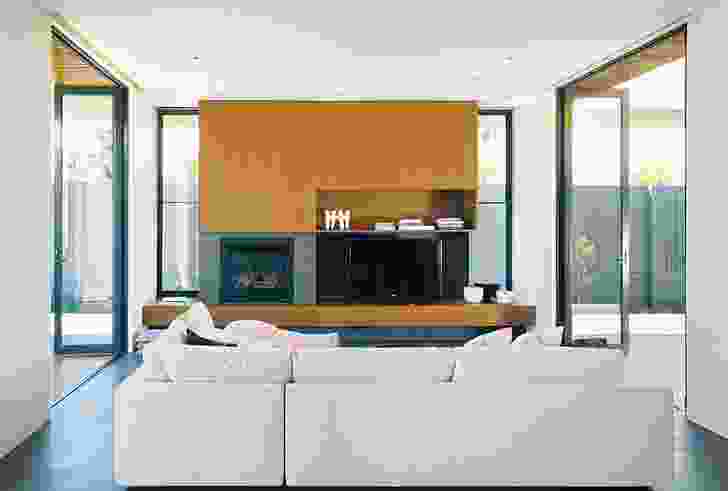 Two primary gestures – a central gallery and courtyard – were employed in the concept design, driving the subsequent zoning, volume and form of the house. These divide the plan into ground-floor areas for the residing couple and general living spaces, with upstairs the domain of their children and grandchildren. High-level glass louvres along the central gallery capture gentle northern sunlight over the adjacent house to the north, allowing a thermal mass wall to absorb heat and bounce light into the ground-floor living spaces. When open, the louvres facilitate passive cross-ventilation and cooling, allowing the gallery to act as a chimney, drawing hot air up and out of the living areas. The courtyard acts in tandem with this gallery, allowing strong connections to be formed between the various interior living areas and the outdoors. Operable glass doors surrounding the courtyard have controlled areas of glazing to prevent excessive heat transfer. Concealed internal sliding doors allow different living areas to be separated or connected as needed, allowing the use of mechanical heating and cooling and artificial lighting to be both zoned and minimized. Ceilings continue from inside to outside to provide suitable shading protection from summer sun.
To further control solar gain, Viridian ComfortPlus Low E glass was used in all glazing throughout. Fixed windows are double-glazed, while the larger operable glazed doors are single-glazed for ease of operation. Other windows have been carefully sized, positioned and orientated to maximize their effectiveness – for example, glazing elements are aligned through the courtyard and gallery, adding to the feeling of openness. Externally, an east-facing window creates a bold gesture to the street (a clear requirement of the brief) and is balanced by smaller slot windows, which provide privacy and further opportunities for natural ventilation. By incorporating these measures into the early design stages, we have attempted to form a sequence of layered spaces which not only answer challenges imposed by brief and site but are also sustainable, evocative and memorable.
Products and materials
Roofing

Lysaght Klip-lok roof decking, Colorbond 'Woodland Grey'.
External walls

VM Zinc cladding, Anthra finish; Boral concrete blockwork; spotted gum cladding.
Internal walls

Spotted gum.
Windows and doors

Viridian ComfortPlus Low E glass, laminated; Capral aluminium framed windows; Breezeway glass louvres; Aneeta sliding windows.
Flooring

Classic Ceramics floor tiles, 'Charcoal'.
Lighting

Inlite; Custom Lighting.
Kitchen

Laminex spotted gum timber veneer, Essastone 'Pearl Pendant' benchtops.
Bathroom

Reece appliances.
External elements

Eco Outdoor 'Cashmere' and 'Coco' concrete pavers; SmartTimbers sugar gum decking.
Credits
Architect

Bower Architecture
Melbourne, Vic, Australia
Project Team

Jade Vidal, Chema Bould, Anna Dutton, Adrian Amore, Rose Heeley
Consultants

Builder First Impressions Projects
Engineer Stress Consulting Engineers
Interiors Bower Architecture
Landscaping Cassandra Chilton

Site Details

Location Caulfield, Vic, Australia
Site type Suburban
Building area 420 m2

Project Details

Status Built
Design, documentation 12 months
Construction 15 months
Category Residential
Type New houses

Source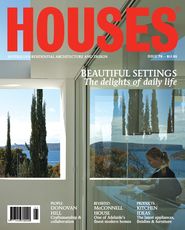 Issue
Houses, February 2011
Related topics