The business of providing customer service in the financial sector is intensive and can be fatiguing for staff. In the interests of general wellbeing and, ultimately, staff retention, the new Commonwealth Bank of Australia (CBA) Customer Service Centre on Collins Street in Melbourne has been designed as a bright, vibrant workplace. Interior design, environmental graphic design and engaging murals have joined forces to create a better place to work, where visual respite and narrative playfulness offer relief and enliven the setting.
The project is part of a long-term relationship between interior design firm Davenport Campbell and the CBA, a relationship that has delved deep into the bank's "cultural DNA" and sought to align corporate values with workplace design objectives. Six of the seven floors are dedicated to general customer service – they are of nearly identical layout, but importantly, each features different graphics – and a training floor sits lower in the building. Each level's floor plate extends from the Collins Street frontage right through the block to Flinders Lane.
As an interiors project, the CBA Customer Service Centre is fundamentally sound, and has resulted in greatly increased efficiencies in the floor space and other solid metrics, as well as appealing, airy work and breakout spaces. Davenport Campbell has interpreted the bank's cultural values in direct and indirect ways, and anecdotal evidence from my tour guide when I visited the site was that it is a vast improvement on the previous workplace and a pleasure to occupy.
The thing that sets this project apart, however, is the suite of murals created by artist and illustrator James Gulliver Hancock. These have been installed as part of the overall graphics strategy devised by Frost Design, in close collaboration with Davenport Campbell and representatives of the client group.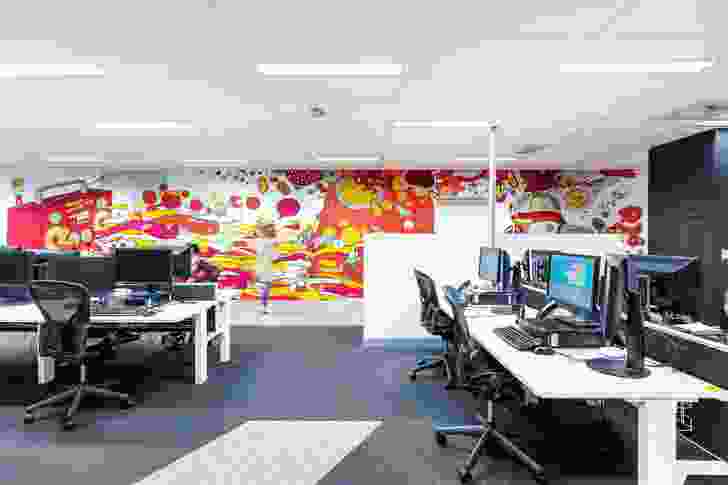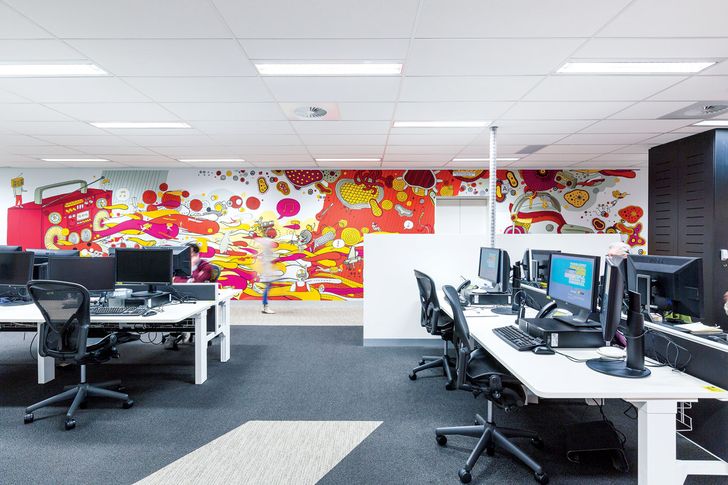 After having been pitched the concept of the murals and responding with enthusiasm, CBA set certain objectives for the content. For a start, it was considered important to make explicit reference to the street art culture, and the urban geography and iconography of inner-city Melbourne. From this objective, the concept of "posh laneway graffiti" emerged, and this ethos informed the development of both the graphics and the murals. Secondly, CBA did not want the murals to favour one cultural or gender group over any other, in the interests of being inclusive and open to interpretation by the diverse range of individuals who make up the bank's workforce, and by extension, its customer base. Thirdly, colour was to be used in the murals to differentiate between floors, while the planning and layout of the floors created a sense of consistency and commonality.
Originally conceived as a continuous band on the lower half of all internal walls, the murals evolved into full-wall treatments at key points across the floors, thus creating greater impact. The murals are playful and dense with content at macro and micro scales; the idea is that they provide visual respite for staff who spend much of their time on the phone, and that there is always something new to discover, even as workers become familiar with the designs over time.
In the spirit of the genderless, culture-agnostic objective for the works, androgynous human figures with bird, platypus, typewriter or ghetto-blaster heads vie with monkeys and other creatures, all engaged in a range of busy pursuits. Broadly themed into work, rest and play, no two murals in the office spaces are alike, and the murals work both from a distance and up close, where much more detail is revealed to the attentive viewer.
Melbourne's urban iconography is given full airing, fixing this interior in its time and place, with the repeated inclusion of elevations of significant buildings such as Flinders Street Station, and the appearance of such icons as the MCG, rowers on the Yarra River, the ubiquitous trams and even Luna Park's gaping maw. Across this city-in-miniature, the strange, genderless figures are engaged in all sorts of activities, from surfing and rollerblading to tapping on computer keys and vacuuming (done by robots). The figures seem to be enjoying their two-dimensional world, doing as Melburnians do in their fair city.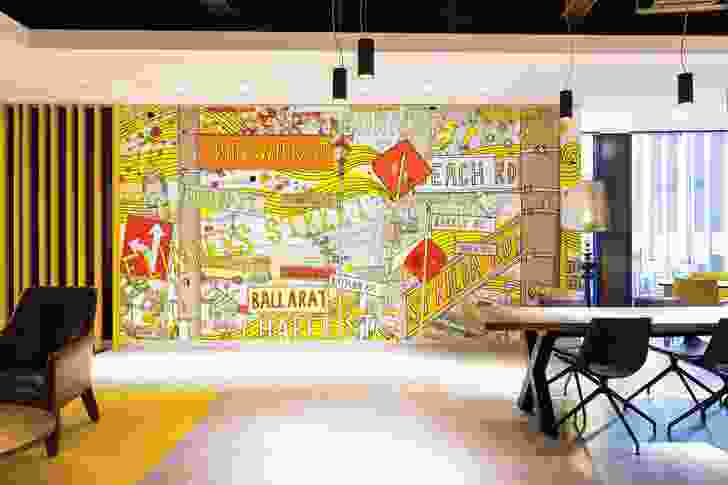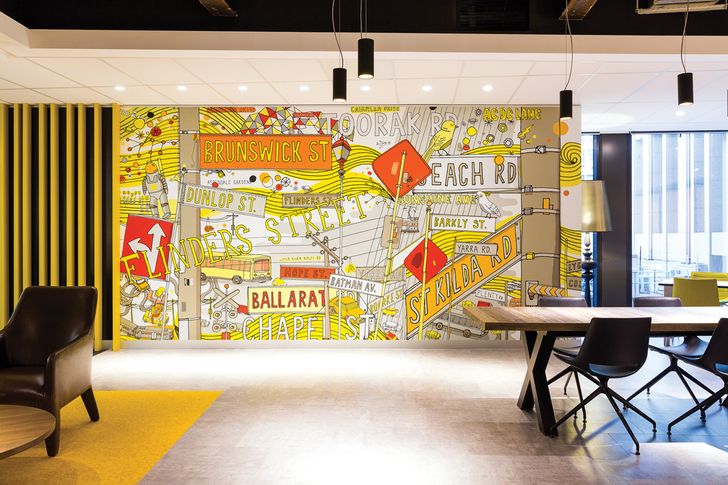 Frost Design's graphical framework wrapped around these key murals provides consistency of colour and wayfinding, and a secondary non-mural graphical system is used in particular on the training floor, derived from the geometry of key Melbourne building elevations, drawing a contrast to the playful murals that adorn the office walls. The various systems work in harmony across the site.
With so much effort having been put into the creation of a humane, friendly environment, and resources invested in a system of graphics and murals that are ultimately only for the worker's consumption, it remains to be seen whether the overall synthesis does have a positive effect on staff retention, staff sick days and the various other metrics of contemporary workplace analysis. At any rate, it seems like a step in the right direction for a team doing demanding, intensive work.
Products and materials
Flooring

Base building carpet from Shaw Contract Group. Feature carpet from Godfrey Hirst. Sheet vinyl from Amtico.
Furniture

Aeron task chair, Ear breakout chair, Eames plastic side chair and Caper stacking chair, all from Living Edge. Home 1 lounge chair, Palm 4-way swivel chair, Duna swivel chair, Baobab chair, Catifa 46 chair and Catifa 53 chair, all from Stylecraft. Archie sofa, Horizon lounge, Horizon ottoman, Charlie sofa chair and stool, Kelly chair, Sunday chair and Flynn table, all from Jardan. Open A642 chair, 050 tub chair, and Miss Molly side chair, all from Zenith. Tolix Tabouret stool and Tolix side chair from Thonet. Parcs wing chair from Bene. Workstation from Schiavello.
Credits
Design practice

Davenport Campbell
Sydney, NSW, Australia
Project Team

Neill Johanson, Tracey Schofield, Freya Reid, Vince Frost, Bridget Atkinson, Charlie Bromley, Katie Bevin, Jordan Rowe, Adam Longo
Graphics

Frost Design
Sydney, NSW, Australia
Consultants

Builder Australand
Engineer, lighting and ESD Cardno ITC
Illustrator James Gulliver Hancock
Indoor plant supplier Frenchams
Project manager Paragon Project Management
Quantity surveyor WT Partnership

Site Details

Location Melbourne, Vic, Australia
Site type Urban

Project Details

Status Built
Design, documentation 10 months
Construction 18 months
Category Interiors
Type Workplace

Source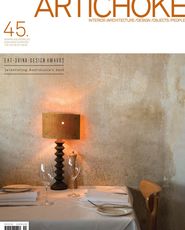 Issue
Artichoke, December 2013
Related topics