In a dramatic overhaul of the City of Sydney's planning strategy, height limits in certain areas of the CBD could be lifted from 235 metres to over 300 metres.
The Central Sydney Planning Strategy, released last week, is described as the most comprehensive urban planning strategy for central Sydney in 45 years.
A key aspect of the strategy is a deliberate move away from incentivizing residential development with a focus instead on mixed-use development.
The City of Sydney says the strategy has the potential to unlock up to 2.9 million square metres of floor space for retail, hotel, cultural and office uses.
"Past planning strategies have successfully increased the number of residential buildings in the city centre, but now we need to protect and increase the amount of productive floor space to maintain Sydney's economic vitality and resilience," said Lord Mayor Clover Moore.
The strategy document states, "Central Sydney now needs to relocate these incentives and protect and grow employment floor space to maintain its economic vitality and resilience, and to respond to the changing needs of markets.
"[The strategy] refocuses the current development environment that favours residential use of land towards accommodating employment needs while keeping a balance with social infrastructure and amenity."
Future developments over 55 metres in height will have a land use mix requirement of a maximum of 50 percent residential and serviced apartments.
The City of Sydney has also identified areas for "concentrated tower clusters" where buildings could potentially rise to 300 metres, subject to federal air safety regulations.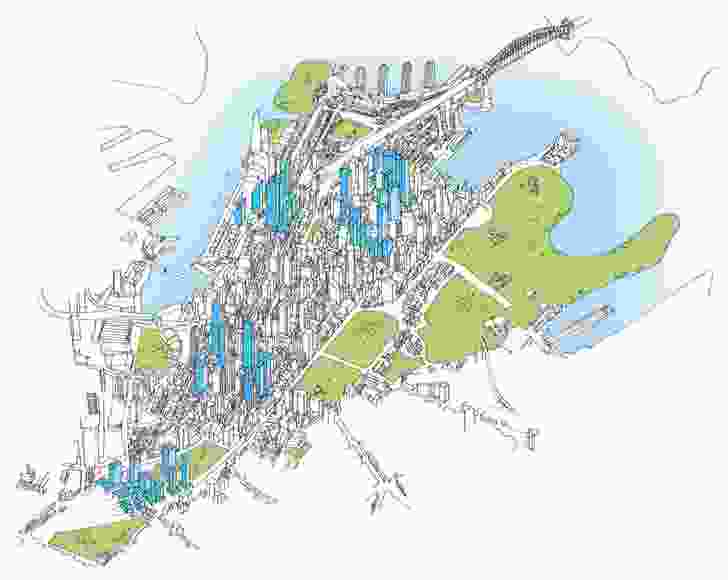 The areas are determined by mapping the public spaces in the city, such as Hyde Park, the Royal Botanic Gardens, Martin Place and Wynyard Park, drawing lines of solar access for those spaces. The method allows parts of the city to grow while preventing overshadowing of public spaces.
The height limits along the city's western edge, the area immediately to the east of Barangaroo and Darling Harbour, will be lifted from 80 metres to 110 metres. The move will "capitalize on the changing form and character of the area and the additional rail infrastructure commitment by the NSW Government," the strategy states.
The City of Sydney also proposes to introduce an affordable housing contribution scheme that will require all developments to "contribute one percent of non-residential floor space and three percent of residential floor space to affordable housing."
The City estimates that by implementing various moves outlined in the strategy, it could deliver between 300 and 520 new affordable housing units. The strategy states "about another 8,000 affordable housing dwellings are required to achieve the 7.5 percent affordable housing target."
The strategy will be presented to the City of Sydney's councillors on Tuesday 19 July. See all the strategy documents here.
Related topics