Ceramic tiles inspired by Le Corbusier's colour theory come to Australia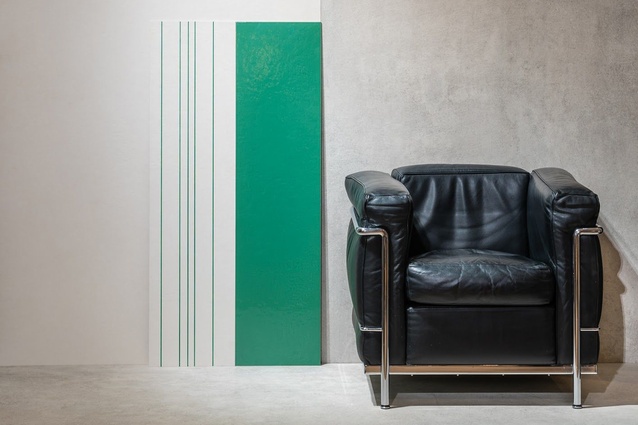 Artedomus has introduced a suite of ceramic tiles, based on the colour theory developed by French modernist architect Le Corbusier, to Australia.
Le Corbusier was twice commissioned to design a series of wallpapers for Swiss manufacturer Salubra. These collections, produced in 1931 and 1959, were based on concepts expressed in Le Corbusier's 1930 essay "Architecturale Polychromie" (architectural polychromy) that colours could be applied to achieve specific spatial effects. "Constructive" or naturally pigmented colours could be used to manipulate the perception of space. "Dynamic," or synthetic pigments, could be used to create contrast and emotion.
Le Corbusier had been developing a colour matching system called "colour keyboards" since the 1920s.
In the catalogue produced for Salubra to accompany the wallpaper lines, Le Corbusier proposed a paper cutout, that would have allowed laypeople to choose functional colour palettes by restricting them to a limited selection of complementary colours.
The Le Corbusier LCS Ceramics tile collection, produced in Italy by Gigacer and supplied in Australia exclusively by Artedomus, includes two unglazed porcelain tiles in neutral colours, which are intended to be combined with 12 glazed tiles in colours taken from the "colour keyboard." 
For more information on the Le Corbusier LCS Ceramics range, visit the Artedomus website.