Cervo is Italian for deer. On Sailors Bay Road in Northbridge NSW, on Sydney's lower North Shore, Cervo is also a local Italian restaurant with a fine dining ambition. It's interior is the work of the newly formed practice of Ben Mitchell and Simon Addinall – Those Architects – and it's designed to bring young foodies and old mamas alike to this bristling little pocket just off the Sydney Harbour Bridge.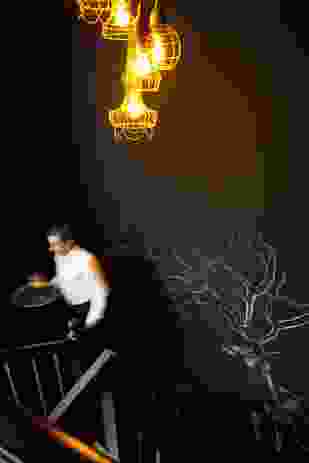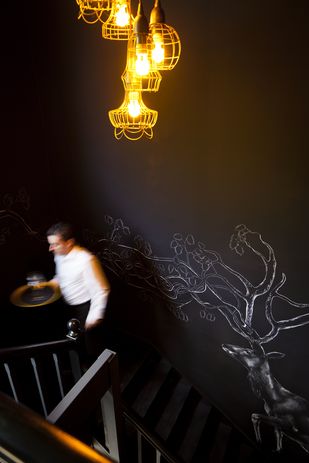 The owners first found a derelict premises in a prominent location, handpicked their chef (a specialist in venison carpaccio), then came to Those Architects looking for an interior that would capture a little of the old world and a lot of the new. Set over two levels, Cervo's interior is richly detailed with recycled timber floors and walls, matte-black painted ceilings and blackboard walls for texture, with hand-stitched leather banquets for a moody minimal luxe.
Materials are raw, but their crafting is fine. Add to that the low-key warm lighting (halogen downlights are mercifully absent) and the architects have trod well the line between 'hunting lodge' and fine dining room. "It's a moody and rich interior, which is very Sydney, and there are nods to Cervo's Italian origins – but not in an obvious way" says Ben Mitchell. "The fine leather detailing, for instance, is in the vein of that Maranello tradition, recalling the famous Ferrari trims of the 1950s and 60s."
What pulls it all together in a spirited way are the graphics by Melina Wilkins and chalk art by Northern Beaches artist, Nick Hall, whose meandering mural of deer and a forest brings the chalkboard black walls to life. Graphic designer Melina Wilkins designed the restaurant's distinctive logo and signage, mixing an elegant serif typeface with finely drawn antlers that extend the 'v' upwards into an almost abstract deer head. It's a simple, contemporary image, with a nod to tradition – which pretty much sums up the ethos and modern Italian menu at Cervo.
Products and materials
Walls

Chalkboard. Recycled rough hewn baltic pine.
Flooring

Recycled rough hewn baltic pine.
Ceilings

Plasterboard, flat black acrylic paint.
Lighting

Bakelite fittings with edison filament globes.
Bar

Recycled rough hewn baltic pine.
Artwork

White chalk + fixative.
Wine Rack

Galvanised steel trench mesh.
Furniture

Walnut & leather.
Credits
Architect

Those Architects
Australia
Project Team

Ben Mitchell, Simon Addinall
Consultants

Artist Nick Hall
Graphic design Melina Wilkins
Lighting Those Architects

Site Details

Location Sailors Bay Road, Northbridge, NSW, Australia

Project Details

Status Built
Completion date 2012
Design, documentation 2 months
Construction 2 months
Category Hospitality, Interiors
Type Restaurants

Related topics