In 2000 I moved into my first share office with my good friend Jim Osborne, a landscape architect. One day he arrived at work flushed with excitement – he had found an empty roof space for sale and wanted me to be his architect. As a student in the UK, I had been fascinated with colonizing underutilized roof space to bring "living" back into the decaying city centres of 1980s Britain, so my excitement easily matched his.
As Jim worked to get his finances in order, we joked that we would need to helicopter in a caravan until he could afford to build. But out of the blue, the owner announced she was selling the rooftop with the one-bedroom unit on the level below it, ruling Jim out financially. We were gutted.
But "Lady Luck" was shining her light on me and one week later I was approached by two friends who had just bought the apartment, and thus my first (pent)house was born (first published in Houses 38). I made an immediate start (conscious to mask my enthusiasm from a surprisingly understanding Jim sitting at the next desk).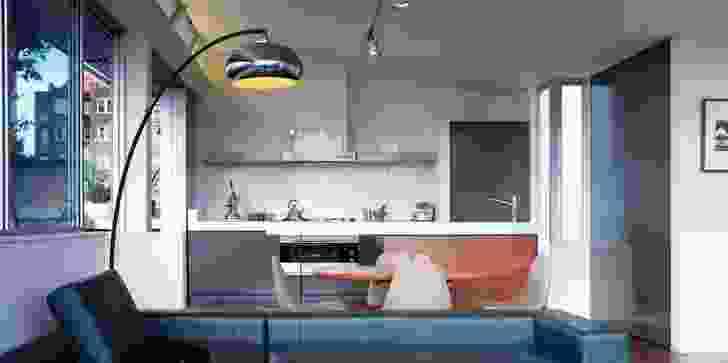 The brief from the clients (a couple of very tall chefs who were opening a garden shop) was clear and straightforward: "Masculine with a great kitchen – and as much outdoor space as possible. The rest is up to you."
In reality there was only one location for the stair and at around fifty square metres, the upper level would have to be for living and outdoor space. The forty-square-metre one-bedder below would be converted into two bedrooms, two bathrooms and the entry.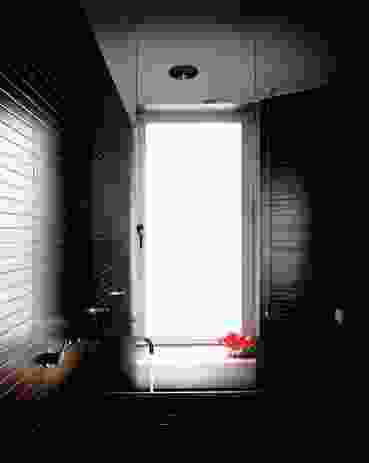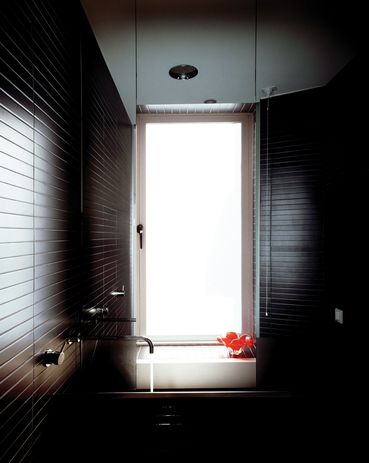 At that time, most of my projects were either alterations and additions to narrow Sydney terraces or apartment renovations, so I was no stranger to the tyranny of the "space and storage" ruler. Every feasible space had to be used – be it under the stairs, niches in walls or ceiling cavities. So while perhaps a little odd, my proposal that the ensuite shower be in the hallway simply felt … right. The rest of the ensuite was shoehorned under the stairs and behind the wardrobe like a Japanese puzzle with secret cupboards laced into every available crevice.
The clients were no strangers to the Sydney party scene and their brief for the guest bathroom was "nightclubby" (for the smallest bathroom ever!). With no space for a sink, a blade of stainless steel simply redirects water from the wall-mounted tap, onto the wall and into the linear strip drain on the floor; and in showering, everything (except the toilet paper) gets wet.
We wanted to ensure that none of this wizardry was obvious on arrival and designed the entry sequence to be grand and flooded with natural light – from above, through the hallway/shower and through the glass door of the tiny guest bathroom.
Upstairs we had a cleaner slate: more space and, being a new build, an opportunity for some architecture. A single room with two glazed walls captures views of the CBD to the west and Sydney Harbour to the north-east. The other two (more solid) walls to the south-east are clad in copper and timber recycled from a woodshed (with a nod to the work of my favourite practice at that time, Caruso St John Architects).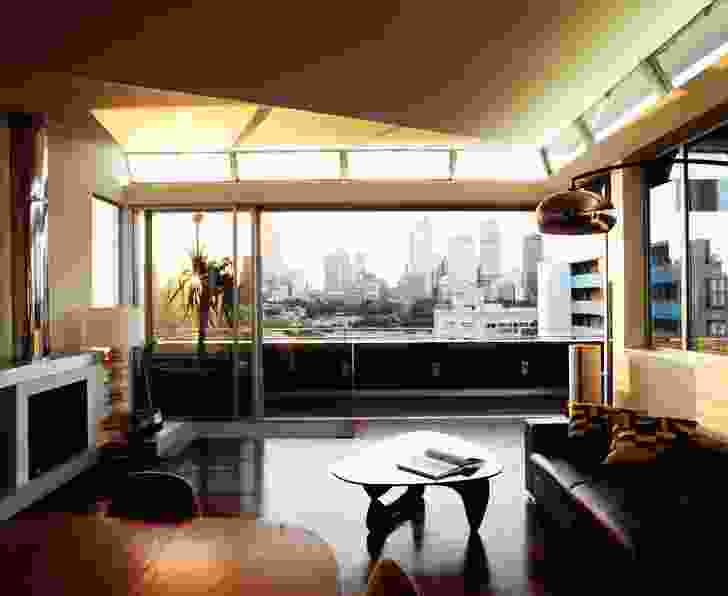 The skillion roof rakes upward to create bespoke pivoting steel glazing that can be left open all day, which prevents the owners coming home to a hotbox and floods the room with natural light. The kitchen was to be robust and practical and while maybe it is not what I'd do today, I'm still proud of the detailing in all its earnest robustness. I feel that eighteen years on, my design process is more fluid. With the benefit of experience I can work more effectively and make decisions much more easily. Time, after all, is not something that can be hurried, bought or replaced.
It is often said that one's early creative obsessions remain and develop throughout a career and "putting things on top of other things" became a signature move for my practice in those early years. The machinations of navigating through strata title, legal responsibilities and planning regulations are all pretty fraught and then there are the access issues.
My clients, who are still good friends of mine today, inadvertently set me up as a bit of a "go-to" man for rooftop extensions. But these days it is more about larger houses, which, although free of the complications of strata and the tyranny of small spaces, come with their own complexities. The bespoke joinery and tricky detailing are a common link – just no more showers in hallways!
Credits
Architect

MI Architects
Sydney, NSW, Australia
Project Team

Andy Macdonald, Emma Townsend
Consultants

Builder David Tisdall
Engineer SDA

Site Details

Site type Urban

Project Details

Status Built
Completion date 2000
Category Residential
Type Apartments

Source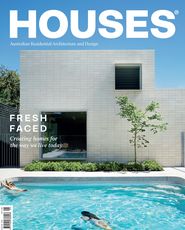 Issue
Houses, October 2018
Related topics