A design collaboration can be a valuable partnership between designer and manufacturer. For the designer, it bridges the gap between a design concept and the reality of a manufactured product. For the manufacturer, it's a way to inject new direction and style into an established company. Sydney-based industrial designer Charles Wilson's recent collaboration with King Furniture has given him valuable lessons. To date, Charles's industrial portfolio has encompassed furniture, objects and spaces. From a humble saucepan to his SW1 Swivel chair, which has been part of a permanent collection at the Powerhouse Museum in Sydney since 1998, Charles's design focus is on nurturing the human form. The King Furniture collaboration is yet another example.
"I think collaborations work best when both parties learn from each other," says Charles of the recent partnership. "This has been very much the case with my first projects with King Furniture. I've particularly enjoyed working with a whole array of technologies and processes that are new to me." For Charles, the collaboration is a connection to a new market, making his designs accessible to a wider audience. His initial response to the invitation was delight, having found a company that was determined to respect his designs by monitoring the resolution of every detail throughout the design and production processes.
The King Furniture collaboration came about when the designer was invited by David King to be part of a new collection. "I was impressed by David's appreciation of design and his vision for the company," notes Charles of their first meeting. Two years in development, the Andrea sofa is Charles's first design product for King Furniture, released at the State of Design Festival in Melbourne earlier this year. Designed closely with King Furniture, the sofa embodies Charles's design ethic while staying true to the King Furniture philosophy that furniture should adapt to a user's changing needs. "With the Andrea sofa I wanted to expand on this adaptability while creating a somewhat more refined, feminine form," explains Charles. The sofa itself is designed around a tubular steel chassis, a rectangular platform that is reinforced by cross braces which double as mount points for the arms and back, secured by a unique locking mechanism. The sofa can be adapted for lounging and sleeping, with soft tables that can be slotted into chassis mount points.
Charles considers the future of the King Furniture collaboration to be bright, with many more designs in the pipeline, including a range of sideboards, television units and storage units. "There are some exciting innovations in these that I'm really looking forward to developing," says Charles
Source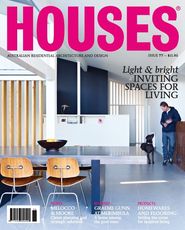 Issue
Houses, December 2010
Related topics