Trend forecasters have long been predicting the demise of traditional office interiors. While there is still a plentiful supply of grey-clad "becubicled" fitouts in use, the next generation of office interiors is putting new ideas into action. Case in point: the CHE Proximity workplace by Bates Smart.
The brief called for a new Melbourne office for the creative agency, a fast-paced division of the Clemenger Group. The resulting fitout occupies levels eight and nine of an existing South Yarra office building blessed with full-height glazing and an unobtrusive shell.
The agency's focus on "creative intelligence" and its collaborative culture shaped the architect's approach to the project. "The most successful workplace projects are led from the top, where senior management have thought carefully about how they want the place to work," says Grant Filipoff, associate director at Bates Smart. "Fortunately, that's what we had here."
The starting point was to reduce the number of walls, to encourage teamwork and transparency. The rectilinear floor plate had a centrally located lift and services core, which was purposely enclosed by walls of pinboard and whiteboard. The uncarpeted main circulation space traces through and around this central core, with open-plan workspaces wrapping around the outside on both floors.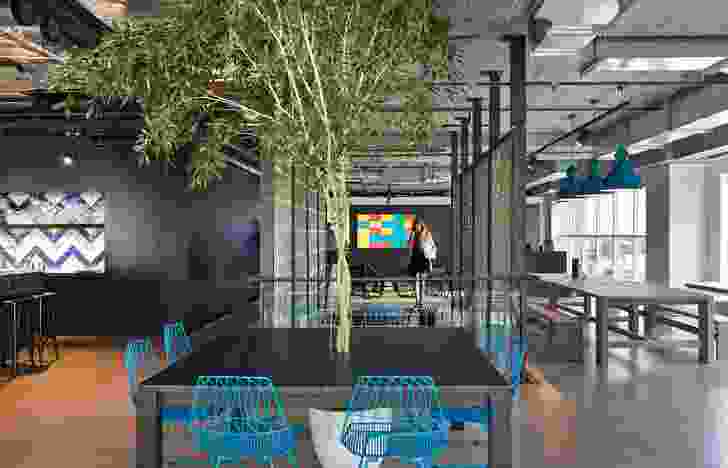 Looking around these open-plan zones, there are few enclosed offices, save for functions like finance and human resources. Refreshingly, senior personnel are all out on the floor too, making use of the variously configured meeting rooms when privacy demands.
The meeting rooms vary in size, layout and mood. At the north-eastern corner of level nine, a boardroom sits alongside a pair of smaller meeting rooms, one with a conventional square table and the other with couches and beanbags. While the fitout of these spaces is pared back and simple, a gradated carpet adds a playful graphic feature, flowing from a sharp blue at the northern edge through to a citrusy green in the smallest meeting room. Large sliding panels enclose the rooms and can be retracted when required to join the rooms to neighbouring zones.
The agency's focus on collaboration is perhaps best exemplified by the L-shaped cafe/hub area that wraps around the north-western corner of level nine. At one end is the streamlined reception area, while at the other end is an elegant cafe-style meeting space with variously configured planters, tables, stools, chairs and lounges accommodating all manner of casual conversation, client meetings and moments of respite. The space is also used for client events – an island bench and staff kitchen can double as a central bar, and a secondary catering kitchen is neatly concealed to keep clutter to a minimum.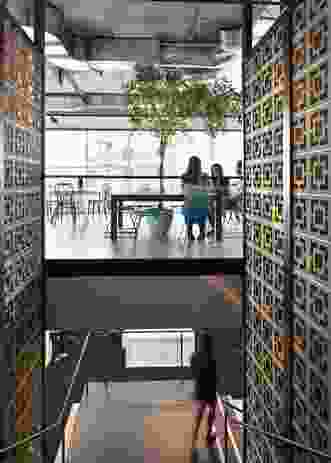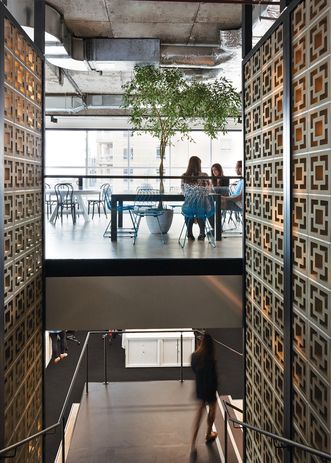 "We refer to this area as the epicentre of the business," Filipoff says. "It's interesting to see the movement through this space – people coming in and out, naturally progressing to different corners and using the space in different ways." The plan steps in along the northern edge, with an expansive outdoor terrace stretching the width of the floor. It is a rare treat in an office building.
Perhaps the most striking element in this zone is the staircase that connects the two floors. Its enclosing breezeblock walls give the space a neat mid-century feel, which offsets the almost-industrial exposed services and concrete ceiling above. "The stair was intended as a strong graphic element, something textural within the space. It creates some separation, but its transparency also activates the space," Filipoff says.
In contrast to highly branded interiors, this fitout is restrained throughout. There is no overt branding, and the palette employs black, grey and white to good effect. "We really wanted to keep the palette simple and to make the interior a backdrop for the work they produce. There are certain elements that have character, but the real personality of the space is generated by the team, their output and the energy that they create," Filipoff says.
The arrangement of the workstations continues these ideas of openness and collaboration. Desks are arranged in linear banks, or "neighbourhoods," without defined boundaries. Partitions are low or non-existent, and there are communal tables and other informal meeting areas scattered in between. Furniture selection was tailored to the purpose of each zone. "For the creative team, we wanted to create a kind of 'kitchen bench' setup. The desks are designed to feel almost like you're working on the kitchen bench."
Discussion of office design trends invariably questions the impact of open-plan workspaces on employees' productivity. To the casual observer, it certainly seems to work well here. It is not noisy, but it is most definitely alive. There is an energy about this place, a rhythm of exchange and sharing, of percolating ideas.
"The whole idea of the interior was to encourage interaction," Filipoff says. "A lot of people would happily send an email to someone sitting a couple of desks away. Sometimes you need to encourage people to interact a little more, so giving them a space [in which] to get together is not a bad way to start."
Products and materials
Walls and ceilings

In reception: Majestic screen wall blocks in standard grey from Besser Block Centre. EchoPanel core wall lining by Woven Image. Walls are MDF panelling, painted in Dulux 'Natural White' and Bristol Paints 'Onyx Ring.' In meeting rooms: AudiSlat in white laminate finish by Atkar. In reception, bar and hub: exposed concrete soffit.
Flooring

Existing concrete floor, polished. In reception, boardroom and meeting rooms: Designer Jet carpet from Godfrey Hirst Carpets and Floors.
Lighting

In reception: HK Living Factory pendant lamp in Ocean Blue from House of Orange, and Flos Parentesi Suspension floor lamp from Euroluce. In hub: HK Living Workshop pendant lamp from House of Orange.
Furniture

In hub/cafe: custom tables and bench seating from House of Orange; Bend Lucy chair in peacock blue from Own World; No. 18 dining chair from Thonet; HK Living wooden stool from House of Orange; and Hay Don't Leave Me side table from Cult. In office: Herman Miller Sayl chair and Arras desks from Living Edge.
Kitchen

Nobili New Road Gooseneck sink mixer from Reece. Zip HydroTap from Zip Industries. Oltremare, Azzurro and Santosa splashback tiles from Classic Ceramics.
Credits
Design practice

Bates Smart Melbourne
Melbourne, Vic, Australia
Project Team

Jeff Copolov, Grant Filipoff, Kendra Pinkus, Rachael McCarthy, Ben Nicholas, Lai Yee Chan, Kate Wardlaw, Casey Eagles
Consultants

Builder FDC Building Services
Project manager Spitfire Control

Site Details

Location Melbourne, Vic, Australia
Category Interiors
Type Fit-outs, Workplace

Project Details

Status Built
Completion date 2013
Design, documentation 4 months
Construction 3 months

Source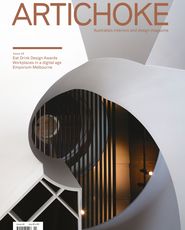 Issue
Artichoke, December 2014
Related topics