There has been enormous hype around the Chicago Architecture Biennial, which the organisers proclaim as "the largest exhibition of contemporary architecture in the history of North America". Entitled "The State of the Art of Architecture", the inaugural Biennial borrows its name from a conference organized by Stanley Tigermen in 1977, in which Tigerman called for his peers to respond to the most pressing issues of the day. Nearly four decades on, the curators of The State of the Art of Architecture mark two, Joseph Grima (former editor of Domus) and Sarah Herda (Director of the Graham foundation), are once again asking architects, "What is important to you?" The responses to this seemingly simple question form the basis of the biennial exhibition, which aims "to demonstrate how ground-breaking advances in architectural design are tackling the most pressing issues of today."
It is in the curators' selection of exhibitors that their agenda comes into sharper focus: the biennial exhibition is as much about what has been excluded as what has been included. In terms of its aesthetics and ethos, the content generally stands a step away from notions of the digital and the system as a driver. It is a step away, too, from starchitects towards emerging practices. This is not to say these interests are absent entirely. Your jaw will drop should you try to mentally deconstruct how Gramazio Kohler Research, ETH Zurich and MIT's Self-Assembly Lab (MIT) have programmed a robot to build a structure capable of supporting three tonnes, using only rocks and a single thread (with no adhesive or mortar). Likewise, you'll find familiar work on display by celebrity architects such as BIG and Jun'ya Ishigami. Most of the exhibition, though, tackles much less glamourous, arguably more human-centred subject matter: domesticity, post-traumatic scenarios, community driven outcomes, affordability, the reduction of scale, the retrofit.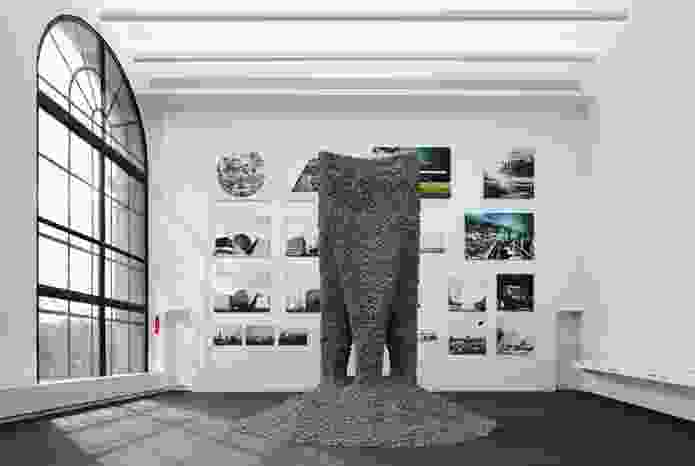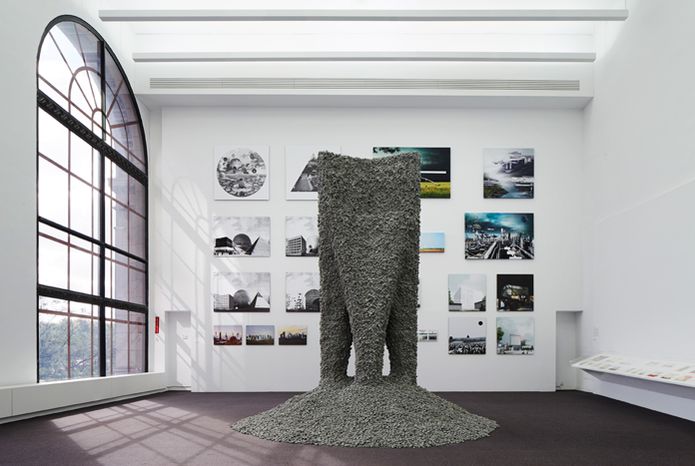 Tigerman was one of the "Chicago Seven", a prominent group of practitioners associated with post-modern architecture during its 1970s heyday in North America, and many of the discussions and exhibitions in the Biennale recall this period – from the exhibition of artist Barbara Kastens works, to discussions on representation and replication and talks entitled "Post Modern Architecture: Preservation's New Frontier". In some ways, the Biennial illustrates the emergence of a re-framed "post-modernism" in architecture. Post-modernist thinking understood the "sign", or symbol, as separated from its signifier, so it could be said to have (signify) multiple meanings. Concomittantly, in architecture post-modernist thought was largely manifest in manipulations of form, colour, symbolism and ornament. Much of the architecture in the Biennial builds on these interests, yet also considers them as a way to investigate space, function and public need.
As MOS Architects point out in the statement accompanying their project House No.11 (Corridor House): "nowadays, corridors are a necessary afterthought, an indifferent chasm joining this to that in houses everywhere." Their project re-claims the corridor, responds intently to its scale, inhabits it and does away with the rest. The corridor takes on a new meaning, becoming a commentary on the scale of the suburban dream home.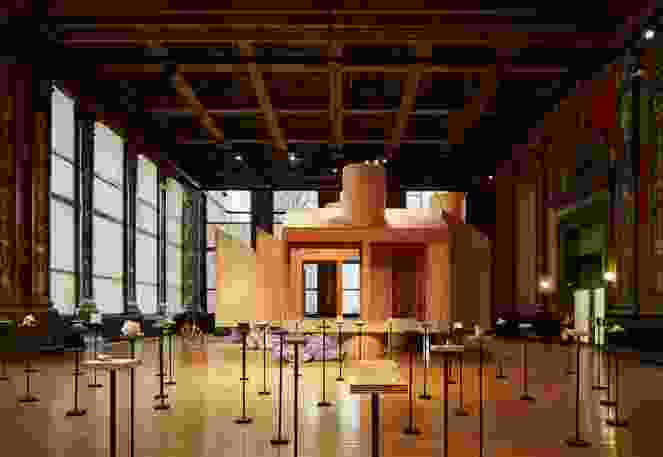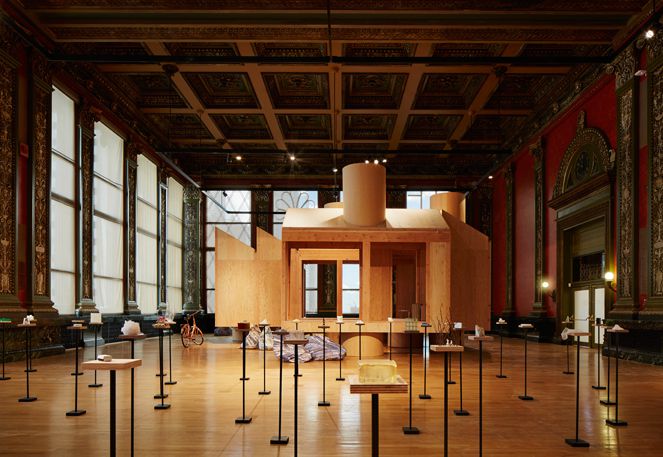 Commissioned by the Mexican Government, Tatiana Bilbao's project Sustainable Housing addresses affordability and housing shortages, yet adopts its form from the archetypal pitched roof home painted in lurid pinks and blues, a symbolic critique of the modernist flat roof that she notes has shifted from a symbol of prosperity to one of failure.
With the tagline "hidden within every suburban house is a great work of architecture", Offset House by Otherothers (an offshoot of Sydney-based practice, Other Architects) is another example of this interest in the symbolism of housing. Offset House deconstructs the conventional Australian McMansion, peeling back its brick veneer to expose the timber frame beneath, while new, more intimate spatial volumes are "offset" from the envelope established by this structure. In this fashion, Offset House creates diverse spaces for circulation and social encounters.
Eighty percent of Australians live in suburban housing like the McMansion, most of which is built using "light frame" timber construction techniques. The balloon frame, an early and very influential form of these techniques, was invented in Chicago. In this sense, Otherothers' submission was one of the few international projects that meaningfully engaged with the city. The contributions of local participants, on the other hand, often talked to local concerns, creating a rich experience that left you wanting more.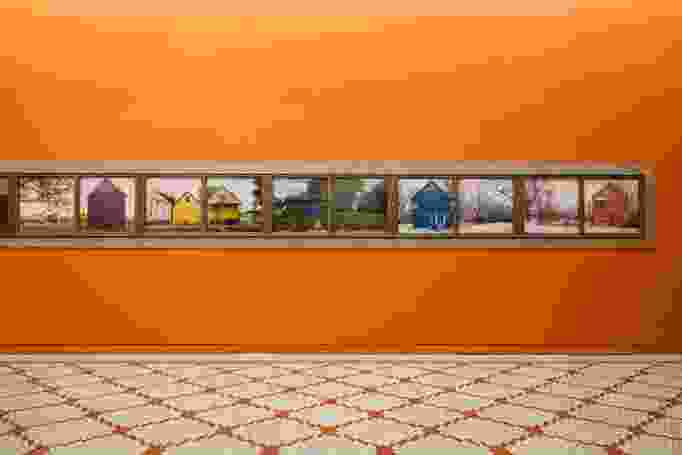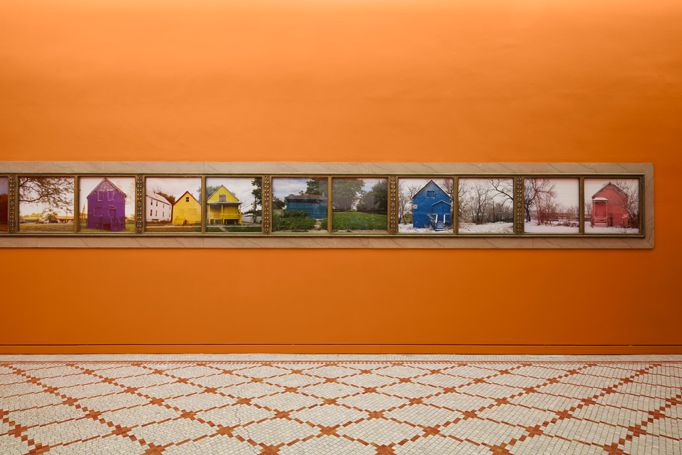 Amanda Williams' Color(ed) Theory houses project sees decaying houses in Chicago's south painted in bright, singular colours in a commentary on issues of colour, race and space, while We Know How to Order by Bryony Roberts + South Shore Drill Team brought a dance team of inner city youth to Mies' Federal Centre for a performance work reflecting on governance, systems of order, hierarchy, "the other" and the accessibility of public space in the city.
Ultramoderne's Chicago Horizon, the winning submission to the Lakefront Kiosk competition, re-interprets an architectural type that has become synonymous with Chicago. This exercise in flatness offers a large canopy, supported by informally dispersed columns to create an open, flexible ground plane, designed to accommodate a range of different social configurations.
All three of these projects deploy what are arguably post-modern tactics for their effectiveness, relying heavily on images, symbolism, and representation tied specifically to Chicago and could be found in diverse, strategically selected locations throughout the city.
Most of the international submissions are stashed inside the Chicago Cultural Center. Originally a public library, the Center functions as the mayor's official reception venue for important international guests, hosts amenities open to the homeless, and is home to the Chicago children's choir. During the Biennial's private press preview, it was not uncommon to get a glimpse of a wedding or bar mitzvah through a slightly ajar door.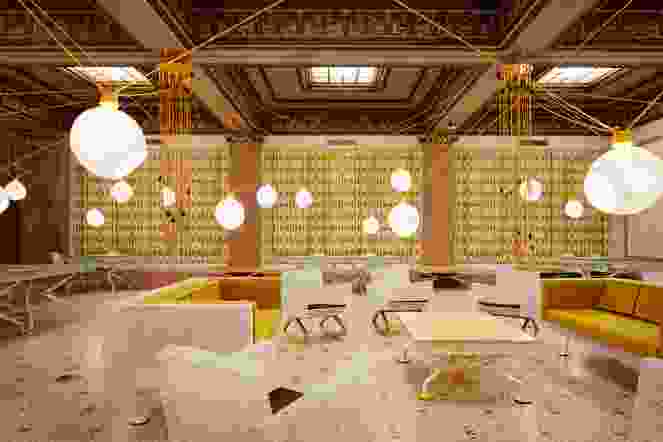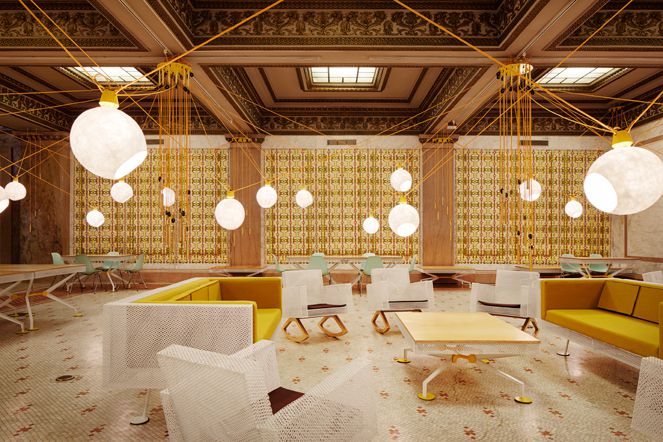 The Center's foyer space, Randolph Square, is often referred to as "the living room of the city" and for the Biennial hosts a work by Pedro & Juana from Mexico City. Papier-mâché lights on pulleys, rocking chairs, large lounges, standing desks and coffee tables aim to activate the space in a means reminiscent of its days hosting local newsstands. Beyond the foyer, some incredible works get a claustrophobic treatment in interstitial or corridor spaces, while other spaces feel overpopulated. Following Mies, doing less for more here might have been better.
The Biennial exhibits the work of over 100 architecture practices from more than 30 different countries. While the open-ended framework doesn't provide a common thematic thread, a strong, people-centred ethic can be read throughout, drawing the global gaze to some outstanding work by up-and-comers trying to create positive, social change though architecture. The closing statement for Super Powers of 10 by Andrés Jaque/Office for Political Innovation (Madrid/New York) provides a fitting summation of the Biennial's strengths. A de-construction of the 1970s film Powers of Ten by iconic modernist designers Charles and Ray Eames, the performance piece challenges architects to think critically about their role in society:
Effectiveness, consensus, austerity and happiness are frames that concentrate society's actions, but only at the expense of marginalizing everything that evinces difference, that destabilizes granted knowledge and that burdens with representation the making of decisions. Architectural practices are a part of this process. We can work on consolidating frames of exclusion. We can work on contributing to making the controversial and diverse appear consensual and homogenous. But we can also contribute to multiplying frames dedicated to what is relevant, like the problematic, the marginalized, the discredited and the disputed.
Related topics