Designing on steep sites inherently poses a myriad of challenges. In the hands of a less skilled practitioner, this will invariably result in the visual malaise that comprises most of the harbour-side suburbs of Sydney. Implicit are issues such as bulk, scale, view sharing, privacy, circulation topography and exposure, while clients' expectations to maximize views and develop the site to its full potential add additional pressure to these already difficult projects.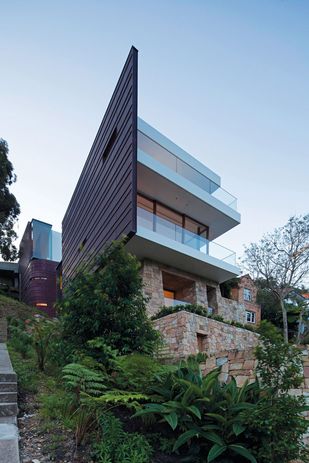 Chinaman's Beach House, designed by Fox Johnston Architects, places itself within this milieu. The challenge of creating a house that would sit comfortably on a site that falls almost thirty metres from the front to the back required not just a high level of technical proficiency, but an attitude as to what the house "is." It is this extraction of an essential idea that arguably results in the success or failure of such houses. For Fox Johnston, such an ideal was a clear intention of ensuring that the house, despite its size, strongly engendered a feeling of home, with spaces that felt familiar by virtue of their scale, proportion and material, with a clear approach to planning and formal composition.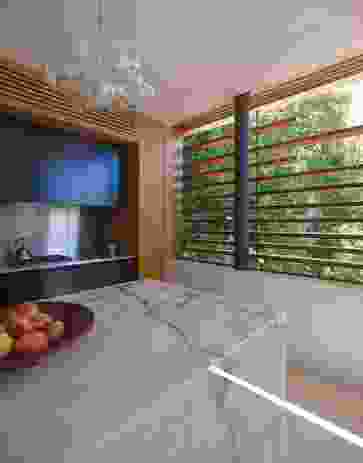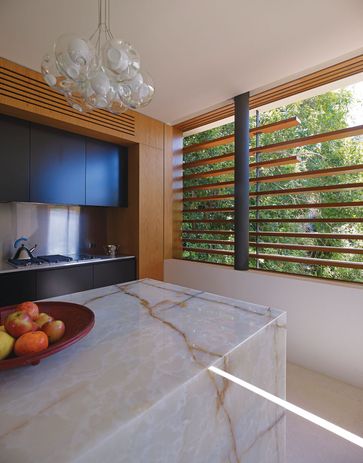 The house is designed as two separate volumes set either side of a central courtyard and linked by a vertical circulation route on the southern side. The highest level of the western section accommodates the kitchen and informal eating space, with guest accommodation below. The eastern part contains the formal living and dining spaces, with the main bedroom on the middle level. A basement, which includes a cellar and a private, self-contained suite, sits embedded at the lowest level. A lap pool is incorporated on the northern face of the house, accessible to the main internal courtyard. Such a direct and uncomplicated resolution of program and the client's brief – for a home for a single person, with room for visiting family members – sets the tone for the spatial sequence throughout. The resulting experiences are varied and diverse, underpinned by the architects' values of making spaces that are hospitable, inhabitable and discrete.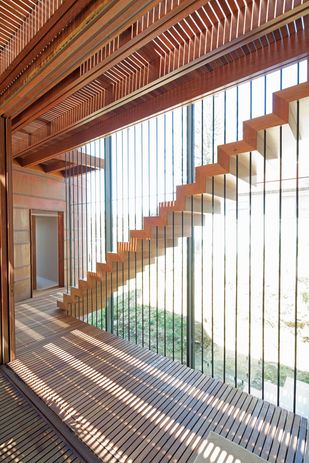 Creating a narrative through materiality and controlled views is paramount to understanding the house and the feelings it evokes. From the entry level, perched high on the site, one is cast out into the expanse above the treetops by a fully glazed, mid-level landing, only to then be coerced away by the ongoing descent of the staircase and anticipation of the unveiling scene ahead, now controlled by slotted, framed views. Duality of experience, safe and precarious, is implicit in the journey. The timber staircase is deftly suspended on almost improbably thin steel rods, coming to rest just above floor levels, while slatted timber walkways float above each other, set against the backdrop of a massive south window that appears to let the site slide underfoot. Below is a precipitous ravine that may be unwittingly fallen into, should a slat give way. Yet the worry is quickly eroded, as the precision and skill required in achieving such drama is a reminder that this is a considered and crafted house, sensitively composed and elegantly detailed to achieve its objective.
This aspect of nature impinging upon house is inherent to steep sites, particularly in relation to exposure. Contrary to common belief, north orientations are subject to strong breezes that can make outdoor spaces unpleasant and uninhabitable, unless you have adequate protection. A key aspect of the main living area is the terrace, and the provision of deep undercover areas that protect from strong north-east summer winds. The copper wall to the south addresses cold winter winds. The terrace extends along the full length of the north wall, sheltering the large bank of sliding timber doors. Indoor and outdoor spaces are now in companionship, rather than paying lip service to the usual cliché of the "seamless transition," without proper acknowledgment of relevant climatic conditions. While lower floors can be dark, cold and uninviting, here the private suite feels contained and reflective, with views contained between thick stone walls, a tactile and sensory enjoyment emanating from the warmth of hewn natural stone. Additionally, the two main walls to the south, with their gentle striated copper-clad curves, soften the mass of the house and allow the building to meld with the surroundings.
These aspects appear so simple and obvious – but that must not for a moment take away from the depth of the process, skill and attitude required, and exhibited, by Fox Johnston in the orchestration and execution of a house that sits elegantly and comfortably in its surroundings. As a result, it is neither obtrusive nor underplayed, balanced by the architect at every turn.
Products and materials
Roofing

ANL 'White River' pebbles; extruded polystyrene insulation boards; post-tensioned concrete slab.
External walls

KME copper cladding by Copper and Zinc Link; Australian Architectural Hardwoods recycled blackbutt cladding with Sikkens finish; cement render, painted Dulux 'Fair Bianca 1/4'; sandstone cladding salvaged from site.
Internal walls

Proyalbi cement render, painted Dulux 'Fair Bianca 1/4'; Art of Joinery American White Oak veneer panels with Rubio Monocoat Pure finish; sandstone cladding salvaged from site.
Windows and doors

Jeffrey Broadfield and Associates recycled blackbutt, Sikkens finish; Simple Studio roller blinds and curtains; recycled blackbutt fixed and sliding screens with Sikkens finish; Lockwood hardware.
Flooring

Post-tensioned concrete slab; Sareen Stone Crema Marquina limestone, honed; Australian Architectural Hardwoods recycled blackbutt decking with Sikkens finish; Max Lawson Carpets cut-pile wool carpet.
Lighting

Bocci Series 3 and 7 pendants from Hub Furniture; Panorama Noosa lighting from Tovo Lighting; Vice Versa XS lights from Inlite.
Kitchen

Miele ovens, plate warmers, fridge and freezer; Qasair rangehood; Ideal Standard kitchen mixer; stainless steel benchtop; Nefiko Onyx polished marble island bench; Art of Joinery American white oak joinery with Rubio Monocoat Pure finish; Art of Joinery polyurethane joinery with Dulux satin finish.
Bathroom

Rogerseller Architect wall-hung toilet, Verso and Domino basins and Miky undermount basin; Nefiko Onyx marble vanity; Sareen Stone limestone floor and wall tiles; Ideal Standard tapware; Meco shower heads and arms.
Heating/cooling

Daikin VRV airconditioning; electric underfloor heating; fixed and sliding recycled blackbutt screens.
Other

Custom-made furniture designed by David Ellem and Tyrone Dearing.
Credits
Architect

Fox Johnston
Surry Hills, Sydney, NSW, Australia
Project Team

Conrad Johnston, Emili Fox, Felix Junker, Katherine Burdett, Arash Katrak, Zara Lyons
Consultants

Builder Evolve Project Consulting
Engineer Taylor Thomson Whitting
Hydraulic engineer ITM
Interiors Fox Johnston, David Ellem
Land Total Earth Care
Landscaping Myles Baldwin Design
Specialist carpenters Tadg O'Mahony and Andy Cambell

Site Details

Location Mosman, Sydney, NSW, Australia
Site area 991 m2
Building area 503 m2

Project Details

Status Built
Completion date 2011
Design, documentation 16 months
Construction 30 months
Category Residential
Type New houses

Source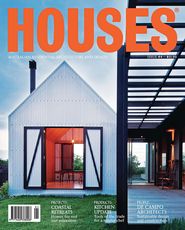 Issue
Houses, February 2012
Related topics