Masterplanned by Chrofi and McGregor Coxall, the $400 million redevelopment of Channel Nine's former studios in Sydney's Willoughby into a residential complex has been approved. The masterplan is an amendment of an earlier approval for a maximum of 400 dwellings on the site.
The practices' design won an invited design competition conducted by developer LEPC9 in late 2015. Other entries came from FJMT, SJB, BVN and Cox Richardson.
An earlier concept plan for 400 apartments on the almost three-hectare site was approved in 2014 but faced community backlash before the site was sold to its new owners. The now-approved proposal includes 460 dwellings.
The decision of the proposal was referred to the commission after the Department of Planning and Environment received 686 public submissions on the modified plan, 637 of which were objections.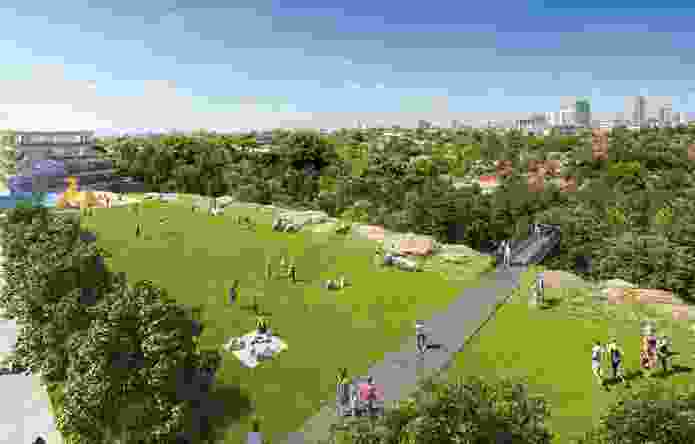 A media statement from the commission said, "the proposed modification to the development is in the public interest […] it will deliver improved overall design and built form outcomes, more publicly accessible open space and other similar benefits to the project as originally approved, including the provision of affordable housing.
"It also found the proposed increase in density is unlikely to result in any additional environmental and/or social impacts that cannot be appropriately and effectively managed through conditions."
The proposal comprises 460 dwellings across seven buildings ranging from four to nine storeys and two taller buildings between 11 and 12 storeys in height. Lower-scale buildings would front Artarmon Road and Richmond Avenue, with the tallest buildings more centrally located. The gradual increase in built density would be partly achieved by partially sinking the buildings fronting Artarmon road below the level of the street, by two metres, which would create sunken courtyards for ground floor apartments.
The concept plan calls for "bush buildings" on the southernmost part of the site, below Artarmon Road. These "premium villas" would feature a softer form and planting on the balconies and roofs.
The masterplan also includes a "village square" on the western side of Scott Street with an area of approximately 330 square metres and a more than 1,400-square-metre "village courtyard" within the complex. A "village green" comprising 1,700 square metres of sloping lawn would be accessible from Artarmon Road, the street that passes through the development.
In all, the proposed masterplan includes 8,396 square metres of public open space, compared with 3,178 square metres in the previously approved scheme, an increase of 172 percent.