Masterplanned by Chrofi and McGregor Coxall, the redevelopment of Channel Nine's former studios in Sydney's Willoughby into a residential complex has been recommended for approval.
The practice's design won an invited design competition conducted by developer LEPC9 in late 2015. Other entries came from FJMT, SJB, BVN and Cox Richardson.
The masterplan, which is an amendment of an earlier approval for a maximum of 400 dwellings on the site, will now await final determination by the Planning and Assessment Commission.
An earlier concept plan for 400 apartments on the almost three-hectare site was approved in 2014 but faced community backlash before the site was sold to its new owners.
According to an Environmental Assessment Report prepared by Ethos Urban, the competition jury found Chrofi's design offered "a substantial improvement to the approved scheme in terms of the design, planning, development and community outcomes delivered."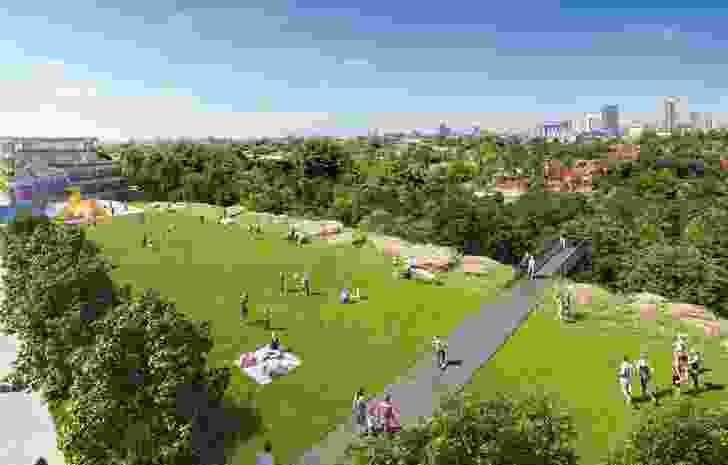 The masterplan comprises 495 dwellings across seven buildings ranging from four to nine stories and two taller buildings between 11 and 12 storeys in height. Lower-scale buildings would front Artarmon Road and Richmond Avenue, with the tallest buildings more centrally located. The gradual increase in built density would be partly achieved by partially sinking the buildings fronting Artarmon road below the level of the street, by two metres, which would create sunken courtyards for ground floor apartments.
The concept plan calls for "bush buildings" on the southernmost part of the site, below Artarmon Road. These "premium villas" would feature a softer form and planting on the balconies and roofs.
The masterplan also includes a "village square" on the western side of Scott Street with an area of approximately 330 square metres and a more than 1,400-square-metre "village courtyard" within the complex. A "village green" comprising 1,700 square metres of sloping lawn would be accessible from Artarmon Road, the street that passes through the development.
In all, the proposed masterplan includes 8396 square metres of public open space, compared with 3178 square metres in the previously approved scheme, an increase of 172 percent.
In the new concept plan attached to the application, chair of the design excellence competition Andrew Andersons said, "Working with the slope of the land, as in a Renaissance garden, Chrofi have created a sequence of outdoor green rooms, pathways and lookouts that connect with under-appreciated green networks and focus upon distant landmarks to create a public realm of diverse character.
"This ranges from the playful and active to the serene and contemplative, accessible to all. This imaginative "space positive" scheme creates a robust framework for the proposed high quality housing as well as enhancing the appeal of the surrounding environment for all to enjoy."