The Sutherland Shire Council has appointed Chrofi and NBRS Architecture to design the $21.8 million refurbishment of the Sutherland Entertainment Centre, following a design competition.
The team's proposal was chosen from a shortlist of three which also included schemes from Cox Architecture and FJMT.
Chrofi and NBRS Architecture's winning scheme considers the project as part of a broader civic precinct that includes the adjacent Peace Park, which will become a focal point of the scheme.
A "verandah" structure will be added to the existing building which will mediate the level change between the entertainment centre and the park. It will house a new restaurant/cafe which will activate the southern edge of the park as well as create a more visible and accessible entry to the entertainment centre from the park.
The existing black box space and administration building will be repurposed to create a foyer on the ground floor which could be used for a variety of occasions from informal shows, to large banquets, exhibitions and speaker tours, as well as serve as a space for gathering before and after performances.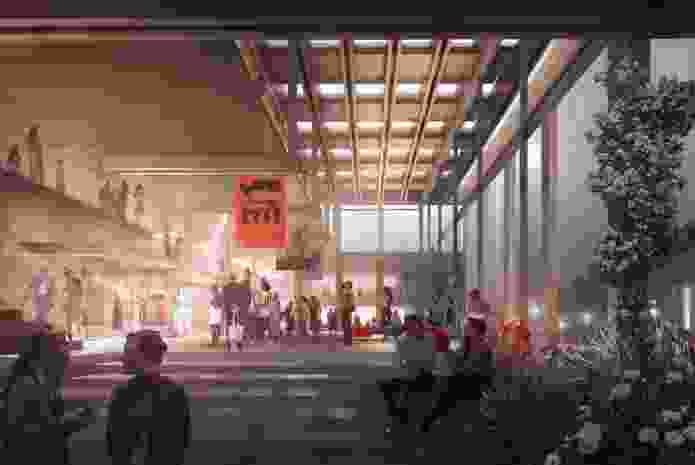 "A key aspect of our proposal was to improve the interconnectedness between the Entertainment Centre and Peace Park, by including a north facing veranda and versatile foyer space, that will evoke a relationship where the building and park will begin to feel very much a part of each other, and become a catalyst for community activation and cultural engagement," said Steven Fighera, Director of Chrofi.
The three shortlisted schemes were exhibited for community consultation in April and received more than 400 submissions.
Sutherland Shire mayor Carmelo Pesce said, "Chrofi and NBRS Architecture put forward an impressive proposal and the community responded positively to the key elements of their design."
James Ward, Director of NBRS Architecture, said, "Chrofi, NBRS Architecture and our consultant team are excited and proud to be partnering with Sutherland Shire Council and the broader community for the transformation of the Sutherland Entertainment Centre into a 21st Century performing arts and cultural venue."
The design is expected to be finalized later in 2019 and the project is expected to be complete in 2022.