The Council on Tall Buildings and Urban Habitat's (CTBUH) 2016 conference "Cities to Megacities: Shaping Dense Vertical Urbanism" was, by any stretch of the imagination, a mega-conference. The five-day event was held consecutively in three cities – Shenzhen, Guangzhou and Hong Kong – and encompassed 20 sponsored networking events, 84 sessions in 11 parallel streams, 261 speakers and 84 chairpersons. Such an ambitious undertaking makes the challenge of writing a concise review a bewildering one.
In attendance were more than 1140 delegates from architecture, engineering, construction, material manufacturing, academic and property development firms. A typical session involved a chairperson and three speakers, each of whom was allotted 20 minutes, a format perhaps borrowed from the TED Talks formula. These talks were based on 2,500-word-long research papers that were also available at the conference. A panel discussion and question time followed each session. Speakers included international architects such as Patrik Schumacher from Zaha Hadid Architects, Winy Mass from MVRDV, James von Klemperer from Kohn Pedersen Fox and Ma Yansong from MAD Architects, as well as Australian architects including Karl Fender from Fender Katsalidis, Kristen Whittle from Bates Smart, Phillip Oldfield from UNSW and David Tickle and Richard Mullane from Hassell. Female speakers fell well short of parity – and disappointingly no female Australian speakers were on this year's program – but there was nonetheless a gratifying increase on past years, a trend that must continue.
As the organization is colloquially known as the council on tall buildings, I anticipated talks about gravity-defying new building heights, dizzying numbers of elevators and extraordinary new world benchmarks. You can imagine my surprise, then, when the emphasis was on the ground plane and the urban realm: what was referred to as "the UH in CTBUH."
The location was selected strategically as part of the research of the conference. The three cities are located along a 150-kilometre-long stretch of the Pearl River Delta. One of the cities, Shenzhen, was among the first of China's Special Economic Zones (SEZ). During the last 35 years of extraordinary growth (known as the economic miracle), the three cities have grown together to form a continuous megacity, with population estimates that range from 60 to 100 million. The Chinese government is investing in infrastructure in this region to connect the cities, including a 38-kilometre-long bridge planned across the bay to connect Hong Kong to Macau that will transform what has previously been a "horseshoe" of eight cities in the Pearl River Delta into a continuous loop. In addition, a new high-speed railway that will connect Hong Kong to Beijing will be the world's longest high-speed rail line. The railway links Hong Kong, Shenzhen and Guangzhou, reducing travel times between Hong Kong and Guangzhou from over two hours to around half an hour, effectively making the three cities simply nodes in one continuous megacity. The West Kowloon Terminus in Hong Kong is well under construction, and the railway is expected to begin operating at the end of 2018.
The rise of the megacity – a metropolitan area with a population that exceeds 10 million people – has coincided with the advent of the urban age. The number of megacities around the world has risen from two in 1950 (New York and Tokyo) to 29 in 2015. Many of these rapidly expanding urban centres are in the developing world. Much of the conference therefore focused on how to make these new, dense and polycentric cities habitable.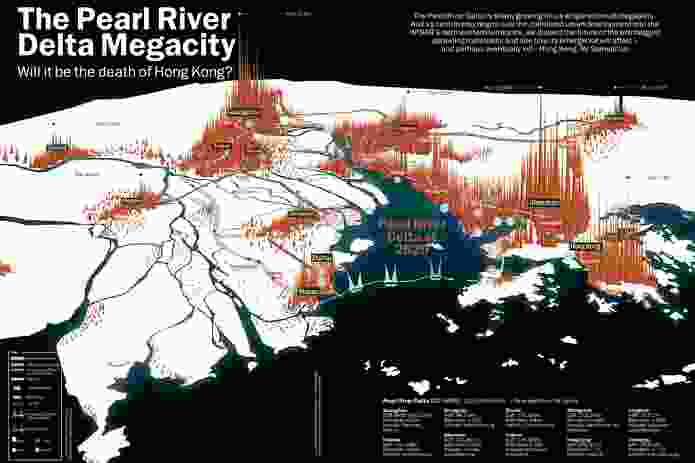 Investment in infrastructure, especially public transport, and linking it with density was a recurring theme. As Chris Wilkinson of Wilkinson Eyre noted, "cities and countries that are investing in infrastructure are progressing, and those that are not are not." Many conversations also discussed how to achieve greater density while also creating habitable cities. Winy Mass from MVRDV developed the idea of "lovable density." Peter Newman and Jeff Kenworthy's historic data from the 1980s, which argued that higher densities are more sustainable, was queried and tested in some of the research.
The focus on the urban habitat encouraged many presenters to illustrate how developments meet the street, create public spaces both at ground level and in the air, and establish a human scale. However, the distinction between public space and publicly accessible private space wasn't always clear – a point demonstrated by one sign I saw on a nearby development that read:"Privately Owned Property: Open to public subject to rules on display."
Many of the "public" spaces shown were actually semi-private – or indeed commercial – such as retail space. This was particularly true of the work discussed by some USA architects, which tended towards an un-reconstructed modernist typology of central core towers on podiums containing commercially oriented "public" spaces. Generally, this is the typology being offered by architects from the developed world to clients in developing countries, and it is a model that is oddly incongruous with prevailing philosophies in major developed global cities.
The impact of this approach to designing towers is clear to see when you look closer at the layout of the host cities. City planning is based on arterial roads and freeways, grade separation between pedestrians and vehicles, and tower developments, without consideration for a connected public realm. This was most starkly demonstrated by the new Guangzhou city centre, which, in spite of some powerful architectural set pieces by Murphy Jahn, Wilkinson Eyre, Skidmore, Owings and Merrill and Kohn Pedersen Fox, suffers from the modernist urban mistakes of isolated towers, poor street activation, below- and above-ground pedestrian circulation that removes people from the street, and below-grade retail malls.
In the face of these challenges, the Chinese government's investment in infrastructure in order to make its cities more livable is extremely impressive. Similarly, the CTBUH's emphasis on the urban habitat rather than building heights highlights this as a major issue to be addressed in the development of more sustainable cities. Now, the design professions must start to deliver the best in developed-world urban amenity to this and other developing countries.
Related topics