The City of Melbourne is considering an intergrated water design and management plan for the Moonee Ponds Creek, which aims to create new green public spaces that will both cater to the high levels of residential development in the area and boost flood resilience.
The creek is positioned between some of the city's fastest-growing areas, including the Arden and Macaulay, Dynon and E-Gate urban renewal precincts. In addition to this, the state government's currently under construction West Gate Tunnel project will pass beneath the creek.
Landscape architects McGregor Coxall are the lead consultants on the project. The practice supported the development of the plan with background technical report prepared with and water, energy and environmental design consultants Wave Consulting.
McGregor Coxall director Christian Borchert said that the focus of the plan was on re-examining "our relationship and perception of water."
"The plan looks at how we accept inherent challenges such as flooding, to transform the creek into a more resilient and sustainable corridor through alternative land use, catchment-wide collaborative governance and dynamic design solutions."
Cathy Oke, chair of the council's environment portfolio, said the ideas in the plan were a necessary starting point for preparing for the arrival of thousands of new residents.
"The lower reaches of Moonee Ponds Creek are set to become some of the most intensely developed parts of Greater Melbourne," she said.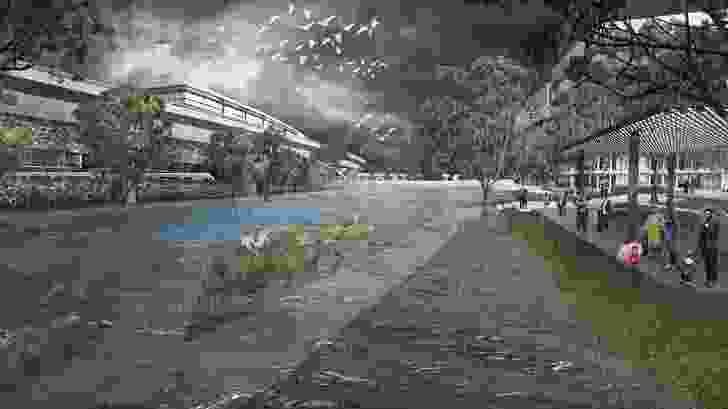 "We're considering this plan as an advocacy tool to reconnect the community to this vital waterway. The plan outlines ideas for increased biodiversity, mitigating the impacts of flooding, creating new bike paths and more space for recreation," she said.
"Moonee Ponds Creek has been negatively impacted over many years by industry and infrastructure. This plan sets a vision to rehabilitate the creek and advocate for the delivery of a series of projects to increase its ecological, economic and recreational value."
Among the opportunities identified by the plan is the creation of a new public space between Macaulay train station and the creek, dubbed the "Macaulay Terraces." The terraces would act as both a public park and a flood resiliency system, with . The terraced landscape would also capture stormwater running off the streets, cleansing it before it enters the creek.
Elsewhere, remediation projects would revert parts of the creek back to a more natural and flood-resistant setting. The existing concrete channel in the Travancore Park section of the creek, for instance, would be removed, and the creek renaturalized by creating a chain of ponds with wetlands and indigenous planting.
In a statement, the council acknowledged that it does not own or manage the creek corridor. It said, however, that it "plays an important role in working with the Victorian Government partners, land owners, neighbouring councils and community groups to ensure that Moonee Ponds Creek meets the needs of both the current and future community."