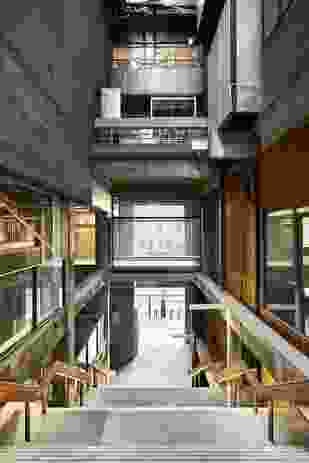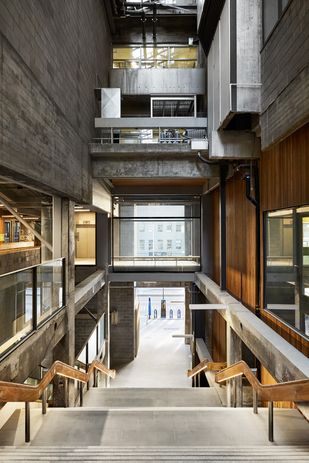 The City of Melbourne has proposed a suite of changes to planning rules for central Melbourne and Southbank, which will aim to ensure a higher standard of urban design, architecture and landscape architecture in all new developments.
Currently on public exhibition, the proposed changes to the Melbourne Planning Scheme would be underpinned by the Central Melbourne Design Guide, which would provide developers, consultants and planners with an illustrated guide showing acceptable and unacceptable design outcomes.
The manager of urban strategy at the City of Melbourne, registered landscape architect and urban planner Emma Appleton, said the amendments to the planning scheme would bring up to date design guidelines that are almost twenty years old and lack clarity and strength.
"Our city is growing at an exponential rate," she said at a Future Melbourne Committee meeting in February, where council voted to seek ministerial authorisation for the amendment. "Sites have got smaller and towers have got taller, and this intensity of development is impacting on the quality of our streets."
While recent amendments to the Melbourne Planning Scheme have addressed setback and density controls, there has been no comprehensive policy prescribing design quality. The new rules would consolidate existing planning scheme provisions and bring them into line with best practice.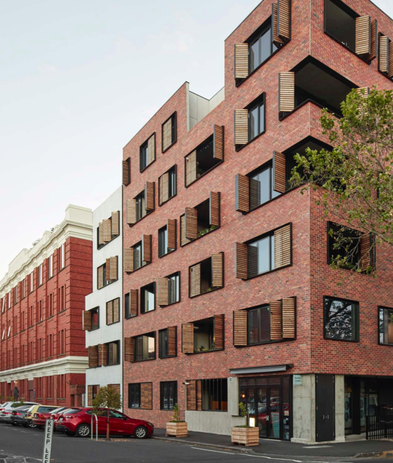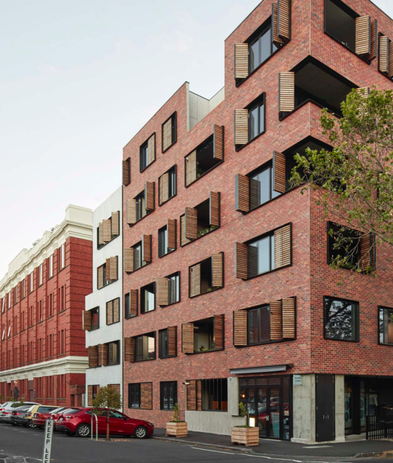 "[The planning amendment] seeks to enable a renewed focus on city at eye level," Appleton said. "It is about every development contributing to our city, protecting and celebrating one of our most valuable assets – our streets, which are central to our identity and appeal as a city."
Among the mandatory provisions in the amended scheme would be the prohibition of above-ground parking in the central city, and the limitation of building services within a ground floor plan to a maximum area of 40 percent.
The Central Melbourne Design Guide provides a raft of directions to urban planners and design professionals and gives examples of good and bad design currently evident in the city.
In terms of the urban structure of the city, the guide states that a new development should provide new, direct and convenient pedestrian connections that are aligned with other laneways or pedestrian connections. It gives the example of RMIT University's New Academic Street, designed by Lyons with NMBW Architecture Studio, Harrison and White, MvS Architects and Maddison Architects, as a development that improves connectivity in a large urban block.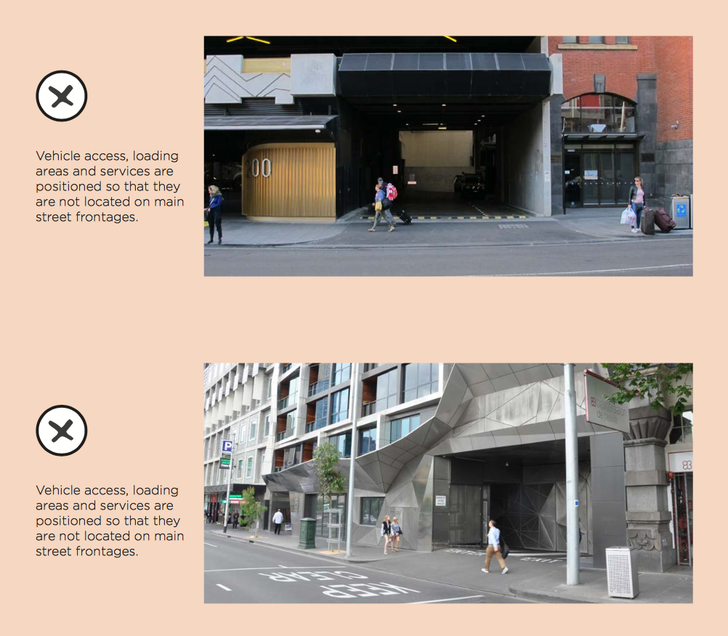 The guide also sets the objective that site layouts of developments should respond to the function and character of surrounding areas and provide opportunities for stationary activity in well-designed and oriented, publicly accessible exterior spaces.
In terms of built form, the guide preferences slender, well-spaced towers, which maximise solar access, and states that building masses should be broken down into a variety of street wall elements to "reinforce the traditional fine grain, vertical rhythm and visual interest of streetscapes." The report cites Jackson Clements Burrows Architects' Oxford and Peel apartment development in Collingwood as a successful example of this. The design of buildings above 40 metres should consider views from public vantage points.
The guide also outlines preferred design outcomes for building program and public interface. QT Hotel Melbourne by Candalepas Architects is noted as a project with a quality public interface with its low canopy defining the steel shopfronts, and a higher canopy and copper door clearly marking the building entry.
When it comes to design quality, the guide states that developments should use competitive design processes and multiple design practices where appropriate.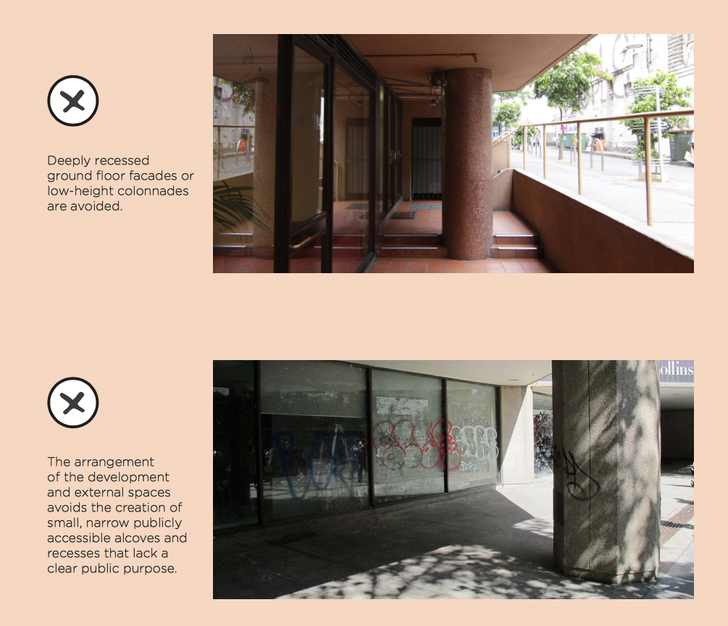 It also states that the design of a building should create depth within the facade, ensure all visible elevations are designed to a high standard and incorporate sustainable systems and technologies.
The proposed amendments to the Melbourne Planning Scheme will be on public exhibition until 10 August.
Speaking at the Future Melbourne Committee meeting in February, then-acting lord mayor Aaron Wood said the new rules and guidelines would help foster a culture where developers and residents insist on quality design.
"The days of new developments being nothing more than spreadsheets in the sky are over," he said.
"We want to ensure that every new building gives back more to the city than it takes, and this begins with design excellence."