Tasmania's Clarence High School Oval Sports Pavilion by Dock4 Architects hums like a well-oiled machine. When I visit midweek for a twilight Little Athletics meet, the streets and car parks are full. Crowds of children and parents fill the space with an intense, positive atmosphere. The pavilion, set in a sea of colourful family tents, is quietly efficient without drawing attention to itself. It is an elegant response to the architectural brief and the obvious enjoyment of the people using it is equally due to the effective organization of community groups and a design that focuses and supports their efforts.
Modernism once brought clarity to architecture. Function generated form. New economic realities, however, have changed those simple parameters. Sustainability factors and the bundling of disparate funding sources mean that buildings must now accommodate far more diverse functions than they once did. Architects now have to meet complex design briefs from an assortment of unassociated clients and user groups. There are advantages to this model. A building with a broad outreach offers significant opportunities to reduce the direct cost of high-quality facilities. These buildings are made possible in the first place by an expanded funding base, while use by different groups spreads the long-term maintenance costs. For example, the Clarence High School sportsgrounds are professionally curated by the local council rather than by the school gardener. This sharing of responsibility generates great design challenges in the effective integration of function, security and identity.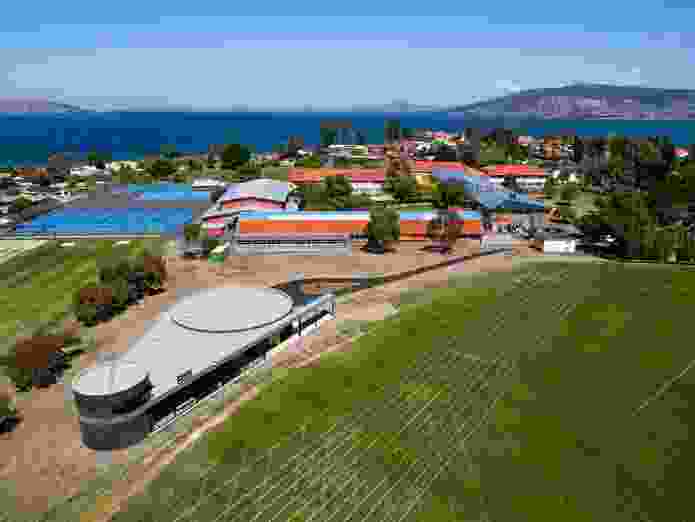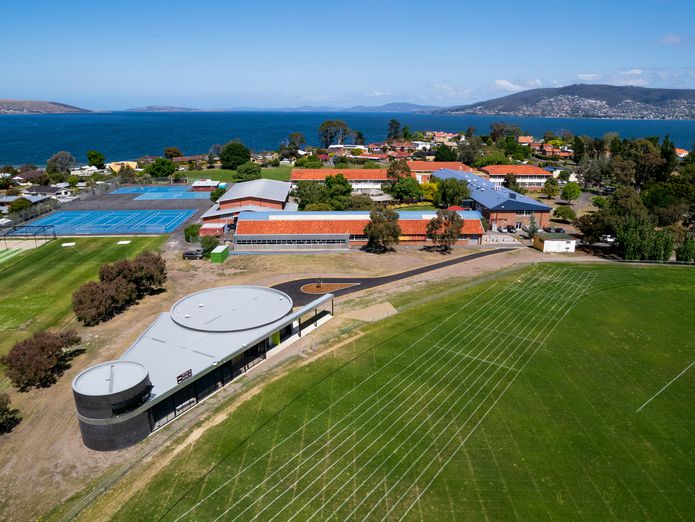 Although located on school grounds, a Department of Education Tasmania site, this project was funded by the Clarence City Council and by the Tasmanian Government's Communities Sport and Recreation (part of the Department of Premier and Cabinet) and is the product of a collaborative brief involving the Clarence City Council, Little Athletics, the federal Department of Education and Training, Cricket Tasmania and AFL Tasmania. It accommodates Little Athletics, junior cricket, junior football, high school sports and teaching, all of which have significantly different spatial and security needs, age cohorts, public access requirements and levels of supervision. Within this diversity, a unifying concept of modernist Gestalt is difficult or even potentially irrelevant.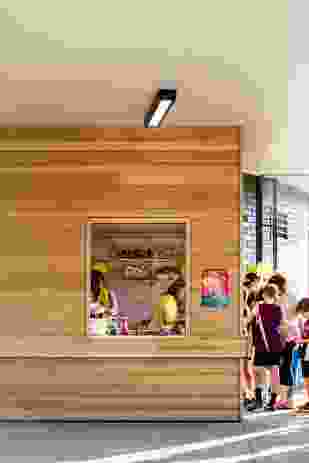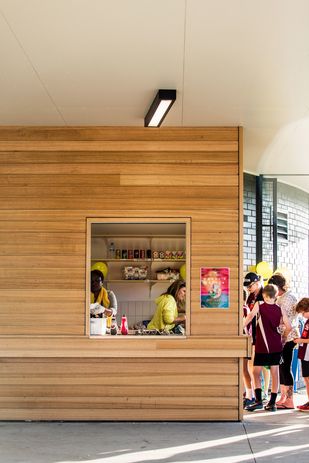 The challenge of such an inconsistent program of activities requires an elastic spatial system. Dock4 Architects' design for the Clarence High School pavilion promotes ease of reconfiguration through a passive plan and minimal use of active systems. The pavilion's aesthetic suggests an Art Moderne or perhaps Willem Marinus Dudok influence, but the streamlined form is a product of functional analysis. The design draws together three spatial elements – two circular brick structures and a central terrace – under a single roof. This plan was generated by the spatial logic of the triangular site, linking the disjunctive axes of the sports fields. A restricted material palette of steel and dark glazed brick addresses the need for resilience, legibility and reduced cost. It is softened by the considered insertion of varnished timber and laminate for detailing and screening.
Servicing two sports fields requires centralized supervision, not to mention event coordination, security, scoring, adjudication and commentary. The two fields impose their duality on the site, removing any sense of a privileged front or back, while issues of security and supervision have generated a single-sided, radial solution.
The building's lack of a formal entrance is surmounted by a slim, linear projecting marquise. The marquise gathers people at the arrival point and directs them along the building to the central roofed terrace, which provides a secure social core and shelter. This area has good visual access to both sports fields and can be closed or opened by sliding mesh screens, while the rounded forms of the brick volumes at either end mitigate wind turbulence. Spectators gather in this central volume naturally. The egalitarian nature of self-regulation informs a personal and social response that culminates in a developed sense of ownership and identity for the pavilion's diverse patrons.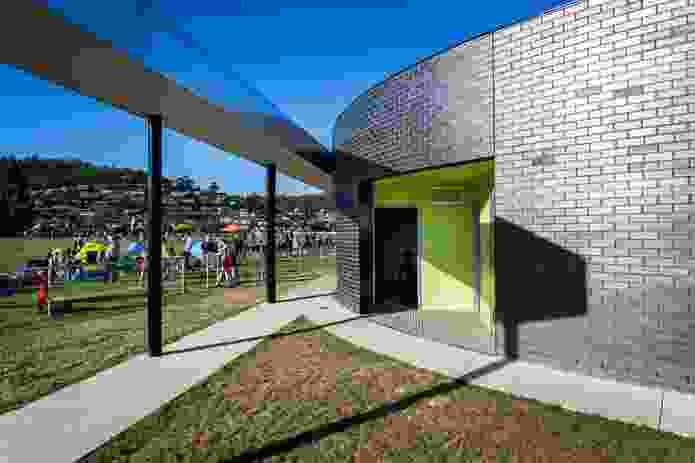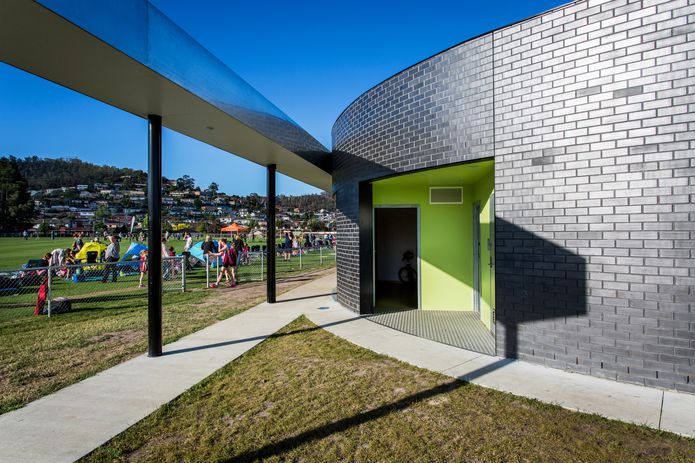 The smaller of the two circular brick structures has the referees' changing facilities on the ground floor and, on the upper floor, an observatory with views of both sports fields for scorers and commentators. The observatory provides an overview of the whole area, mitigating the need for security CCTV and avoiding undue covert control. This self-regulating approach ensures a relaxed and friendly space.
The larger structure accommodates the team and group facilities, changing rooms, public toilets, coaching rooms, stores and kiosk. The kiosk space offers volunteers a prime view of the athletics track so they miss none of the excitement, ensuring that these people, who are so necessary for successful community events, are considered and included. Two electric operable walls allow the changing areas to be unified for use as either a shared changing space (for athletics) or a teaching or social event space. The walls can also open onto the terrace, extending the space's flexibility.
Community groups rely on fundraising to generate finance and public profile. The capacity to configure a space to accommodate many kinds of events is important if the space's diverse patronage is to remain both viable and clearly identified with it. An inclusive design ethos gives control to the group rather than to a single institution. It expresses identity in the broad field of cultural sustainability and relevance. In an urban context, Dock4 Architects' Clarence High School Oval Sports Pavilion achieves what Australian regional sports and education facilities have long accomplished – integrating space with community. On a midweek evening, the rich collage of colour, activity and laughter that surrounds the pavilion convinces me of its success.
Source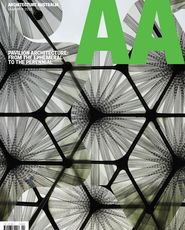 Issue
Architecture Australia, March 2016