Melbourne is big – too big. We need to increase the density of its suburbs and reduce the sprawl. A recent contribution to meeting this challenge is the Clarence Houses by Rob Kennon Architects. Two skinny houses now sit side by side on a block in Elsternwick that used to hold just one.
Located between a 1960s block of flats and a stand-alone dwelling, The Clarence Houses have public faces that are in tune with the diverse streetscape, breaking up the rhythm instead of simply mirroring the speculative development common in the area. While very similar to each other, each has a unique identity, with one clad in brick, the other in zinc. "Is it one house or two? Buildings don't need to be mirrors of each other to be cost-effective – I think that's just laziness," Rob says.
The street facade faces north. Rob Kennon Architects placed bedrooms at this end and living spaces at the south, with each home opening onto a little private oasis out the back via sliding glass doors. But how do you handle privacy when your bedroom faces the street? One house has a rectangular window punched through the zinc cladding to take advantage of a borrowed view of a tree canopy. The other has full-width glazing, covered by a veil of what Rob calls "hit-and-miss brickwork." Occupants can see out, but no-one can see in. It's a clever technique, all to do with the relative size of the holes, similar to screens used in Islamic architecture for centuries and also how Melbourne's trams can be covered in advertising but passengers still get a view. Rob had a struggle getting the local council to approve it, but he says in the end the council was convinced by the privacy advantages and the contextually appropriate material.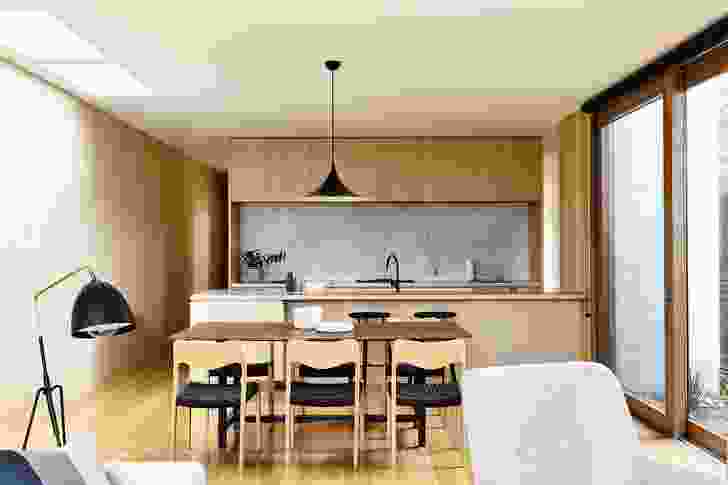 The asymmetry wasn't just for the sake of difference, either. While both houses share the same brief and program, their positions on the street presented different constraints and opportunities. The brick-clad house could be built to the side boundary but the zinc-clad one couldn't, in large part because of the same tree that provides the boon of a borrowed landscape. With input from professional arborists, the design goes to great lengths to protect the root system. The brick-clad house only had a view of the homes across the street, and this is where the hit-and-miss brickwork creates its own visual interest, filtering the view.
The houses are "bedroom heavy," says Rob. The developer-clients had a very clear target market: people who are downsizing from larger homes on larger blocks and are used to being able to hang clothes on the line in privacy, have somewhere to put the bins and be able to house a family member or two in spare bedrooms. To fit all that in on the long and skinny parcels of land was like working out "a Rubik's cube of site planning," he says. The interiors are lit with clever pushing and pulling of the plan, creating light wells. Skylights work their magic at the single-storey southern end. In the kitchens, full-height joinery is hidden around an alcove, maximizing the perceived width of the space. Details from Rob Kennon Architects' portfolio of residential work re-emerge here. "It's fun to eat off a different surface from the one you're served from," says Rob, referring to the kitchen benches that transition from marble to timber. White-painted brick party walls, floating timber joinery – it was all constructed on a very tight budget but doesn't look it.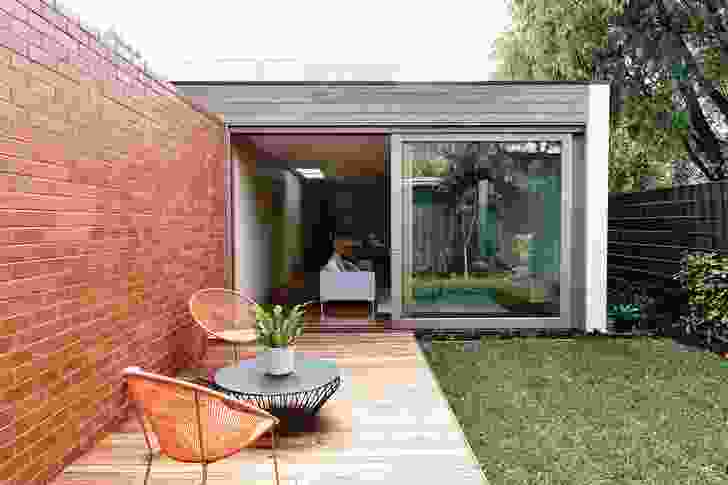 While supportive of the subdivision, the council placed firm restrictions on what could be done. Rob Kennon Architects was happy to conform to the mandated minimum storage cupboards in the garages, but struggled with other conditions. The council stipulated that front doors must be visible from the street and have a sidelight window next to them, and argued that the sites were too narrow to fit a pedestrian gate. Instead of providing a sidelight window, the entry to the brick-clad house is all light – the front door, entry foyer and garage door are clad in a seamless wall of translucent plastic sheeting that glows like a lantern at night. The zinc-clad house also conceals the garage – as part of the zinc facade – and has a side entry. Both have pedestrian gates in their semipermeable front fences. Each house only provides a one-car garage, which is unusual for the area. The front gardens manage to combine the utility of a driveway with the softness of vegetation, with clever paving and timber decking in the landscape design.
Privacy will be an increasingly difficult challenge as the process of densifying our suburbs continues. The Clarence Houses provide some innovative aesthetic solutions, setting an example for others to follow, but Rob Kennon Architects didn't get there without hard work. Happily in the end, this part of Melbourne just got a little bit denser. There should be a sticker on the front fence: "One less McMansion."
Products and materials
Roofing

Lysaght Longline 305 in Colorbond 'Monument' and 'Surfmist'.
External walls

Silvertop ash shiplap in Cutek 'Smokey Grey' finish; Cemintel fibre cement sheets; Craft Metals zinc cladding in 'Slate'; recycled brick in natural finish.
Internal walls

Hoop pine veneer finished in Whittle Waxes Hardwax Oil Matte; recycled brick painted white; plasterboard painted white.
Windows

Hardwood timber-framed windows in Cutek 'Smokey Grey' finish.
Doors

Danpalon Softlite polycarbonate in 'Ice'.
Flooring

Blackbutt floorboards in Bona Naturale finish; Supertuft wool carpet; sandblasted concrete slab.
Lighting

Ö rsj ö Belysning Lean floor lamp in black.
Kitchen

George Fethers and Co American oak veneer; solid Victorian ash; Carrara marble; Miele built-in single oven and gas cooktop.
Bathroom

Porcelain tiles; Classic Ceramics ceramic tiles in white; George Fethers and Co American oak veneer; solid victorian ash; DuPont Corian Solid Surfaces in 'Cameo White'.
External

Hardwood timber deck; exposed concrete aggregate; Webforge galvanized steel grating.
Other

Møller Model 71 side chair; &Tradition Raft Barstool NA4.
Credits
Architect

Rob Kennon Architects
Fitzroy, Melbourne, Vic, Australia
Project Team

Rob Kennon, Emlyn Olaver
Consultants

Builder Project Group
Engineer HTD Consultants
Landscape architect Robyn Barlow
Lighting Light Project

Site Details

Location Melbourne, Vic, Australia
Site type Suburban
Site area 282 m2
Building area 153 m2

Project Details

Status Built
Completion date 2015
Design, documentation 9 months
Construction 9 months
Category Residential
Type New houses

Source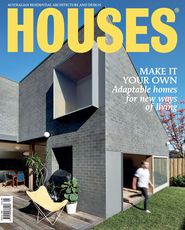 Issue
Houses, February 2016