One of the things I love most about interiors is their ability to express their autonomy from the architecture that encloses them. In some circumstances this is an essential tactic for success. Located in a blue-mirror glass bunker on a busy highway in Sydney's lower North Shore, Hassell's design for the offices of Clemenger BBDO – an advertising and marketing agency – bucks the banality of a building that looks as though it could have featured in the opening titles of Dallas. In doing so it has created within its interior a successful, innovative and vibrant workspace that actively fosters communication and creative exchange.
As a "creative practice" that had spent over ten years in the space, Clemenger BBDO was fully aware of how its teams worked and how the previous incarnation of the site was inhibiting communication and collaboration between the company's different arms. Clemenger BBDO office manager Janine Sallaway described the old workspace as full of "corridors and caravans" that impeded communication between colleagues. Hassell's design is bright, light and open – it is little wonder the workers at Clemenger love their new spaces.
The direction of the office design is presented as soon as the elevator doors open, where a semicircular "concierge point" has replaced a clunky reception area. Here, an upsized pale-wood table is set with a vermilion-painted birdcage – a symbol of the company – together with the obligatory large-scale floral arrangement. It harks more to the iconic cafe design of Bill Granger's Bill's cafe in Sydney, designed by Brian Keirnan, than traditional corporate culture. Typological blur seems to be an increasingly frequent occurrence, especially in the design of corporate reception spaces. Clemenger's feels part luxury day spa, part resort, definitely making visitors and clients feel welcomed and relaxed.
This chilled but professional mood is extended by the communal spaces that are directly off the reception. The project's lead designer, Bradhly Le, describes this area as a "social hub." I have heard this term used time and time again, but this is the first instance where I actually believe in the descriptor. Opening onto sweeping views of the harbour, a monolithic Caesarstone kitchen bench anchors the entire zone. Close by is a large communal table for meals, and a pool table – re-felted in Clemenger BBDO grey – is set askew for a bit of play. As I sit with Le and Sallaway discussing the design, I can see small groups of employees working and chatting, interspersed by sprinkles of laughter. Sallaway describes this energy as positive, as clients get to see a "bit of the buzz" that goes with the creative industry.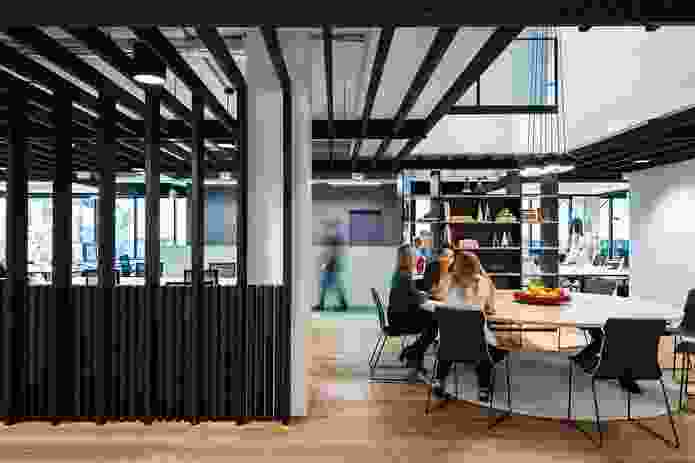 Being an international advertising agency is, of course, not all fun and games. While the reception and social areas are finished with polished concrete floors, blackbutt flooring delineates the executive area of the creative department. Views are screened not by solid partitions but by dark-stained timber elements. According to Le, this echoes the industrial warehouse aesthetic typically found in spaces occupied by creatives. Tucked in under a stair is the "centre of gravity," an enormous, round Koskela table. During my visit, the table is being used by one of the teams – further evidence of the success of the design.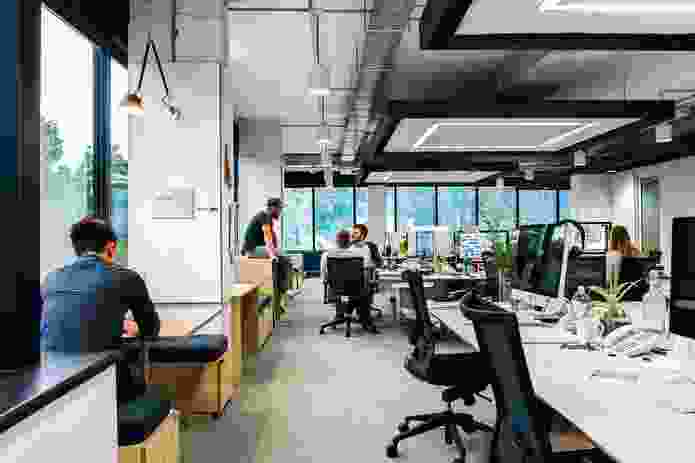 When we reach the area where the grunt work in the department is done, the floor transitions again, this time to carpet. A series of four 3.2-by-3.2-metre workstations are spaced throughout the zone. Sitting at these are bearded twenty-something hipsters clicking on their Macs, busily preparing new campaigns. Surrounding the perimeter is a plywood bench that, like a ribbon, modulates up and down, becoming layout space at sill height, a banquette at seat height, and in one corner at floor level, a little upholstered snug where you can crash out or zone out. On the opposite wall is floor-to-ceiling pin-up space, the envy of every designer.
One of the spaces I enjoyed the most was the "workbook," a suite of meeting rooms that can be shut down acoustically, while still allowing for visual permeability. A key feature of the space is the rotating pivot pinboards, which can be flipped from the inner side of the space out onto a communal work area, allowing ideas to be critiqued by passers-by. The other two spaces feature plush upholstered meeting nooks that use long curtains for visual separation, more couture than office.
Perhaps it was the spectacular views, perhaps it was the buzz this place had, or perhaps it was simply down to the good design, but in any case I found myself wanting to work in a space like this. When we catch ourselves thinking thoughts like that I can safely say that design is heading in the right direction.
Products and materials
Walls and ceilings

Exposed concrete ceiling. BuzziSpace acoustic ceiling tiles to quiet rooms and workpoints. Stained timber ceiling joists. Stained V-groove plywood ceiling. EchoPanel pinboard wall from Woven Image. V-groove plywood and plasterboard walls painted in Murobond.
Doors

Solid blackbutt-framed sliding doors.
Flooring

Solid blackbutt timber flooring. Polished and honed concrete. Carpet tiles in 'Urban Retreat' from Interface.
Lighting

Ball pendant in black from Corporate Culture. Tolomeo Parete, Tolomeo Faretto LED and Tolomeo Tavolo LED from Artemide. Custom-made light in workpoint bulkhead.
Furniture

Custom-made circular table and Konverse chair in Kvadrat 'Coda' fabric, both from Koskela. WB stool and Buzzicube 3D trio, both from Zenith. Eames plastic chair from Living Edge. Skin mesh chair from Schiavello. Lapigra chair from Insitu. Elan tables from Cosh Living. Campfire personal table from Steelcase.
Kitchen/bar

Caesarstone benchtop. Plywood joinery.
Other

Custom-made feature bulkhead above workpoints with BuzziSpace tiles set into ceiling. Lighting integrated into feature bulkhead.
Credits
Architect

Hassell.
Australia
Project Team

Matthew Blain, Scott Walker, Julia Borghesi, Bradhly Le, Ciaran Acton, Carolyn Solley, Keith Hayes
Consultants

Building certifier McKenzie Group
Electrical, mechanical, hydraulics engineers Cardno ITC
Lighting consultant Cardno ITC
Main contractor UBS Constructions
Project manager Paragon Project Management

Site details

Location St Leonards, Sydney, NSW, Australia
Category Interiors
Type Workplace

Project Details

Status Built
Design, documentation 2 months
Construction 3 months

Source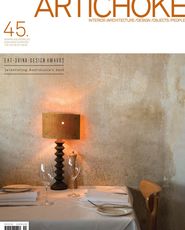 Issue
Artichoke, December 2013
Related topics