Clement Meadmore (1929–2005) was one of Australia's more significant post-war industrial designers and, internationally, the nation's most successful sculptor. That being the case, it is surprising that the exhibition Clement Meadmore: The art of mid-century design, held at the Ian Potter Museum of Art at the University of Melbourne (20 November 2018 – 24 March 2019), was the first major survey of this brilliant minimalist. In the furniture world, Meadmore needs to be seen alongside other stars such as Grant and Mary Featherston, Gordon Andrews, and émigrés Paul Kafka and Schulim Krimper. But what sets him apart from these designers is the thrilling leanness of his work and the rich diversity of his oeuvre, which includes not just his iconic black-steel rod and cord chairs but also tables, light fittings, complete interiors, fabrics, sculptures, record covers and children's toys. There is an overriding sense that with every task he set himself, at whatever scale, Meadmore was creating a work of art. In the pursuit of a near-Bauhaus ethos, he asserted that industrial design could be sculpture and vice versa: sculpture might double as "useful" design. This goal (and almost certainly his bitter experience with intellectual property fraud in the mid-1950s) saw him leave Australia in 1963 and head to New York, where he remained for the rest of his life. There, he made his name as one of the world's leading abstract expressionist sculptors.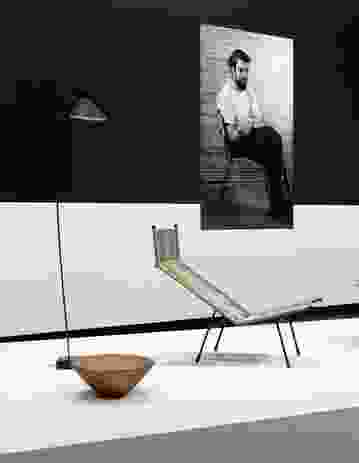 The Melbourne exhibition, guest-curated by Dean Keep and Jeromie Maver, focused largely on the pre-1963 years. Conceptually, the idea of industrial design as art object drove the curatorial strategy. The Ian Potter Museum's interiors were strikingly recast in black and white by Alan Pert (Melbourne School of Design) and Dhanika Kumaheri (Parallel Practice). Meadmore's pieces were placed on white box podiums or planes and housed within the thinnest of steel box frames. Five spaces over two floors chronologically mapped Meadmore's career, with fascinating journal and archival material revealing Enid Meadmore's unwavering dedication to her husband's practice (including her endless wrapping of sash cord in their Hawthorn workshop).
The first room featured works from 1946 through to 1953, when Meadmore left for Europe, working for Terence Conran in London, meeting Gio Ponti in Italy, and getting published in Domus magazine. In this time he became a committed Italophile. The second room highlighted Meadmore's exquisite Calder-like Calyx light fittings, along with tables and chairs designed after his 1954 return to Australia. Upstairs, the third and largest space focused on his brilliant interiors for the Legend Espresso Cafe and Milk Bar and the Teahouse, complete with giant period photographs and Leonard French's spectacular seven-panelled mural, The Legend of Sinbad the Sailor (1956, La Trobe University art collection), specially commissioned for the Legend cafe. A fourth space featured a "cloud" of jazz record covers, with music playing and a maquette of one of Meadmore's outdoor steel sculptures from the 1970s. The fifth and final space included sculpture, furniture, fabric and Meadmore's designs for Melbourne's radical Gallery A, where he held a curatorial role from 1959, including his wonderfully experimental children's toy Rainbow Box (1970), designed for Playpax Toys.
If there was ever an argument to transform Keep and Maver's decade-long research into a stunning book or website, this exhibition made it with the most elegant conviction.
Clement Meadmore: The art of mid-century design was held from November 2018 to March 2019 at the Ian Potter Museum of Art, University of Melbourne.
Source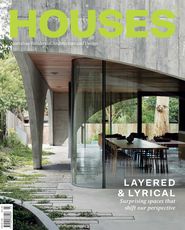 Discussion
Published online: 30 Sep 2019
Words: Philip Goad
Images: Christian Capurro