There's something special about houses that are discreet. They're often deliberately hidden. But, more importantly, their studied neutrality is an acknowledgment that at times a collective impression of a city or place is more important than any shout of individuality. Walking the streets of Melbourne's exclusive inner suburb of South Yarra, you could easily miss Clerehan House II. The front door, with its Helvetica font number, is at the far end of a carport set well back from the street. You have to know it's there. It's all about the privilege of knowing. There's also the fact that another house sits in front of Clerehan House II: a dower house with a pinhole spyhole dead centre in the front door. The dower house has a two-storey front wall and chimney covered in Virginia creeper, which turns a brilliant red in autumn. Its face is blank. There's a high courtyard wall to the street, and the scale and proportion of receding block forms suggest privacy and urbanity rather than defence. To the north is a large nineteenth-century mansion with an expansive garden. Beside it, these two ivy-clad houses are silent, southerly bookends to another time.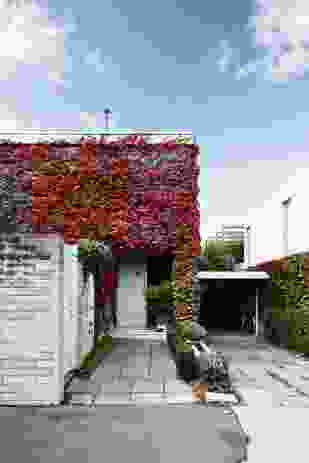 The mannered decorum of Clerehan House II, built in 1967 and occupied ever since by architect Neil Clerehan and his artist wife Sonia, is palpable but never overbearing. Clerehan has lived and built in South Yarra for more than fifty years. He knows its every nook and cranny, and all its stories – social, scandalous and architectural. He's designed countless houses here, on slivers of land like this one, subdivided from larger mansion estates. He built his first house for his family in Fawkner Street, South Yarra in 1955, but it was on "the wrong side of Punt Road." Unusually for the time, Clerehan chose to locate his family in a contemporary townhouse when all his architect friends were choosing to design, build and live in Melbourne's middle and outer suburbs. When the Clerehans, then with four children, had outgrown Fawkner Street, they bought a piece of land that they'd coveted since the early 1950s: a long, narrow east–west block with dual street frontage; the rear street was where society architect Harold Desbrowe-Annear lived in the 1920s. This was a fact not lost upon Clerehan, who, as Harriet Edquist has noted, had long admired Annear's significant presence in South Yarra. He'd designed more than eighteen houses there. Clerehan would do much the same.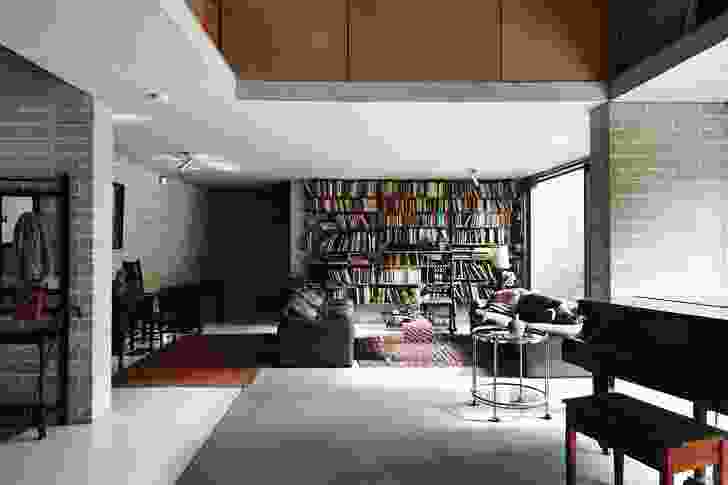 The site was purchased by the Clerehans and Sonia's mother, an arrangement that suited both parties: a covenant allowed a maximum of two houses. The Clerehans would have two-thirds of the site with rear car access, while Clerehan's mother-in-law had the western third and a street-facing carport. The Clerehans shared the same address but only as a front door, a shared letterbox and meter box wall, and occasional use of said carport.
For Clerehan, it was a dream job. No building permit was required in 1967 and the opportunity to design a contemporary terrace house that was north-facing, blocked out the western sun and had a swimming pool and a rear carport for two small cars was a luxury. As with every Clerehan design, this house is a highly sophisticated arrangement of unpretentious elements. The materials palette, for one, is disarmingly simple: silver grey besser concrete bricks (specially cast and meant to be white, but accepted by Clerehan because of the halved cost), silver grey carpet, white terrazzo floor tiles, and exposed off-form concrete for ceilings and the south stair wall, with a texture provided by the steel plate shuttering.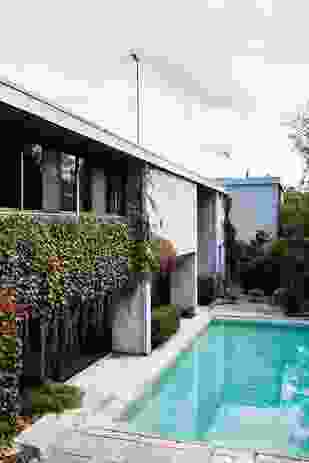 In plan, it's a modernized terrace house with all the ground-floor living spaces facing north to a paved garden court containing the swimming pool. Instead of a dark gun-barrel corridor, a broad strip of terrazzo tiles runs the length of the ground floor and is the only boundary to the three grand reception spaces. In one of these, a wall of books is the room's giant "abstract painting." Instead of a conventional stair, concrete stair treads cantilever from the wall, floating upwards into a double-height void above the dining room. Above there's a bridge that flies across to the main bedroom. On the outer wall is a slim study with a single tiny opening so that Clerehan could check on children swimming in the pool. Between a second sitting room and dining room is a giant circular opening in a grey brick wall. Clerehan is adamant: it's not a "moon gate" but a practical, non-referential and visually non-clashing opening connecting two spaces. By chance, it's also a vertical echo of the circular tabletop of the Saarinen-designed dining setting, with its Tulip chairs by Knoll – horribly expensive when bought from Latchfords at the time. But, over forty years later, they still impart design glamour to an interior that accommodates Persian carpets, antiques inherited over the decades and a curved glass coffee table with eclectic ease.
Clerehan is frank about the practical aspects of the house. There are no curtains: "That's simple: a) we were young and b) we had no money," he says. The doors, wall panels and joinery, all faced in mountain ash and made by Stephen Filipek, are to this day impeccably fine. Upstairs there was a separate shower room for boys and one for girls, each with its own skylight, as well as a separate children's living room that later became Sonia's painting studio. A sprinkler system was installed to cool the roof in summer, but was never used. Clerehan is philosophical about the "NuTone" all-in-one cake mixer, knife sharpener, meat mincer and coffee grinder, which was built into the kitchen bench. It quickly went out of date, so different from the house's timeless bones. One hardly notices the sheer robustness of the structure: a 200-millimetre-thick slab and a massive concrete lintel on the north wall that is both sill and spandrel panel to the windows of the first-floor bedrooms. The garden has, with stealth, taken over, and this is as it should be.
The Clerehan House has not dated. It's quiet and calm. It's been the much-loved locus for family dinners and celebrations for forty years. On the occasion of Clerehan's eightieth birthday, his children insisted on the addition of a handrail to the cantilevered stair. Obstinate as ever, Clerehan agreed but on one condition: that an exact same handrail be added to the rear stair. It had to be brushed stainless steel – ageless – as if it had always been meant to be there.
The essential grace of this house has much to do with Clerehan's characteristic personal demeanour: patrician but relaxed, sophisticated but devastatingly direct, and often with a wicked sense of humour. Nearly thirty years ago, Clerehan spoke to me of the differences, architecturally, between him and his close friend and professional colleague:
"Robin Boyd would establish a theme and dramatize it in a design. I was and still am intrigued with living patterns, actual and possible, and the architectonic expression was and is to me only a frame for the patterns. Therefore I never produced intriguing forms."
This is typical Clerehan: understated, self-effacing and underestimating his own consummate skill in being able to provide an elegant backdrop to everyday life. Clerehan House II is his self-portrait: beguiling, almost invisible and a pleasure to encounter.
This review is part of the Houses Revisited series.
Credits
Architect

Neil Clerehan Architect
Melbourne, Vic, Australia
Site Details

Location South Yarra, Melbourne, Vic, Australia
Site type Suburban

Project Details

Status Built
Category Residential
Type New houses

Source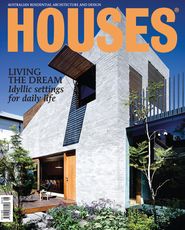 Issue
Houses, October 2014
Related topics