A future consisting of a more vibrant Adelaide lies with bars such as Clever Little Tailor. Too large a claim? Most likely. But to simply portray Clever Little Tailor as another pretty little fitout would be to ignore the role that small venues are playing in a greater urban shift in Adelaide.
South Australia's Strategic Plan, an initiative of the state government to create a "vibrant city," aims to facilitate greater lifestyle and career opportunities within the Adelaide CBD. This requires urban intervention of varied scales. Over time, the Greater Riverbank Precinct project will form an expansive urban park along the River Torrens, linking a redeveloped Adelaide Oval, the Adelaide Festival Centre, the convention centre, the botanic gardens, the zoo and new commercial and recreational opportunities via a series of walking, running and cycling tracks. Meanwhile, North Terrace is being redeveloped from end to end with a new medical precinct under construction in the west and an international design competition recently held to speculate on the future of the current hospital site in the east. Further south, Victoria Square/Tarntanyangga is being transformed into a new public square that will accommodate more amenable daily use for visitors coupled with a special event space.
What is needed, then, is a mechanism that physically and dynamically connects these masses of activity without bypassing the existing city fabric in between. The state government's ambition here is for a series of networked laneways to do the heavy lifting, with a mix of civic and commercial activities that complement and support each other. Strategic, narrow north–south roads have been targeted for either full or partial closure to vehicles in order to bleed activity from inside venues to the street, thereby providing a series of lively connective laneways. It is within this context that Clever Little Tailor, designed by Adam Johnson of Xtra Shiny, emerges in Peel Street.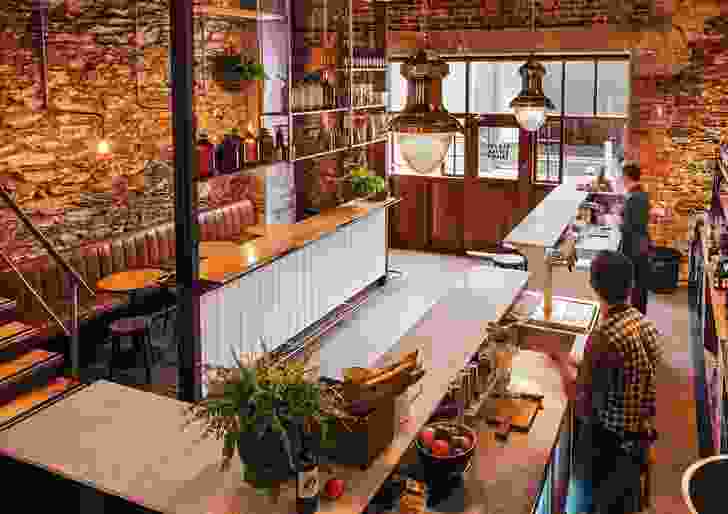 The brief to Xtra Shiny, which is predominantly a graphic design company, was to brand the bar. The owners' ambition was to create a welcoming, convivial environment; an "adult" setting for enjoying conversation over a glass of quality liquor. Johnson's response was to start with the brand and its associated emotions and work back holistically and thoroughly through all aspects of its design, including that of the venue itself, such that every aspect would speak of the owners' intentions. Comfortable moving between the fields of graphics and built form, Johnson believes that creativity should not be constrained within disciplines. By his own admission, this leads to a certain naive bravado when crossing over into less familiar territories of expertise but affords a clarity of intent unfettered by past project challenges.
Catering to seventy patrons, the six-by-ten-metre main space – formerly the loading dock to a departed garment business next door – is arranged simply and logically with linear zones containing the bar, standing area and seating bench, terminated by circular booths in a mezzanine space. The design approach was to source precedent images from around the world, array these graphically as architectural swatches and then set about designing fitout elements that would evoke the mood these precedents suggested. A small budget coupled with an intimate space allows only a limited number of design gestures and here each has a certain artisan quality reflective of the approach to the products being consumed.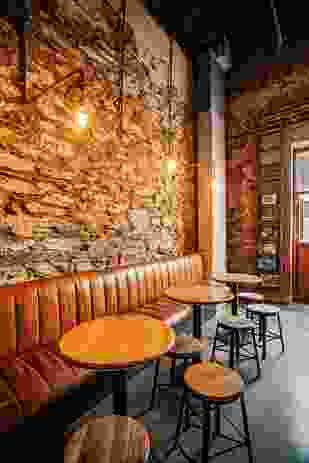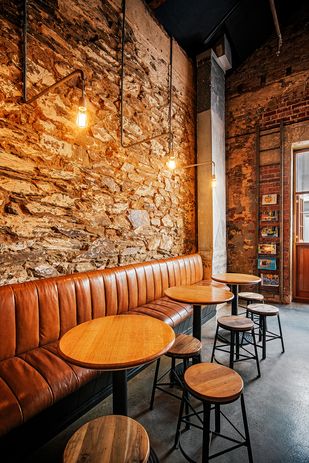 With a timber and glass shopfront reminiscent of eras past, Clever Little Tailor announces its intentions with delicately hand-lettered signage in double gold leaf and enamel paint. Inside, bluestone walls discovered during demolition form backdrops to the bar and linear seating, with wall-washing light added to emphasize the stone's texture. The removal of old ceiling layers reveals greyed roof timbers that, simply lit, add character and welcome volume against the diminutive proportions of the plan. Galvanized conduits, inexpensively hand-formed on site using a pipe bender, strategically dogleg from above to hold exposed filament globes over three round timber tables. These pared back offerings sit in contrast to the heavy reproduction streetlights hovering over the bar and mezzanine, which hang low for their size but are worthy of the extra attention their proximity affords. The thick tan leather upholstery is well conceived and inviting, and the circular booths are topped with carefully executed curved timber trims by a retired boat builder. This handcrafting is further realized in expanses of white timber panelling employed to face the bar and the mezzanine and bathroom walls.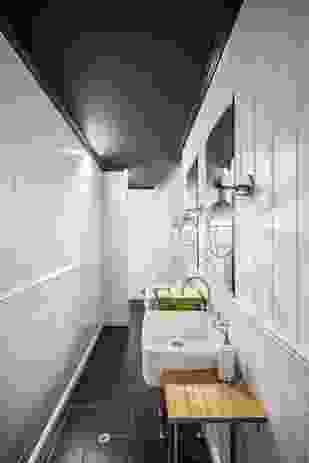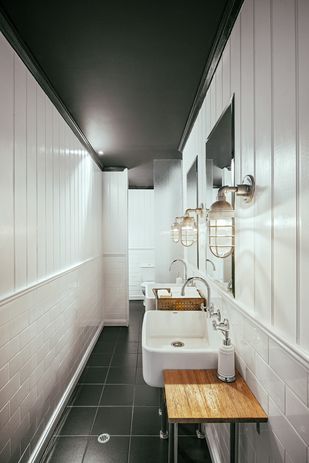 The whole is a successful melding of identifiable constituent parts, where one element augments the other: the overt with the subdued and the textured with the plain. Johnson describes his overall intent as reminiscent of the 1920s New York speakeasy. My sense is more the 1950s Rome of my imagination, but that's the point: rather than sitting firmly in one period or place, Clever Little Tailor draws from varied scenes brought together in the controlled hands of the designer. Devoid of pastiche, the result is something of an amalgamated stage set that delivers the owners' intention for a subdued sense of whimsy, as suggested by the venue's name, which is borrowed from a Brothers Grimm fairytale. "Little" refers to the bar's intimate scale and strategic role in an evolving city, while "Tailor" speaks not only of the building's lineage but of the venue's artisan approach to everything it does. And "Clever"? Yes.
Products and materials
Walls and ceilings

Exposed stacked bluestone and rough brick walls plus painted wood panelling. AcoustiFort rigid insulation panels in black from B&V Ceilings.
Windows and doors

Windows custom made by Lex Whyte.
Flooring

Polished concrete to lower level and 700 mm × 700 mm oak parquetry tiles to upper level.
Lighting

In main area, 18-inch Vintage Streetlight Pendant from Restoration Hardware. In bathroom, Disk Adjustable light in black from Inlite and Topless Wire Guard Sconce from Barn Light Electric. On feature stone walls, Rand 211 T50 downlight in black from Delta Light. Custom bent galvanized tube with Edison bulb lamps, E27 pendant lampholder in porcelain and cloth-covered flex cable over bench seating, all from Edison Light Globes. Old Dixie Gooseneck light to exterior from Barnlight Electric.
Furniture

Scaffold bar stools in black from Meizai. Custom upholstery by Luke Makris using Contemporary Leathers Verona leather in "Nutmeg."
Joinery

All custom made by Lex and Dana Whyte.
Work area

Custom-fabricated stainless steel surfaces by Ackland Stainless Steel.
Bathroom

Butler sinks and toilets from Restoration Online Australia. Oxford tapware sets from Recollections Adelaide. Custom polished stainless tube frame with components from All Things Stainless.
Credits
Design practice

Xtra Shiny
Adelaide, SA, Australia
Project Team

Adam Johnson, Dana Whyte, Josh Baker, Crispian Fielke
Consultants

Builder Self built with client and various tradespeople
Carpentry Lex Whyte, Alex Chant
Concrete tabletops SA Techfloor
Lighting Thomas Maguire Electrical
Plumbing Russell Van Hout
Polished concrete flooring Arrunga Surface Solutions
Project manager Adam Johnson, Xtra Shiny
Stonework Arox Stone Products (George Sarris)

Site Details

Location Adelaide, SA, Australia

Project Details

Status Built
Design, documentation 2 months
Construction 2 months
Category Hospitality, Interiors
Type Bars and cafes, Restaurants

Source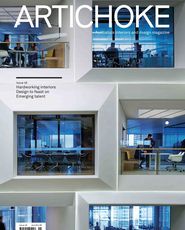 Issue
Artichoke, March 2014
Related topics