Community housing such as Coburg Townhouses by Schored Projects is an often contested variant of traditional, government-led social housing models. Some argue that the divestment of public housing accountability into the community sector is the thin edge of the wedge and yet one has to wonder why this approach has thrived in countries like Denmark, Sweden and the Netherlands. Australian examples of community housing have certainly struggled in a less supported system but longer-term visions must be debated and refined.
There is no question that among the many diverse people who require social housing, women are becoming the most visible group. Women's homelessness is growing at a faster rate than men's. Women and their children may find themselves living precariously in supported homeless accommodation, with a friend, in a boarding house or in overcrowded housing. All of these contexts define a form of homelessness.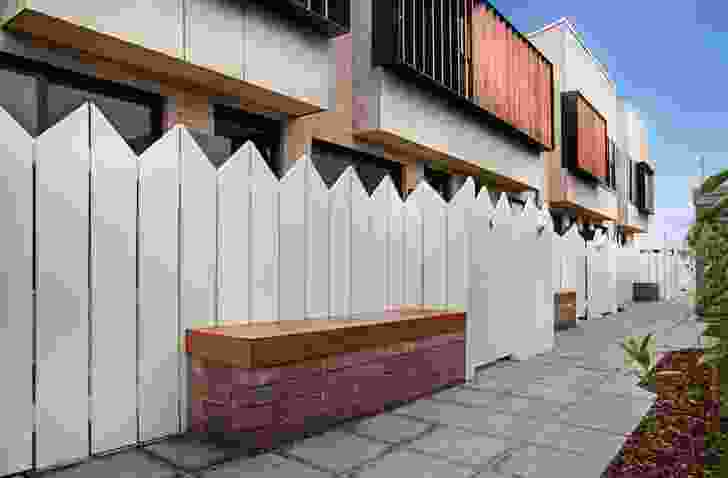 For Australian women homelessness is a systemic issue and reflects entrenched forms of gender-based violence and discrimination that leave women vulnerable to poverty. The number of women fleeing domestic violence situations is overwhelming: one in every two women with children approaching homeless services is escaping violence. Couple that with recent research documenting how a third of women over the age of sixty are living in permanent income poverty and the material effects of gender inequity are deplorable. Affordable housing for low-income women needs substantial investment. And quickly.
Melbourne's Schored Projects has taken up this challenge and established a reputation for gender-sensitive design. Its Coburg Townhouses was commissioned by not-for-profit organization Women's Property Initiatives (WPI). This recently completed medium-density development provides long-term accommodation both for older single women and for single mothers with children.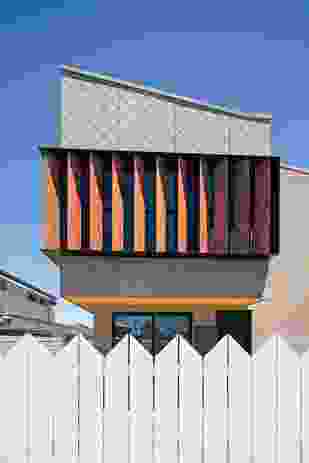 WPI secured the surplus land from Moreland City Council with philanthropic funding. Empathetic local planners were able to think outside the constraints of restrictive building codes to approve seven double- storey townhouses. Schored Projects worked closely with Hutchinson Builders and alongside contractors and consultants – many of whom offered their services pro bono or for reduced fees – to ensure the delivery of this important project.
The director of Schored Projects – Sophie Dyring – cut her teeth in partnership with Graeme Gunn as Gunn Dyring Architecture and Urban Design. Now with four years under her belt as Schored Projects, Dyring is determined to provide high-quality secure and safe homes for those who most need them. Working across various architectural housing types and mining her qualifications as both an architect and a landscape architect, Dyring reminds us of the capacity for social architecture to make change.
In the Coburg project this manifests in the way the design response addresses both the pragmatic and the emotional needs of women and their children. Schored Projects provides a space that is liveable and adaptable but also a source of pride.
Adjacent to the Upfield Bike Path, the project rejects the flurry of the thoroughfare and instead finds security by turning inward. A masonry base is carefully composed with a joyfully choreographed and lightweight first-floor structure. A series of laser-cut punctuations enlivens the Coburg corner. Exaggerated suburban signifiers – think picket fence and vertical window screens – speak perhaps to the fakery of domestic bliss but simultaneously take up the need to celebrate "home," especially when tenants are overcoming the trauma of homelessness and insecurity.
Externally, Schored Projects maximizes all shared space with a hybrid approach: a driveway that is simultaneously a productive gardening space, area's that combine for children's play, a car space able to transform into an external dining area. These interludes make for moments of connection and transformation.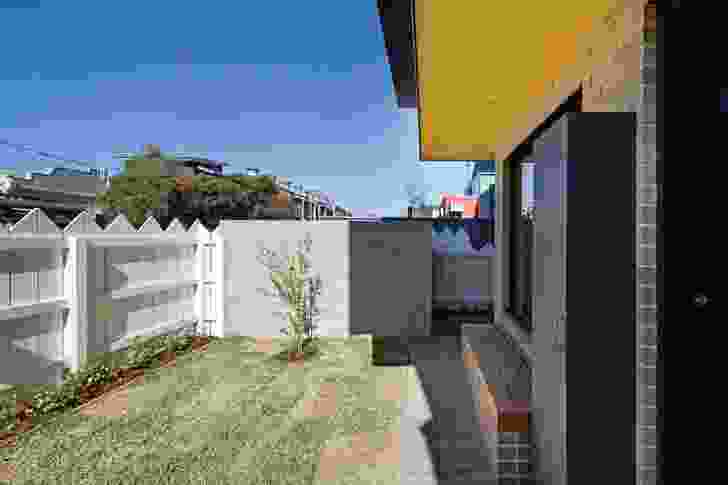 Internally, the townhouses are 10 percent larger than an average Melbourne pad. It is nothing short of miraculous that within the small budget available, Schored Projects has provided so many small luxuries that smooth the domestic drudgery often handed to women. High-quality kitchen and bathroom fittings, neat timber details, a pendant light for dining, an unexpected cathedral ceiling in the bedroom – these design forays all hold tight to the necessary comforts that define each townhouse as a home.
For Dyring the benefits of the community housing model go beyond the opportunity to work with excellent and innovative clients such as WPI. There is a commitment to quality buildings driven by the fact that not-for-profit organizations maintain their properties and therefore have a vested interest in excellent design and topnotch building. Yes, yield is a major factor, but the quality of the dwelling experience is paramount.
Perhaps it is a coincidence – although I doubt it – that the Schored Projects team is made up entirely of women. In the political climate of architectural practice, championing gender politics has emerged as a deal-breaker. Certainly gender equity organization Parlour is the oracle (both locally and internationally) that now gives voice and advocacy to gender issues within the profession, but observing a practice facing and challenging these issues provides motivation and inspiration to many female practitioners wondering why? And how?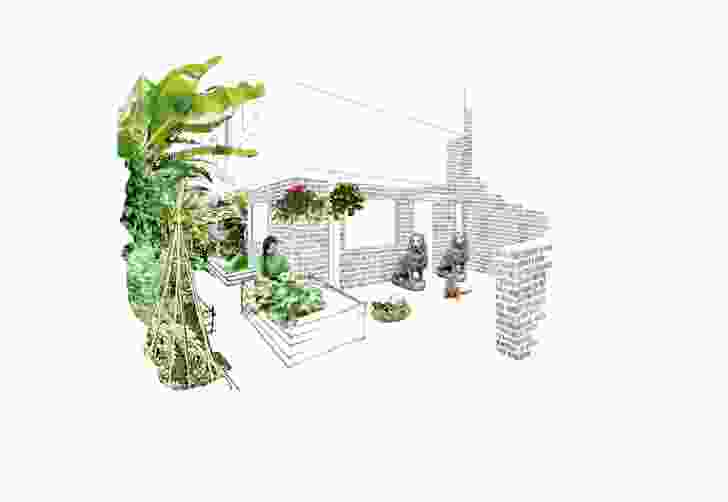 The flow-on effects of addressing gender equity within the profession cannot be underestimated. We know that the impact goes far beyond practice itself. And Dyring is a shining example: when women have leadership and flexibility within the profession, this impacts the lives of all women. The very materiality of living begins to shift. Not only do we retain more women in the profession, but we start to notice examples of architecture made for women, we start to understand the positive impact of gender-sensitive architecture and we start to see how women leading design agendas shape social space to benefit us all. Who knew?
For WPI and for Schored Projects, the goal is to change the future for women facing homelessness by providing permanent and affordable homes as well as access to support networks and ongoing advocacy. Post-occupancy feedback from the tenants of the Coburg Townhouses suggests that their new homes allow them to feel secure, to move through the trauma of homelessness and think about their future. They are living with dignity and independence and with connection to their community. Schored Projects' Coburg Townhouses buoys optimism and sets a new benchmark for community housing for women.
Source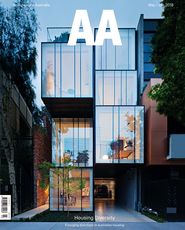 Issue
Architecture Australia, May 2018