Cocoon is the embodiment of one of the foundations of our partnership – the tension between the poetic and the pragmatic. Allowing neither element to dominate creates the elastic space in which we work best. We don't want to sit in a broom cupboard of a room for the sake of a moment of awe, nor do we want a room so fine there is no broom cupboard allowed. It's like finding the magic in a bowl of porridge.
This house was the first experiment of our living/working partnership. We had just met, just merged professionally – my art practice moving away from the studio into the public domain while Michael was moving his architecture into the sculpture studio.
So we launched our practice impetuously by buying a cheap block of land in the Otways off the Great Ocean Road and building on it. We "slept on country," getting the smell of the land, introducing ourselves to the local koalas. The beauty of this site, its steepness and the variable climate called for a shelter that simultaneously shielded from the elements and opened up to the magic of the views. This challenge galvanized us, our twin interests became fused and a little stone sculpture encasing a timber box was the result of that fusion.
We used this project to explore and develop some basic principles that are important to us still. In terms of form, this is a house conceived as a sculpture in the round. It is an object in the landscape; its response to the site is playful; it floats like a boat moored among the trees. Humour is important – our buildings are often given pet names; they are animate. We are also interested in the simple, fluid plan and like to experiment with the way in which we live. In this building we were creating a family retreat where everyone shared the same boat-like experience. The compact space is maximized by built-in furniture and storage dovetailed like a caravan.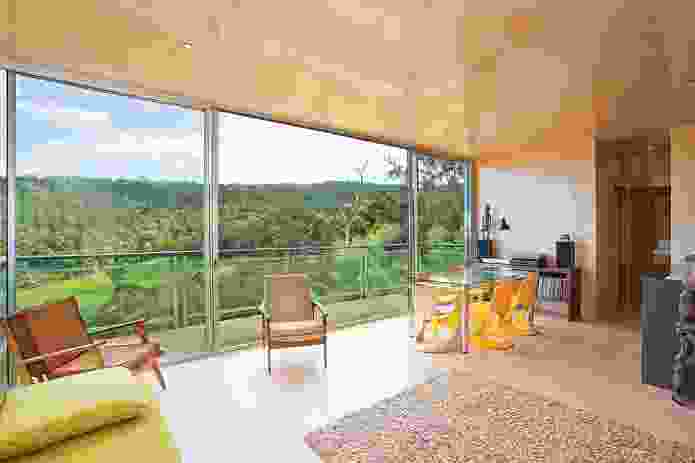 This project was a platform for structural as well as social exploration. We looked at boat building, basket weaving and gridshells; the engineer threw in aircraft and monocoque structures. While building this house we learnt a lot very quickly about standard and non-standard building practice and this enabled us to resolve details as we went and further investigate sculptural and structural forms.
A lot of this hands-on investigation led directly to a series of sculptures. Our next family house, Polygreen, which won the Australian Institute of Architects National Award for Small Project Architecture in 2009, is in fact printed with an image of one of those sculptures, so you can draw a line from Cocoon to Polygreen. The principles that evolved from this simple house now feed our current practice. This is evident in the recently completed administration building. Its oval plan and zigzagging facade owe a lot to Cocoon.
As a first project, Cocoon propelled us onto an international stage. It didn't bring a flood of clients with burning pockets, but global appreciation is a great boost to anyone at any time and we have a well-stacked library as a result. In many ways this project is the parent of all our best work to date, in that we refer back to its core assertions and intentions. It represents the "pushmi-pullyu" of Bellemo and Cat and the spirit in which it was conceived keeps us looking for poetic solutions to prosaic situations.
This project was first published in Houses 86 as part of the First House series where architects revisit their first built commission.
Products and materials
Roofing & external walls

Colorbond Gull Grey.
Internal walls

Hoop pine plywood, limewashed and clear coated.
Windows & doors

Capral anodized aluminium frames; hardware by Designer Doorware.
Flooring

Hoop pine plywood, limewashed and clear coated.
Lighting

Lucci square downlights.
Kitchen

Technika appliances; Zuchetti tapware; Laminex 'Espresso' benchtops; Laminate Perstop splashback; hoop pine plywood joinery.
Bathroom

Caroma lab sink and bath; Sussex tapware; Porcher Mody basin; resin walls by Scott Development.
Credits
Architect

Bellemo & Cat
Northcote, Melbourne, Vic, Australia
Project Team

Michael Bellemo, Cat Mcleod, Rob Hutton, Andrew Hutton, Richard Hibbins, Alexander Knox, Richard Bellemo
Consultants

Builder Michael Bellemo
Engineer Felicetti
Geotechnical consultants Saunders Consulting Group
Joinery Angelsea Joinery, Andrew Hutton

Site details

Category Residential buildings
Type Houses, Residential

Project Details

Status Built
Completion date 2001
Design, documentation 6 months
Construction 6 months
Website http://www.bellemocat.com/residential/cocoon/

Source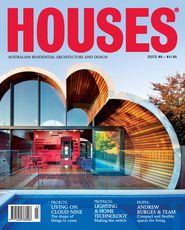 Related topics