Simply stated, two questions catalysed the design decisions of Coda Studio's co-director Emma Williamson during the adaptive re-use project that enabled the practice's latest period of growth. Firstly, "how does an architectural practice swell to include thirty staff without losing the 'domestic' feel of the earlier, smaller, more intimate versions?" And then, at that point of expansion, the more reflective questions: "Why are we in practice?" and "What are we about?" Since Coda's inception in 1997, Williamson and co-director Kieran Wong's portfolio of work has developed to encompass residential and urban design, fashion, masterplanning, interior design, and pro bono work for not-for-profit organizations. The couple is known for working collaboratively across disciplines with artists, engineers and fabricators, so it is hardly surprising that some sense of the "provenance" of these collaborations is embedded within their recently completed, award-winning office in the heart of Fremantle, Western Australia.
From the moment you enter 10 Elder Street you are transported into a bohemian atmosphere: all around is agedness, scarred imperfection, rawness. There is also volume and warm light, and Coda's intriguing collection of objects, furniture and art. Works by local artists including Bevan Honey, Helen Smith, Penny Bovell and Jeremy Kirwan-Ward are placed throughout. A recycled barn door is practical, as it separates Coda Studio from other tenants occupying the shared amenities, and evocative – clearly, like the building itself, this old relic has a past. The same goes for the chairs that once accompanied tables at the Chevron Hotel where the Beatles stayed in the 1960s, but which are now surrounding Coda's enormous boardroom table, or the library ladder once used in the warehouse of Aherns Department Store. (Sold in 1999, Aherns was the last family-owned department store in Australia.)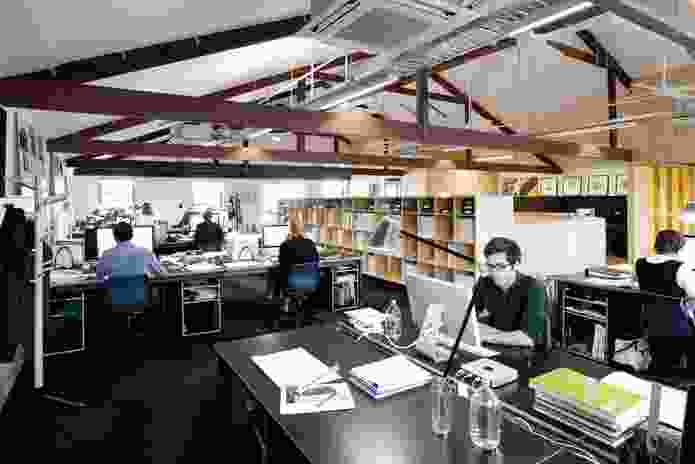 Williamson's "search for material warmth" has led to her composing a cohesive spatial entity from eclectic elements, including lights by Henry Pilcher of Western Australia's Midland Atelier and Beat lights by Tom Dixon. New ideas addressing how space is defined, and what the workplace is in terms of territory, collaborations and functional mobility, are being tested within the timber and concrete remnants of this old building's structural fabric. The whole thing is then bound together by Williamson's restrained material and colour palette. Much of the ground-floor space is dominated by the golden, light-reflecting glow of the ply that lines walls and forms the stairwell that flaunts a brilliantly detailed brass and timber handrail. Elsewhere, in meeting rooms, unexpected flashes of very bright colour appear subversive, like the thrilling glimpse of the lining of a Paul Smith suit, something not necessarily intended to be seen.
Downstairs is clearly a social space, while upstairs is the workspace. The latter is something Coda takes intensely seriously – no fireman poles or igloos here. Nor do we see plaster lining board or laminates. Rather, all design moves have been informed by a prioritization of "economy" and a broad interpretation of sustainability and community, all of which are demonstrated by Coda's spectacular ritual gatherings of luncheon and discussion in the economical IKEA solution kitchen downstairs. Upstairs, where everyone works in the same open volume, careful attention has been paid to sound, temperature and the general ambience of the studio. It is designed for absolute comfort, since Coda's dedicated staff spend significant amounts of time there. The inclusion of a generous model-making precinct speaks of reflexivity. The entire insertion is recyclable and removable.
Design Statement

Our new studio re-pitches the practice from "home office" to medium size in the heart of Fremantle.
It was really important to us to maintain and enhance the warmth and familiarity of the previous studio space while creating a flexible, open, dynamic workspace using natural, non-traditional materials.
From the outset we established that all new insertions should be recyclable and removable at the end of the project life without damage to the building.
The project demonstrates that it's possible to create a sophisticated professional workspace from a robust natural palette that seeks out texture and warmth, and celebrates imperfection. This is not a token gesture but forms the logic for the entire fitout.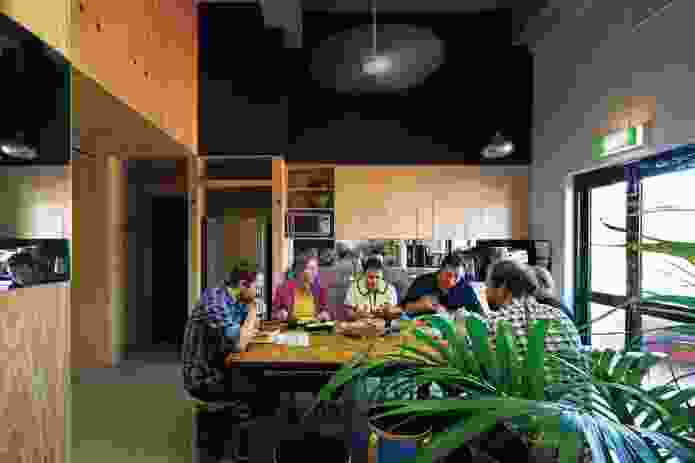 Basic construction materials are reframed, expressing both their materiality and assembly. The new timber stair binds the two levels together, spatially and materially, with the open-plan workspace upstairs and the lower level given over to social spaces for meeting and amenity.
New ply insertions are read against the backdrop of the existing warehouse. The stair edge thickens on the upper level to house the job files, maintaining views over and through the stairwell.
We believe that contemporary workspaces should invite individual participation in the creation of the work environment. The studio creates a backdrop for these choices, allowing lighting levels and thermal comfort to be assessed individually. Through the sourcing of vintage furniture we were able to reduce the number of resources required to complete the project.
Plasterboard and laminate were not specified in the project, even the desks and storage were fabricated from ply and steel.
Additionally, recycled elements such as the barn door, concrete cisterns and vintage furniture were incorporated into the design. This has the dual benefit of achieving a more sustainable project but also embedding a sense of history through their tactility and imperfection.
Coda Studio
Coda's Elder Street office was awarded the 2012 Australian Interior Design Award for Best in State (WA) Commercial Design.
Products and materials
Walls and ceilings

Walls use DD grade ply, pegboard, formply and water-based sealant. Exposed stud framing to inside face of all internal walls.
Windows

Existing windows and treatments.
Doors

Custom-made ply doors with brass door from Lockwood.
Flooring

Carpet tiles from Interface. Amourply from Big River Timber. Existing polished concrete floor to ground floor.
Lighting

Lighting supplied by Lightwerk.
Furniture

Custom-designed and manufactured desks and underbench storage by Coda. Vintage furniture in boardroom, kitchen meeting room and library. Artek stools and hat stands from Anibou.
Kitchen

Mirror splashback. Customized cabinets. Tapware from Rogerseller.
Bathroom

Custom-designed basins converted from old concrete cisterns. Tapware from Rogerseller. Mirrors from IKEA.
Heating/cooling

Air conditioning from Crispair. Ceiling fans.
Other

Artwork is a combination of private collection and works on loan from Bevan Honey, Penny Bovell, Helen Smith and Jeremy Kirwan-Ward.
Credits
Design practice

CODA Studio
Fremantle, Perth, WA, Australia
Project Team

Emma Williamson, Kieran Wong, Sally Weerts, David Johnston, Stephen Hicks
Consultants

Builder Interstruct, Stephen Chandler, Jon Darcy
ESD CODA Studio
Engineer Capital House
Lighting Lightwerk

Site details

Location 10 Elder Place, Fremantle, WA, Australia
Category Interiors
Type Workplace

Project Details

Status Built
Design, documentation 4 months
Construction 4 months

Source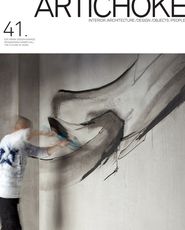 Issue
Artichoke, December 2012
Related topics