When we arrive at Australia Street Infants School it is 9 am on the first day of the new kindergarten classes. One hundred small bodies in pillar-box-red hats and T-shirts jostle beneath the jaunty roof of the covered outdoor learning area (COLA) while proud parents look on. Even with so many excited five-year-olds milling around we are able to talk easily with Bernard Cheng, school principal, client and project manager of the COLA project. "Children respond well to beauty," he says. "They don't need to rationalize it, don't need to understand a space to use it." He recalls a day soon after the project was completed: the entire second grade sat calmly under the new roof listening quietly while the teacher read them three books in a row. "It was a first," he says. Our conversation flows and before we know it over an hour has passed. Bernard Cheng, architect Matthew Chan of Scale Architecture, the Australia Street Infants School community and the construction team have together made a little miracle here. It is a small but fitting tribute to their tenacity and passion.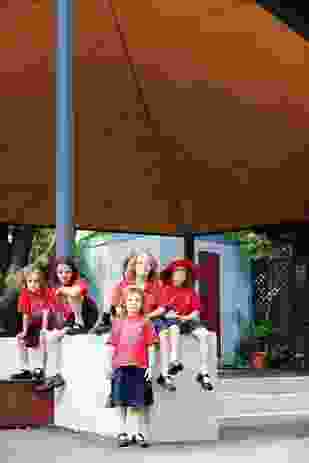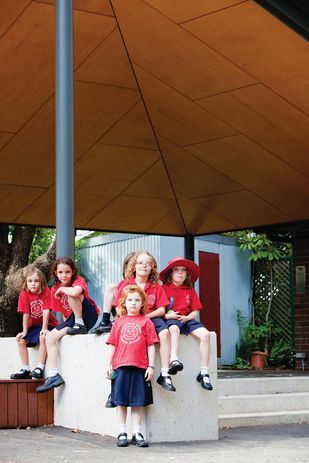 Cheng is an instantly likeable man, generous with his time and at once thoughtful and enthusiastic. He speaks with warmth and humour of the children in his care and with calm intelligence about the fraught process he and the team overcame with this building. The project started, as with all other Building the Education Revolution (BER) public school projects in New South Wales, with a gift of cash from the government and a mile-long string of rules on how it could be spent. Of course, the BER was never about education, let alone architecture. Its aim was the prevention of an employment crisis, in which it was successful, but at what cost? One could blame its failures, architectural and pedagogic, on the speed of its enactment but, in fact, the BER has only made obvious the realities of the current construction process for New South Wales public schools, a process so consumed by systems for managing risk that no flexibility remains at all. What this means is that children and teachers at public schools are being systematically denied the opportunity to experience good new design in their educational environments. The New South Wales template for a COLA, as an example, is quite literally a galvanized shed with a tap at one end. It has no acoustic treatment and no insulation. As costed for Australia Street, this model came in at almost twice the school's grant of seventy-five thousand dollars, clearly a gross inflation of true costs (the Scale Architecture COLA was built for less than one hundred thousand). There are many reasons for this, but the main one is a procurement process that involves multiple management layers, each taking a cut. Here, the primary motivations to seek out an architect were ones of quality of design, context and purpose. It is interesting that the bespoke option was also so much cheaper.
A system that forces thoughtless design on schools at inflated prices, discourages community involvement, stifles care and consideration, and denies the legacy of its actions is hardly a good educational model. This at a time when the international educational community, Australia included, is busy studying the relationship between new technologies, pedagogies and places of learning, leading to the construction of very different-looking schools. In New South Wales, public schools are prevented from participating in these innovations.
In order to build a non-template project, Cheng was required to opt out of the government system. This meant taking full financial and legal responsibility for the project and, because funds were so tight, becoming principal contractor and project manager. Despite the uncompromising position of the Department of Education and Training, they did attend the building opening.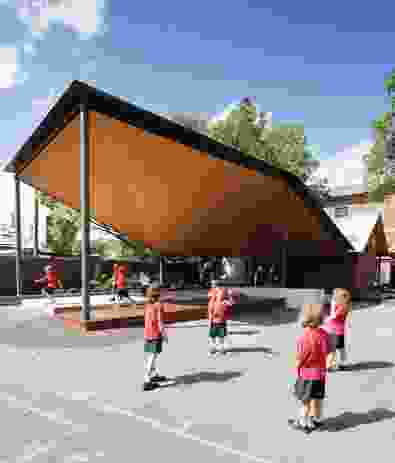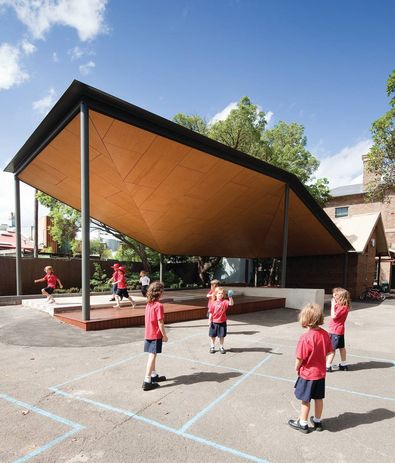 And so what of beauty? Well, it was there from day one. According to the commemorative plaque, when Cheng approached Matthew Chan, his brief was "to design a beautiful and functional space," and he has done this. It is a deceptively simple object: a roof, rectangular in plan, with six columns. The centre two columns are offset and a fold is introduced between them. The rectangle is defined by the width of an existing toilet block at one end and, in length, by the extent of some recent ground works, which have been retained. The fold allows the roof to address three key relationships in one geometric move: it "springs" from the fascia line of the existing toilet block, remains low along the low-fenced school boundary and pitches up dramatically to address the playground. A plywood panelled ceiling gives the space warmth. This and the triangulated geometry aid in acoustic performance, so the space works equally well as a stage and a meeting place. The varying heights of the roof and their relationship to the ground works create subtle distinctions in the quality and scale of the space and encourage a wide range of formal and informal uses. Although, as an adult, one can stand anywhere in the building, in areas it feels unselfconsciously scaled to the height of a small child. Regardless of one's point of view, this simple folded surface is inscrutable, delightfully intriguing. And though utterly contemporary, its form, scale, siting and materiality have an absolute sense of rightness in this heritage-listed environment. There is indeed "a subtle genius in the way it sits," as Cheng comments.
By the time it had been established that no template or other off-the-shelf solution was affordable, Cheng, Chan and their team had just two months to design, document and construct the project, including production of a full development approval. Happily the participants gave generously of their time and skills. In place of shop drawings, the steel fabricator made a model of the structure from a VB box and six toothpicks. The roof frame was welded up off site and crane-lifted into place, flexing in the air before "dropping into place, by the grace of God." When client and architect recount the story of the project, the strength of their relationship shines through. Neither could have achieved this without the trust and support of the other. The building is a triumph for Scale Architecture and as for Bernard Cheng, I am sure we shall be seeing more of him in architectural circles.
Credits
Architect

Scale Architecture
Sydney, NSW, Australia
Project Team

Matthew Chan,
Consultants

Structural engineer SDA Structures, Charles Blumer

Site Details

Site type Urban

Project Details

Status Built

Client

Client name Bernard Cheng, Principal, Australia Street Infants School
Website australiastreetschool.com

Source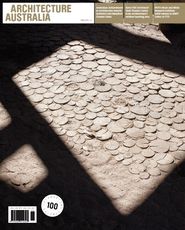 Issue
Architecture Australia, March 2011
Related topics