<b>TEXT</b> STEPHANIE JACKSON <b>PHOTOGRAPHY</b> JOHN GOLLINGS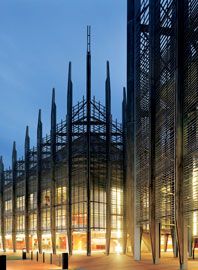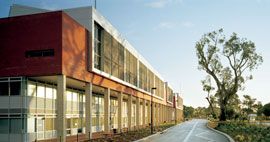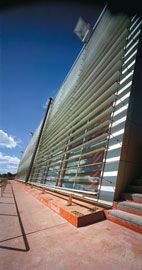 THE INSPIRATIONAL BUILDINGS of Campus West precinct at Edith Cowan University Joondalup result from the successful joint venture of FJMT, Sydney, and Spowers Architects, Perth. The partnership combines the international experience and design pedigree of FJMT with the proven capability, national reputation and professionalism of Spowers.
The precinct design concept has evolved from the careful analysis of the precinct context bordering the city of Joondalup and the relatively young campus of Edith Cowan University. Scattered with remnant native trees and spread over an undulating landscape, the campus already boasted some large and impressive buildings. The role of the Campus West precinct is to reinforce existing axial relationships and cross-campus pedestrian links, and to form the new "heart" of the campus.
Acting as a gateway into the ceremonial Graduation Quadrangle, the iconic Chancellery Building is an evocative and symbolic built form. Moulding the land to suit the purpose, the quadrangle rises up over the Business and Public Management Building to act as tiered seating and then descends down in a grand stair to join the existing campus pedestrian promenade. The double height colonnade to the south-east face of the Business and Public Management Building has a direct relationship with the adjacent campus buildings, a more direct response to the context of the internal street.
FJMT/Spowers have created a building precinct that is sometimes landform, sometimes image. The classic campus components – colonnade, quadrangle and amphitheatre – serve to create a usable and inviting space while advanced technology marries with mystical forms and an architectonic use of the vernacular timber, steel and concrete.
Many analogies can, and will, be made of the Campus West precinct with its soaring, delicate colonnade and dramatic symmetry. Ultimately the creation of a memorable architectural image has been achieved, one that will help identify and symbolize ECU's motto – "Freedom through Knowledge".