Sydney-based architecture firm Collins and Turner has won a competition for emerging architectural firms to create a restaurant and bar building on the waterfront promenade at Barangaroo South, Sydney.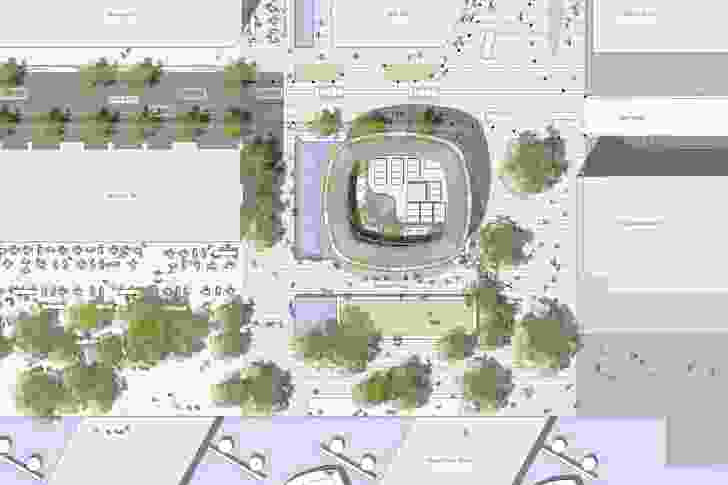 Positioned in the south-west corner of the Barangaroo South masterplan, which was created by lead architects Rogers Stirk Harbour and Partners in conjunction with Lend Lease Design, Collins and Turner's winning design signals the entry to the precinct for visitors approaching from the pedestrian areas of King Street Wharf, Cockle Bay Wharf and Darling Harbour.
The freestanding, low-rise building offers a variety of spaces for casual and fine dining over multiple levels, covered and open-air dining at the pedestrian promenade level, raised terraces and a roof terrace. Throughout the design planters and gardens intertwine with dining spaces. Herbs, vegetables and fruit grown in the planters are to be used in the restaurant.
Inspired by a basic culinary receptacle, the cladding appears as shallow, stacked concrete bowls of different sizes covered in fine tubes of bamboo. This helps to soften the square plan form dictated by the masterplan, and the organic shape subtly informs pedestrian movement and views to the adjacent precincts, while ensuring the building blurs the conventional definitions of front, back and sides.
The design has ESD features such as rainwater and grey water recycling systems, natural ventilation, thermal mass and roof-mounted photovoltaics.
A judging panel comprising Lend Lease team members, a Barangaroo Delivery Authority representative and Ivan Harbour (of Rogers Stirk Harbour and Partners) praised Collins and Turner directors Penny Collins and Huw Turner for their "artistic design" and "well-researched, well-organized and flexible approach."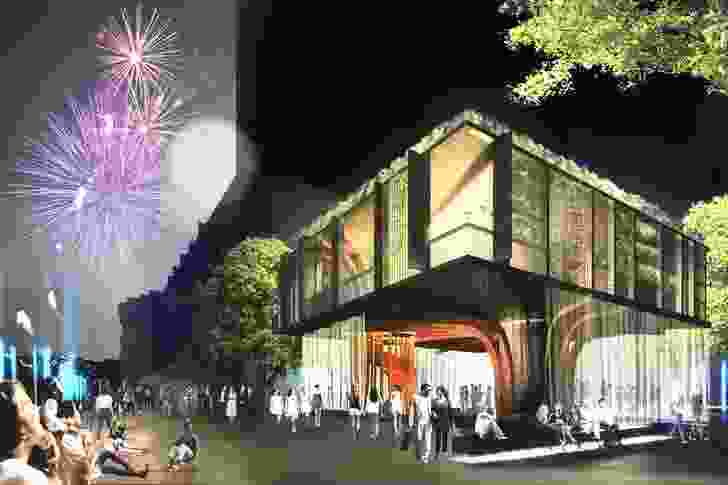 For the two-month-long design competition, Lend Lease, the Barangaroo Delivery Authority and the City of Sydney nominated a range of New South Wales firms. From this list, fifteen emerging architectural firms were invited to submit expressions of interest, and then a shortlist of six firms was selected to take part in the competition. The six companies were Collins and Turner, DRAW, Lacoste + Stevenson, LAVA, Scale Architecture and Silvester Fuller.
Scale Architecture was commended for its proposal involving two connected timber table forms that create a floating rectilinear space. The panel recommended that the firm be offered an opportunity to work on public realm elements at Barangaroo.
Related topics