The NSW Department of Planning and Environment has approved Collins and Turner's design for a new three-storey restaurant in Sydney's Barangaroo South.
Collins and Turner won a design competition for the restaurant development in 2013 from an invited group of emerging practices, including Lacoste + Stevenson, DRAW (now RAW), LAVA, Sylvester Fuller and Scale Architecture, which received a commendation.
In August 2015, new designs for the restaurant, refered to as R1, were submitted to the NSW Department of Planning and Environment for approval.
The form of the building is derived from a series of stacked bowls, which gently curve in plan and section. The original design's multiple curved layers have been simplified to just three – one for each level. This curvature stands in contrast to the orthogonal masterplan of the precinct.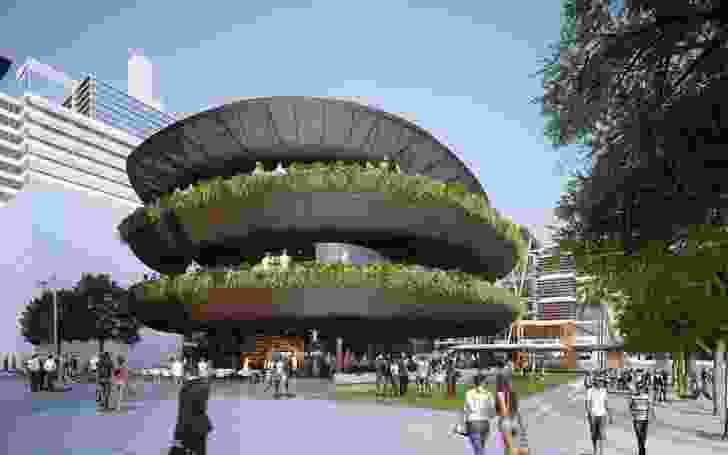 In its Environmental Assessment Report, the Department said, "The proposed building provides an innovative design approach for the site which results in balcony structures partially protruding outside of the building envelope."
"The Department supports the proposed built form as it marks the entrance to Barangaroo without dominating other buildings or detracting from the predominant building line."
Located at the southern-most point of Barangaroo, the building will act as a gateway between the existing low-rise Kings Wharf and the 275-metre towers of Barangaroo. The building is oriented west to capture the afternoon sun and water views.
However, shadow diagrams from the latest Barangaraoo South concept plan (Modification 8) show the building will be in shadow from morning to early afternoon, all year round.
The double-curved building will be made from concrete shells clad in a timber-based material that will cradle rings of vegetation, planted around the edges.
The 804-square-metre development will accommodate a pub on the ground floor, restaurant on the first floor and bar on the second floor.
The restaurant, which will be operated by celebrity chef Matt Moran, is expect to open along with the launch of the waterfront dining precinct in early 2016.
Related topics