MAMARUNI SCHOOL
BUILD UP DESIGN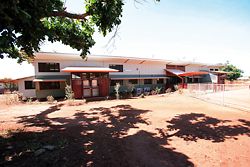 JURY CITATION
The Mamaruni School has been selected for this award for its understated but intelligent and accurate use of steel structure and steel cladding systems. This intelligence has been used to fully meet the needs of the Minjilang Community on Croker Island in the Northern Territory, with the new school replacing an older school that was destroyed by Cyclone Ingrid in early 2005. This teaching facility combines the experience of the architect and the local knowledge of community representatives, who developed the vision together – a vision that meets the cultural and functional needs of the community.
The steel structure was designed for its logistical advantages, allowing prefabrication off-site and delivery to the island by barge (as with all of the other construction materials). The connections and fixings were cleverly and simply designed to allow for ease of erection, suited to remote area contracting. The design of the steel work also takes account of the need to create a cyclone-proof structure. This steel structure is both "rough" and highly considered, and provides shelter to the classroom spaces and open external learning areas which catch the breezes off the sea.
The exterior walls utilize the conventional Custom Orb profile, with a sequence of horizontal, vertical and diagonal panels, which catch the light to create a chimera of fine shadows. These ideas extend to the other elements of the school design, with the steel roof structure creating a series of sunlit spaces through to places of deep shade – specifically designed to suit the dramatic seasonal shifts of the Top End – spaces clearly enjoyed by the local kids, their teachers and their community.
Mamaruni School
Architect
Build Up Design—design architect Simon Scally; project architect Wendy Christie.
Building surveyor, electrical, mechanical and structural consultant
Irwinconsult.
Hydraulic consultant
Hydrotech.
Cost consultant
QS Services.
Documentation
Jettner Building Consultants.
Project manager
Department of Planning and Infrastructure.
Builder
Brustolin Builders.
Photographer
Skyscans.