Aurora Operations Facility
Heffernan Button Voss Architects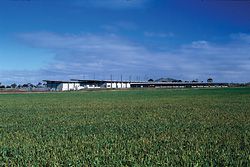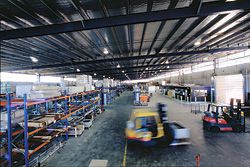 Jury Citation
The Aurora Operations Facility is a large industrial structure sitting in a big landscape. The innovative use of steel is clearly demonstrated at all levels throughout the building. The most impressive aspect is the clarity of structural expression and the thinness of the roof. This clever structure demonstrates how long spans can be achieved with minimal steel sections and material quantity. The project achieves internal spans of 38 metres with a 12-metre cantilever for the truck bays, with a modest 460 universal beam. Protruding masts and stays enliven the structural character and roof profile as seen from afar.
Steel has been used in a creative way across a whole range of incidental project components such as door frames, security gates, roofing, wall panels and frames, all to a high standard of expressive detail. This is an elegant and inventive building that delights in many ways. It sits well in the landscape, it uses materials cleverly and it transforms the big industrial shed, taking it to a new level of sophistication.

Architect Heffernan Button Voss Architects—project architects Charles Voss, James Jones; technicians Paul Newman, John Hodgman.
Structural consultant Gandy and Roberts.
Electrical, mechanical and hydraulic consultant Johnstone McGee and Gandy.
Cost consultant Stehel.
Building surveyor Peter Angus.
Landscape consultant Susan Small.
Acoustics Vipac.
Fire engineering Arup Fire.
Builder Fairbrother.
Photographer Ray Joyce.