Jury Verdict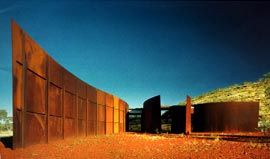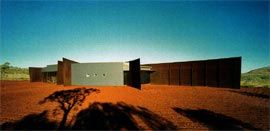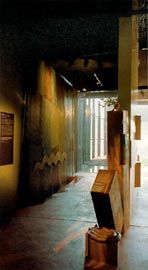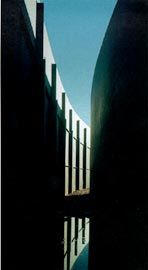 This is a remarkably good building. The Jury has made this clear by awarding it both the Colorbond Steel Award and a Commendation for Public Buildings.
Built for the Pilbara Development Commission in the Karijini National Park, the architects have used steel plate sheeted walls to make a building that looks as though it has grown from the ancient landscape of plateau, hills and gorges.
The wall is the most powerfully transfiguring innovation imposed on the Australian landscape by European settlement. In its many forms, it encircles, shields, excludes, includes and divides. The walls in this project are orientated on an east/west axis, parallel to the range of hills behind. Made from pre-weathered steel, they are absorbed by the landscape, surprising and intriguing us. Once inside the walls separate, allowing passage between them and focusing the visitor simultaneously on the stories within and on the astonishing landscape beyond.
The large frameless glass windows draw us back into the landscape at every turn.
Floors of red oxide coloured concrete, poured between the walls, replicate almost exactly the red ochre groundplane surrounding the building.
The project is fully self-sufficient, with its own solar powered water supply system, diesel generators and waste water treatment system. It is a spectacular contribution to the Karijini National Park and to Australian architecture.
Project Credits
Karijini National Park Visitors Centre
Project Architect John Nichols, Craig Forman, Martin Neilan, Karl Woolfitt. Developer Pilbara Development Commission. Structural Consultant Connell Wagner. Electrical Consultant, Lighting Consultant BCA Consultants. Hydraulic Consultant Hutchinson Associates. Landscape Architect CALM. Interior Designer Woodhead International BDH. Acoustic Consultant Herring Storer Acoustics. Quantity Surveyor WT Partnership.
Display Design David Lancashire Design. Builder Wylie & Skene. Photographer John Gollings.