Jury Citation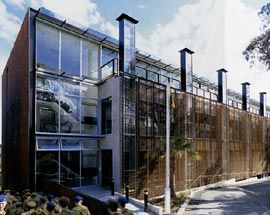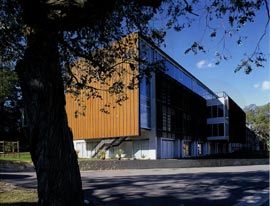 The location of this building – in close proximity to the historic 1840 Victoria Barracks (home of the British Regiments until 1870) – generated heritage guidelines which required the new building to be linear in character, restricted in height and on a tight footprint, and respectful of the masonry appearance of the principal buildings. The new building sits comfortably with its historic neighbour, while its colouration and patina provide an effective response, which is both contemporary and contextual.
On a relative modest budget, Bates Smart has orchestrated the appearance of the office facility through the application of a thin layer of steel surfaces – HW350 (cor-ten) custom-made external screens to the long side elevations, solid HW350 vertical panels to the end elevations, and Colorbond metal deck to the roof. HW350 is experiencing something of a revival in recent architecture as a self-coloured and self-protecting steel treatment. However, in this building the primary aesthetic response results from the use of the product for external screens, which wrap the dominant glazed surfaces facing north and south.
One of the key features of the building is a mixed-mode ventilation system. This meant that it was paramount that user-operated windows could not lead to a security breach for the occupants. The screens create a secure environment behind which the windows can be operated, as well as reducing solar gain on the northern elevation. Where the screens pass over the solar flues, they have been adjusted to allow sunlight penetration which assists the solar flue effect.
Credits
Architect

Bates Smart
Australia
Project Team

Philip Vivian, Natalie Lane-Rose, Naomi Williams, Bianca Heinemann, Joanna Relander
Consultants

Acoustic consultant Acoustic Logic
Builder Multiplex Constructions (NSW)
Developer Major Steve Glidden
Electrical consultant Arnold Thompson and Associates
Environmental consultant Hyder Consulting
Heritage Otto Cserhalmi and Partners
Hydraulic consultant Harris Page
Interior designer Bates Smart—Greg Pierce
Mechanical consultant Hyder Consulting
Project manager WB + Property Solutions
Structural and civil consultant Demlaklan Consulting Engineers

Site Details

Location Sydney, NSW, Australia

Project Details

Status Built
Category Public / commercial

Related topics