CHALLENGER TAFE MARITIME CENTRE
COX HOWLETT + BAILEY WOODLAND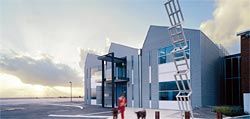 JURY CITATIONLocated within the Fremantle Port Authority Waterfront, the new TAFE building responds to its maritime context of existing wharf shed forms and a corrosive, uncompromising sea edge environment.
Sawtooth roofs were selected to develop three distinct, two-storey connected shed forms. They sit comfortably with historic neighbours and the general architectural language of the port.
A precast concrete, tilt-up panel system on a steel frame has been clad externally with Colorbond stainless steel Custom Orb in both horizontal and vertical expressions. This establishes a distinctive and appropriate material totality, along with sensitively detailed junctions, trims and rainwater goods.
Aluminium sunscreens and window frames also contribute to the monochromatic, refined composition.
The building's Colorbond finish reflects the mood of its adjacent seascape. Its wharf shed references form the western edge of a new urban/maritime courtyard, and will no doubt influence the future development of this campus, which is sure to follow the successful outcomes that Colorbond has given this distinctive project.
CHALLENGER TAFE MARITIME CENTRE
Architect Cox Howlett + Bailey Woodland— project architect John Lee; design architect Steve Woodland, Bret White; project team Clive Clifford, Jennie Officer. Project manager Clifton Coney Group (WA).
Developer Department of Housing and Works, Department of Education and Training. Structural and civil consultant Capital House Australasia. Electrical and mechanical consultant Wood and Grieve Engineers. Hydraulic consultant Hutchinson Associates. Landscape consultant Arbor Vitae. Interior designer Cox Howlett + Bailey Woodland—Gary Giles. Environmental consultant Gabriels Environmental Design. Quantity consultant Ralph Beattie Bosworth. Builder Cooper and Oxley Builders. BCA consultant John Massey Group. Fire engineering Schwanke Consulting. Photographer Cox Howlett + Bailey Woodland—Graham Sands.