ALISTAIR DICKINSON
CURTIN UNIVERSITY OF TECHNOLOGY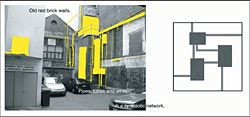 Interstitial Landscapes: Working the Terrain Vague of Perth
JURY CITATION
Revisiting the lost spaces of the city – the terrain vague – Dickinson provides a poetic proposition of the small acts of daily life. His study is a recognition of the other public spaces of the city, and their role and worth.
Good critical analysis of the minutiae of time and circumstance and the use of confined space is evident. This project demonstrates the value of careful observation and thoughtful response to urban experiences.
STEVEN SWAIN
RMIT UNIVERSITY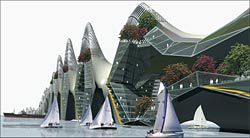 Co-rational Design and Investigations into the Potential of Mathematical Equations
JURY CITATION
Enjoying the freedom of an "ocean" site, the design starts from a mathematical and engineering base and uses contemporary technologies of representation, with an important collaborative result. The approach and images generate excitement for the future, and a user-friendly outcome of twenty-first-century development pressures.
The particular concepts, while nominally responding to the specifics of the Corio Bay site, have a more universal application allowing flexibility and diversity.
This is a remarkable presentation explaining how possibilities emerge through a vigorous process with potentially exciting results.
MICHAEL SPOONER
RMIT UNIVERSITY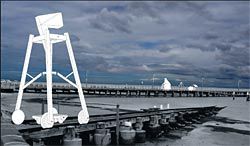 Playground: A Manifesto for Giants
JURY CITATION
Putting a mirror up to St Kilda, sexual isolation and reinvention, and the curious symbolism of Luna Park, Spooner takes us on an intense and highly personal journey. In this, he analyses the nature of play and of homicide, lust and gluttony.
He shows a critical engagement with the place, acknowledging its gutsy fragmentation (its "St Kildaness"), now under threat from authority and homogeneity.
This is a design that defends the place of otherness and excess, providing an exotic locale and mementos within a "big dipper" framework.
It lifts the lid on another world, and the approach is courageous, imaginative, inventive, subversive.
COMMENDATION

ELENA SVISTOUNOVA
ADELAIDE UNIVERSITY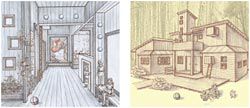 Vnukovo Orphanage
JURY CITATION
A scheme for an orphanage that responds to the child in need, and a healing process through design.
A thoughtful, humane response, linked to the ideal of the intimacy of Russian village life, and nominally to the Russian vernacular tradition.
The concept moves away from typical institutional models, and responds to the healing and developmental potential of play.
The project would benefit from a greater critical engagement in the evolution of new designs from vernacular models.
JURY
Richard Blythe
RAIA
Gregory Burgess
LFRAIA
Howard Tanner
FRAIA
Jennifer van den Bussche